Ruth's Homemade Vanilla Extract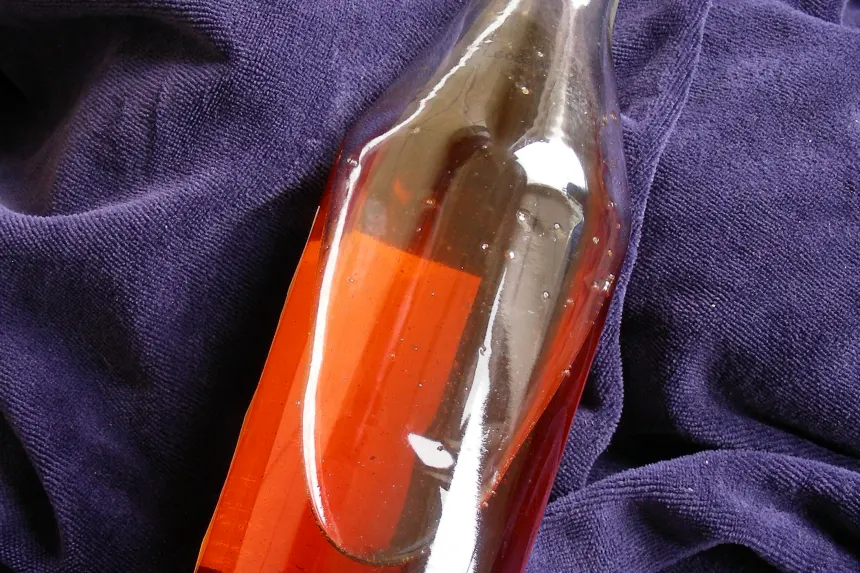 photo by kiwidutch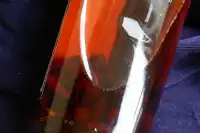 Ready In:

1440hrs 5mins

Ingredients:

2
directions
In Ruth's own words:

I use 50 grams of vanilla beans to 1 liter of vodka (45% alc/vol) to make mine.
Check the percentage of alc/vol printed on the bottle; there are many different strengths offered.
(By law, commercially sold pure vanilla extract must contain a minimum of 35% alcohol by volume).
Cut the vanilla beans into small pieces and drop into a bottle of vodka (pour a little vodka out first, as the vanilla beans will cause some displacement).
That's it!
Now you just have to wait for it to steep.
I'll tell you why I cut up the beans, rather than leaving them whole.
The power of the infusion comes from keeping the essential matter (in this case vanilla, which provides the 'essence') submerged in the liquid (in this case, vodka).
Vanilla beans are long and thin, and will stand up vertically in the bottle.
If you are making a small amount (less than a full bottle) the vodka level may not cover all the beans.
Even when using a full bottle of vodka, little by little this will be poured off as you use the extract, meaning the upper part of the (uncut) beans will quickly become exposed to the air.
The longer the beans steep totally submerged the stronger the flavor of the extract.
That is why I wrote that I pour off only a small amount at a time (enough to fill a 100 ml bottle- less than 4 ounces) and keep this on my spice shelf for regular use.
The remainder I leave in the vodka bottle to further infuse with flavor.
By cutting up the vanilla beans, the pieces will sink to the bottom of the bottle so even as I pour off the extract and the vodka level drops, the remainder continues to infuse as all of the vanilla bean pieces are submerged, and the extract continues to develop flavor.
Aside from this, cutting open the seed pods gives greater access (maximum contact) to the flavor cells.
Remember, you will need to filter the extract if the pods were cut--the seeds are very tiny (like ground poppy) so I recommend straining through something very fine, like coffee filter paper.
Okay, so now it has to steep for a couple of months.
It will get darker and darker over time; strain before using.
I strain and transfer a small amount into a small bottle for everyday use (allowing the original batch in the vodka bottle to further intensify in flavor).
Here's the fun part: the same vanilla beans may be reused to make more essence!
When the liter is all used up, I refill the vodka 50% of the original (using 500 cc or 1/2 liter of vodka) for the second infusion.
When that is used up I may go for a 3rd infusion, using 50% of the previous (this time 250 cc or 1/4 liter of vodka)-- as long as the color comes through the flavor will too.
You really cannot imagine how much flavor these beans contain!
I remember when I first read about doing a 2nd or 3rd infusion (using the same beans) I was skeptical, thinking that this was stretching things too far-- but when I tried it, I found that it really works!
As long as you see the color come through, the flavor will also be there.
As I explained, I cut the vodka in half for each successive infusion, compensating for depleted flavor by raising the concentration factor.
I have been making all my own vanilla extract for years using this method with excellent results.
Commercial vanilla extract is made from the lowest quality vanilla beans: rejects and broken pieces that cannot be sold in open market.
When making the extract yourself, however, you have control over the quality of the vanilla beans used.
Questions & Replies

Got a question?
Share it with the community!
Reviews
I love this!!!!!!!!! I used one bottle of Grey Goose Vodka and 18 organic vanilla beans. I started using it after 2 months. After 3 months of steeping, it was awesome. I don't plan on taking the vanilla beans out. I'm just going to leave them in the bottle and use the vanilla as I need it. Thank you so much for sharing.

 

20 stars! If there was one singe recipe on Zaar that needs a photograph *where you could SMELL what you see, THIS recipe is IT!* I have only had my vanilla beans in the vodka for a little over 4 weeks and the aroma when you open the bottle is 400% vanilla! Wow, I am inpressed! I actually confess to sneaking a wee whiff once or twice a week .. just to check that I'm not dreaming and that it IS still THAT good.. It's not only good, so far, it just keeps getting better! Please see my rating system: 5 excellent stars for a super, mega, amazing recipe that's sooo easy you will wonder why no one ever told you about this years ago. I'm hooked on this one! Thanks Mirj!!!

 

This truly is a treasure! Vanilla extract can be so expensive...but so can vanilla beans. But I found a source on the internet (through amazon - it was rated very well) and got a nice bundle of beans for about $15 - pretty good for a liter of extract! The extract steeped for two months and now smells delicious! I've been using it in all my baking. Thank you! This is so wonderful - I keep making it and using it. Will never buy store bought again.

 
RECIPE SUBMITTED BY
<p><strong><span style=color: #ff0000;>Come and visit me on my blog:&nbsp; </span></strong></p> <p><a href=http://www.miriyummy.wordpress.com><strong><span style=color: #ff0000;>www.miriyummy.wordpress.com</span></strong></a></p> <p>&nbsp;</p> <p>October 2011: It's been 10 years since I came into Zaar one day at the recommendation of someone on another website. If you ask my husband (or my coworkers), I haven't logged out since! <br /><br /><a href=http://www.TickerFactory.com/><br /><img src=http://tickers.TickerFactory.com/ezt/d/4;15;0/st/20011021/e/I Joined Zaar%21/dt/6/k/f656/event.png border=0 alt= /></a> <br /><br />So what's happened in the ten years since I became addicted to Zaar? Well, I've been happily married, happily divorced, and happily married once again. (Wanna see wedding pictures? Click <a href=http://community.webshots.com/user/mirjamdorn>here</a>.) <br /><br /><a href=http://smg.photobucket.com/albums/v240/mirj/?action=view?t=chuppah2.jpg target=_blank><img src=http://img.photobucket.com/albums/v240/mirj/chuppah2.jpg border=0 alt=Photobucket /></a> <br /><br />Originally from the Bronx, I've been living in Israel since 1983. I'm married to a brilliant man with the most yummy British accent (this is the part where he rolls his eyes and says, Yeah, yeah, yeah). Let's call him Sushiman, even though he hates that name. <a href=http://www.recipezaar.com/member/52282>Chia</a> gave him that nickname when I was trying to create a dinner to show off my culinary talents. I posted here on Zaar with questions about the menu and since sushi was the main focus of the meal, he became Sushiman. That dinner was just the first of what I hope will become a lifetime of meals together. <br /><br />This is a picture of us taken in September 2005 in Kew Gardens in London. It my favorite picture of the two of us. <br /><br /><a href=http://photobucket.com/ target=_blank><img src=http://img.photobucket.com/albums/v240/mirj/Kew.jpg border=0 alt=Photobucket - Video and Image Hosting /></a> <br /><br />This comes in as a close second, taken March 2009: <br /><br /><a href=http://smg.photobucket.com/albums/v240/mirj/?action=view?t=Wedding6.jpg target=_blank><img src=http://img.photobucket.com/albums/v240/mirj/Wedding6.jpg border=0 alt=Photobucket /></a> <br /><br />I have 4 of the most gorgeous daughters in the known universe (tfu, tfu, tfu, that's me spitting three times to ward off the Evil Eye). Sushiman has 4 kids of his own, so together that makes us a family of ten, together with my dog and my step-dog (sadly, since I first wrote this my step-dog, Honey, crossed the Rainbow Bridge). We're the Brady Bunch on speed. Not all eight live with us, but everyone is in and out all of the time, so we're thinking about replacing our front door with one of those revolving thingies.</p> <p>If you need help figuring out the whole complicated mess, you can check out <a title=Miriyummy -- A Guide to the Perplexed href=http://miriyummy.wordpress.com/about/ target=_blank>Miriyummy, A Guide to the Perplexed</a>.</p> <p>Here are my four beauties -- from left to right: Adiya, Sara, Nomi and Tehila <br /><br /><a href=http://smg.photobucket.com/albums/v240/mirj/?action=view?t=111.jpg target=_blank><img src=http://img.photobucket.com/albums/v240/mirj/111.jpg border=0 alt=Photobucket /></a> <br /><br />On March 18, 2009, my oldest, Sara, got married to Ariel. The wedding was a clash of cultures and traditions, and we had a blast! <br /><br /><a href=http://smg.photobucket.com/albums/v240/mirj/?action=view?t=171.jpg target=_blank><img src=http://img.photobucket.com/albums/v240/mirj/171.jpg border=0 alt=Photobucket /></a> <br /><br />Over 500 people attended our little party... <br /><br /><a href=http://smg.photobucket.com/albums/v240/mirj/?action=view?t=237.jpg target=_blank><img src=http://img.photobucket.com/albums/v240/mirj/237.jpg border=0 alt=Photobucket /></a> <br /><br />... and Ariel was welcomed into our family in style! <br /><br /><a href=http://smg.photobucket.com/albums/v240/mirj/?action=view?t=225.jpg target=_blank><img src=http://img.photobucket.com/albums/v240/mirj/225.jpg border=0 alt=Photobucket /></a> <br /><br />If you want to see the photo album from Sara and Ariel's wedding, just go <a href=http://family.webshots.com/album/571020179JBDlvf?vhost=family&amp;vhost=family&amp;action=refreshPhotos&amp;albumID=571020179&amp;security=JBDlvf>here</a>. <br /><br />We're just one big happy family, most of the time, really! <br /><br /><a href=http://smg.photobucket.com/albums/v240/mirj/?action=view?t=098.jpg target=_blank><img src=http://img.photobucket.com/albums/v240/mirj/098.jpg border=0 alt=Photobucket /></a> <br /><br />Here on Recipezaar I am the host of the <a href=http://www.recipezaar.com/bb/viewforum.zsp?f=29>Kosher &amp; Jewish Cooking forum</a>. Come on in, and let the Jewish Mothers of Zaar feed you senseless! <br /><br />I hope you enjoy my recipes. I have only posted recipes of food that I am willing to eat myself. Therefore, you won't find anything unkosher in my recipes. You won't find any stinky bleu cheese or goat's cheese either. You will find a lot of comfort food, I believe that comfort food is very important. <br /><br />Gay and Troy are always thanking us for making Recipezaar such a great place. I firmly believe that it's Gay and Troy themselves that deserve a multitude of thanks, from us! And I hope I live up to their expectations! <br /><br /><strong>Miscellaneous Stuff</strong> <br /><br /><a href=http://www.TickerFactory.com/><br /><img src=http://tickers.TickerFactory.com/ezt/d/4;10300;6/st/20050624/e/Since We Tied The Knot/dt/7/k/f6c1/event.png border=0 alt= /></a> <br /><br />&nbsp;<a href=http://www.shinystat.com target=_top><br /><img src=http://www.shinystat.com/cgi-bin/shinystat.cgi?USER=Mirj border=0 alt=Free website counter /></a> <br /><br />What time is it in Ra'anana? <br /> <object width=300 height=25 data=http://www.clocklink.com/clocks/5001-red.swf?TimeZone=IST&amp;Place=&amp;DateFormat=DD-mm-YYYY&amp; type=application/x-shockwave-flash> <param name=data value=http://www.clocklink.com/clocks/5001-red.swf?TimeZone=IST&amp;Place=&amp;DateFormat=DD-mm-YYYY&amp; /> <param name=src value=http://www.clocklink.com/clocks/5001-red.swf?TimeZone=IST&amp;Place=&amp;DateFormat=DD-mm-YYYY&amp; /> <param name=wmode value=transparent /> </object> <br /><br /><a href=http://www.wunderground.com/global/stations/40180.html?bannertypeclick=miniWeather2><br /><img src=http://banners.wunderground.com/weathersticker/miniWeather2_both_cond/language/www/global/stations/40180.gif border=0 alt= /><br /></a></p>
View Full Profile