Royer's Cafe Buttermilk Pie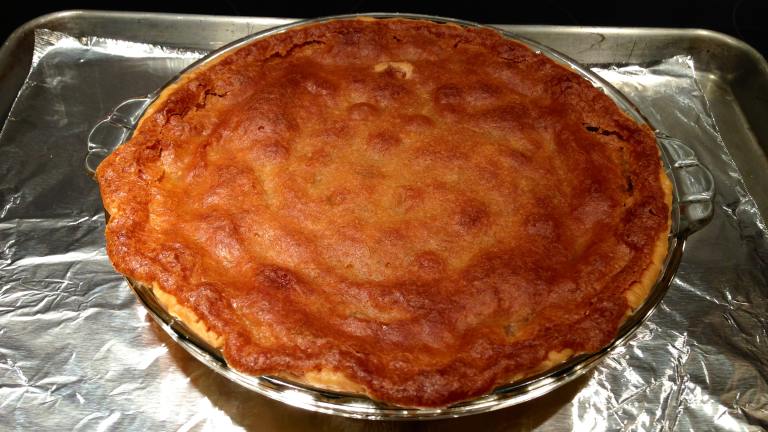 To DIE for! Now don't count your chickens before they are hatched. You may think, Buttermilk Pie? Trust me, it is AWESOME! The base recipe for this Buttermilk pie is from the Royers Cafe Cookbook. Their pies are now trademarked and they are NOT giving away any secrets that I am aware of! They now have another Buttermilk pie that has chocolate chips and pecans in it and has been known to send people over the edge! I am not sure how much they add to theirs BUT this is how much I have found works nicely. People come from all over just to visit this cafe and eat some pie. Royer's is a very well known little restaurant in Round Top which is just down the road from my hometown of Carmine. Both towns are VERY tiny towns that together MIGHT have a pop. of 200. If you are ever around this neck of the woods make sure you stop in and have some pie. Bud is almost always at the door ready to pick on you and make you feel right at home! Royers has even been seen on Food Network's, Road Tasted! Don't fret though, if you can't come to Texas, Texas can come to you! Royers ships their pies all over! Check them out at http://www.royersroundtopcafe.com/
Ready In:

1hr 50mins

Serves:

Units:
directions
Cream butter and sugar together then add eggs and flour and mix well.
Mix buttermilk, nutmeg, and vanilla and stir into mixture.
Sprinkle chips and nuts into the unbaked shell and pour mixture over top.
Bake at 300 degrees for 1 1/2 hours or until set.
Submit a Recipe Correction
RECIPE MADE WITH LOVE BY
"To DIE for! Now don't count your chickens before they are hatched. You may think, Buttermilk Pie? Trust me, it is AWESOME! The base recipe for this Buttermilk pie is from the Royers Cafe Cookbook. Their pies are now trademarked and they are NOT giving away any secrets that I am aware of! They now have another Buttermilk pie that has chocolate chips and pecans in it and has been known to send people over the edge! I am not sure how much they add to theirs BUT this is how much I have found works nicely. People come from all over just to visit this cafe and eat some pie. Royer's is a very well known little restaurant in Round Top which is just down the road from my hometown of Carmine. Both towns are VERY tiny towns that together MIGHT have a pop. of 200. If you are ever around this neck of the woods make sure you stop in and have some pie. Bud is almost always at the door ready to pick on you and make you feel right at home! Royers has even been seen on Food Network's, Road Tasted! Don't fret though, if you can't come to Texas, Texas can come to you! Royers ships their pies all over! Check them out at http://www.royersroundtopcafe.com/"
I lived in Austin TX and enjoyed road trips to Round Top TX and Royer's Cafe. This pie was my favorite and I always intended to bake one at home. After many years yesterday was the day. This pie really is sinfully rich and decadent, loaded with chocolate chips, pecans, coconut and buttermilk custard. Add an ice cold mug of milk on the side and experience the ooey-gooey bliss!<br/>Tip: Use a deep dish pie plate with crust to fit. Also, this is a great recipe to play around with on the add-ins.