Roy Rogers Crispy Fried Chicken - Copycat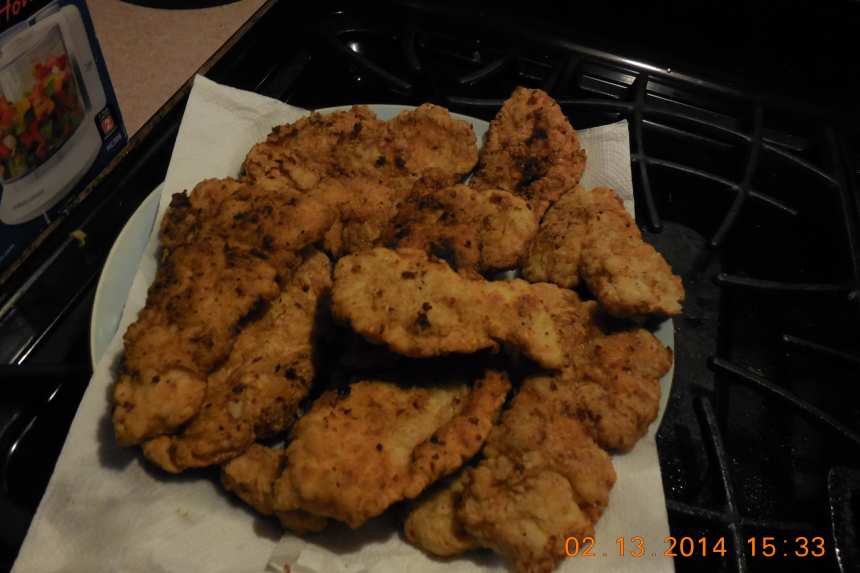 photo by ssej1078_1251510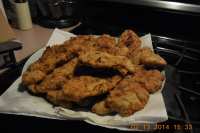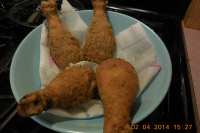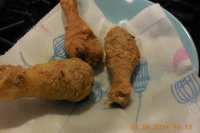 Ready In:

25mins

Ingredients:

12
directions
Pre-heat your deep fryer to 375°. In a mixing bowl, blend egg whites and milk with a wire whisk -- set aside.(Make sure they're mixed thoroughly--somewhat "frothy".).
Measure dry ingredients into a gallon sized Zip Lock type bag, close, and shake well to mix.
Generously coat the drumsticks with the milk-egg mixture, and place them in the bag of seasonings. (I recommend doing 3 at a time) Then shake the bag until well coated.
Drop into deep fryer and allow to cook 15 minutes. (Fry no more than 9 at a time -- and if cooking 9, go 18-22 min, eyeball 'em) When the drumsticks are done, they will be a dark golden brown.
Remove crispy chicken and drain on a paper towel lined plate. CAUTION! They will be very HOT, so allow them to cool 5-8 minutes before serving.
Note: You can remove the skin for "skinless crispy chicken" if you prefer.
Note 2: Try this coating recipe and cooking method with CHICKEN TENDERS. Just cut up boneless breasts into bite sized pieces, coat with milk-egg/seasoning and deep fry.
Note 3: You can also use this coating and cooking method for wings, thighs, breasts etc. Just be sure to coat well and adjust cooking time for the different sizes of chicken.
Questions & Replies

Got a question?
Share it with the community!
Reviews
I've made a lot of fried chicken, but this is my favorite recipe! I used boneless breasts and the recipe was no where near enough dry mix to coat. I had to double it and could have stood to make even more. The flavors are good though and it came out very crispy. I also used regular egg whites instead of powdered.

 

Ok seriously only 3 people have reviewed this recipe... I happened upon this recipe because I had a package of drumsticks and just needed some idea's I originally was gonna make catitore but desided last min to make fried chicken and OMG let me tell you that this is dead on to roy rogers!!!!... My husband who normally doesn't like chicken legs loved when I made this.. it was like a blast from the past!! there are no roy rogers around us anymore..last one is on the parkway about 1 hour away.. so this was so delish. and hit the stop..i cannot wait to try it with wings and thighs as well.. only one thing I didn't add was msg because I didn't even know that you can buy that in the store lol.. so happy you shared... everyone needs to try this!!<br/><br/>ok _ so tonight 2/13/2014 DH wanted this again.. craving it ever since I made it.. so this time I breaded chicken cutlets and guess what... still delish!!!

 

Roy Rogers made the best fried chicken I have ever tasted. This tasted nothing like the RR chicken I remember. I had to pan fry but still I don't see how these seasonings could remotely create the taste and texture I remember? Who uses MSG anymore, it has no flavor of its own. Powdered egg whites why is that necessary? And under the cooking oil it doesn't list the units for the amount: quarts, gallons, pints whatever. And I have to be honest here, these so called copy cat recipes I have never found a single one that recreated what they claim to copy. Was a complete waste of time for me, a big greasy mess, and after cooking for almost 40 min, only 4 thighs mind you , with a internal temp of 165 it still wasn't right. If you got yours to work, great but this is the last cc recipe I will ever use.

 

Very Tasty and Easy to Prepare. The only thing I'll change next time is: I will simmer the legs in milk until almost done then dip in milk/egg mix, shake in flour mixture and then deep fry 'em. The skin had to cook a bit too much while waiting for the legs to be fully cooked. Otherwise, GREAT flavor.