Rotisserie Turkey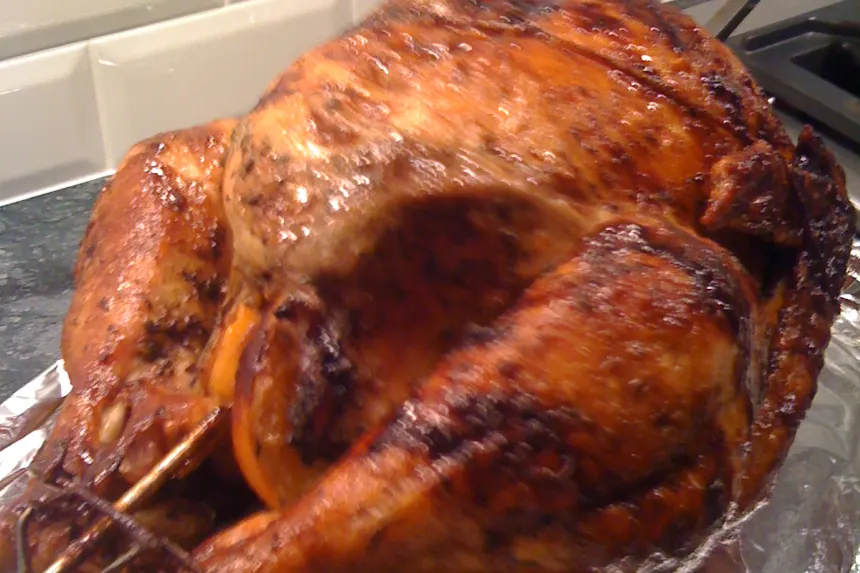 photo by Canoe98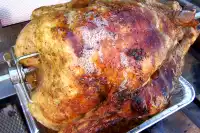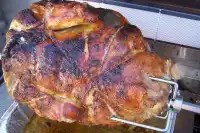 Ready In:

3hrs 30mins

Ingredients:

11
directions
Mix together seasonings and rub inside and on the surface of cleaned and dried turkey. Can be done the night before to let the seasoning permeate the meat.
Stuff turkey with the apple and onion and place securely on rotisserie skewer.
Slide one pair of prongs onto the spit and then push the spit and prongs into the turkey. Slide the other set of prongs on the opposite side of the spit and insert the prongs into the turkey.
Tighten the wing nuts to keep the turkey firmly in place on the spit.
Now truss the turkey. Tie the ends of the legs together with string.
Tie a string close around the turkey at the meaty part of the legs to keep them close to the body.
Again tie a string around the wings and breast section of the bird to prevent them from flopping about as the rotisserie rotates.
Preheat the grill by setting all of the burners on high for a few minutes.
The spit is then attached to the brackets of the rotisserie assembly. One end of the spit slides into the motor unit.
Start the motor and observe the rotation to ensure that the spit is balanced and there are no obstructions.
Place the drip pan under the turkey a size larger then the turkey to prevent flare ups.
Place liquids in drip pan.
The lid of the grill should be lowered and remain closed to ensure even roasting. But do check quickly that it is rotating. Adjust if needed. About 10 to 15 minutes cooking time per pound, which means that a 14 pound turkey may require 2 to 4 hours on the rotisserie.
DON`T rely on time estimates to determine proper doneness. Always use a meat thermometer to be sure it is done.
The internal temperature of the turkey for the breast meat must reach an internal temperature of 170ºF and the thigh meat must reach an internal temperature of 180ºF.
Carefully remove the spit from the grill with oven mitts. Remove the spit from the turkey. Cover the turkey with foil and allow it to rest for a few minutes before carving.
Reviews
DH has made this many times.Such a delicious change from oven roasted. I use Greek seasoning, and rub olive oil generously on skin, do not stuff with anything, It can be a little dry, but usually so tender with great flavor. Very very important to balance the bird. Nice to free up the oven for other side dishes!

 

Thank you for the great instructions on a rotisserie cooked turkey - we recently purchased a new BBQ (a Napoleon Prestige Pro 500 with infrared rear burner) and it does a fantastic job with a turkey. I cooked a 15 lb turkey this way for Easter and as Rita suggests, up to 14 pounds is probably the max. My BBQ could handle it as it's new but we could see it was sagging a bit in the middle and no doubt hard on the motor. However, after approx 2 1/2 hrs, the bird looked beautiful; we let it rest for 1/2 hr or so. It was delicious - moist and just how we love our turkey. I am delighted that my oven is now free for the rest of the food - roasted vegetables, potato casserole, etc. and best of all, my husband has total responsibility of the turkey which makes the rest of it so much easier for me.

 

If you set out to do this, be sure you have a backup contingency plan. I am no stranger to rotisserie cooking, having had a fairly standard rotisserie setup for years. I have a 12 lb turkey to cook for Thanksgiving (today). I could NOT get the turkey to stop flopping around no matter how many times I adjusted the spit and the strings. So, after about 30 minutes, with the motor on the spit groaning and straining, I gave up and stuck it in a 325 oven.

 

I have upgraded to a heavier rod and a stronger motor. I now only use the infrared back burner on turkeys, pork shoulders, etc. A drip pan then fits in easy, there are never flareups, and have never had a mishap. Sometimes I use the smoker box and sometimes not. It is good both ways. I have even done brisket the same way. I start with a light oil brush but little else as I(and many guests) seem to enjoy the flavor of turkey without the enhancements Happy Cooking