Rosemary Lemon Chicken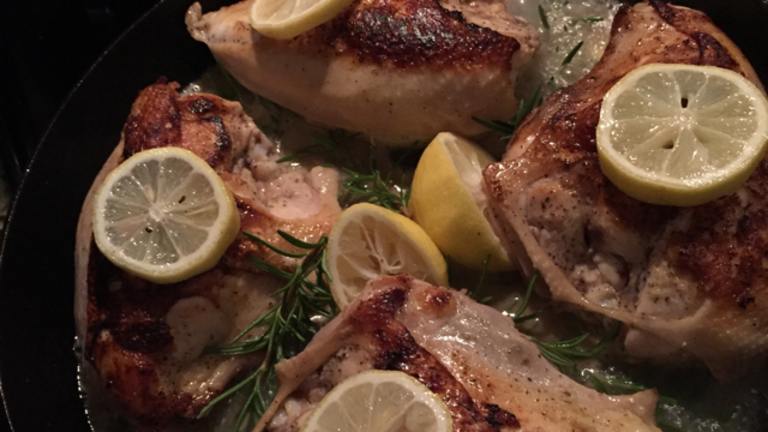 heres one I found in Good Housekeeping Magazine,88 I used it alot..It goes into my regular OAMC Chicken Plan
Ready In:

1hr 10mins

Yields:

Units:
directions
Preheat oven to 350 degrees. Remove giblets and neck from chicken, reserve for something else. Rinse chicken, drain and pat dry. Working with chicken breast side up, fold wings toward neck, then fold up and under back of chicken so they stay in place.
Cut lemon in half, squeeze enough juice from one half of lemon to make one tablespoon, cut remaining lemons into large chunks (I have used reconstituted lemon juice and substituted limes for the chunks of lemon with no problem)
Place lemon chunks and 2 sprigs of fresh rosemary (or 1 tsp dried) inside body cavity of chicken. With string, tie legs and tail together. Insert meat thermometer into thickest part of meat between breast and thigh (I don't do this) being careful not to touch thermometer to bone. Place chicken, breast side up, on rack just large enough to hold chicken in large open roasting pan (I just put it in a bigger, metal roasting pan! Metal seems to work better than glass, more juices)
In a cup, mix 2 tbsp frsh minced rosemary (or 2 tsp dried), 2 tbsp olive oil, 1 tsp salt, and 1/4 tsp pepper. With a pastry brush, brush chicken with mixture.
Cut each potato in half. Place potatoes around rack in roasting pan, drizzle with the 1 tbsp lemon juice and 3 tbsp olive oil and sprinkle with 3/4 tsp salt and 3/4 tsp pepper. Toss to coat well.
Roast chicken in 350 degree oven for 1 hour and 15 minutes, basting chicken and potatoes with pan drippings occasionally. When chicken turns golden, cover loosely with a tent of foil.
Add green beans to roasting pan, toss with potatoes. Roast 1 hour longer, basting chicken and veggies occasionally with pan drippings, or until meat thermometer reaches 175 to 180 degrees (I find the times to be pretty reliable; add 15 more minutes if you want to be extra sure). Remove foil during last of roasting and brush chicken again with pan drippings for attractive sheen (this chicken is GORGEOUS!)
To serve, place chicken on large platter, remove string. Arrange potatoes and green beans around chicken. Garnish with rosemary before serving.
Submit a Recipe Correction
RECIPE MADE WITH LOVE BY
"heres one I found in Good Housekeeping Magazine,88 I used it alot..It goes into my regular OAMC Chicken Plan"
This recipe says up front that the cooking time is one hour but if you read further it says 1 hour and 15 minutes and if you read to the end, it is 2 hours and 15 minutes. My guest dinner was ruined because the main course was not ready in time and I had to substitute spaghetti instead. Not only is the time listed at the top wrong and the cooking time split in the recipe so that you have to read carefully to plan the correct punt of time, but the author actually discourages the reader from using a meat thermometer and encourages trusting the time listed.