Rose Water and Cardamom Custard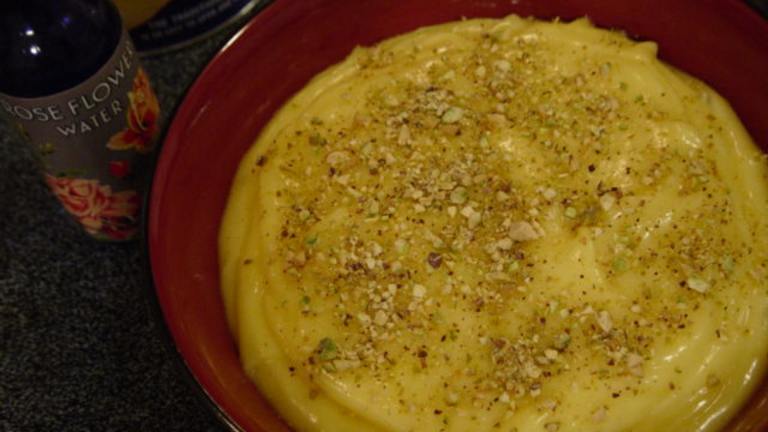 A traditional custard eaten in Saudi and neighbouring Gulf countries.
Ready In:

20mins

Serves:

Units:
directions
Mix custard powder with 1/2 cup of milk until smooth.
Add 3.5 cups of milk, cardamom and sugar into a saucepan.
Bring to the boil on medium heat, stirring frequently as not to scorch.
Remove milk from heat.
Add in the custard powder slowly stirring all the time.
Place milk back onto heat stir constantly until smooth and custard has thickened (+ - 5 minutes).
Remove from heat.
Add rose water stir well.
Cool.
Add whipping cream and mix well.
Place in a bowl and sprinkle with ground pistachios.
Serve chilled.
Submit a Recipe Correction
RECIPE MADE WITH LOVE BY
"A traditional custard eaten in Saudi and neighbouring Gulf countries."
Please don't laugh...this was 1/2 gone before it got to the fridge. :O I used 5TB cornstarch & 1TB vanilla powder. IT WAS SOOOO DELICIOUS!! I'm one who craves rosewater. ;) Next time I will try 6TB cornstarch because I think it was suposed to be thicker. The only disapointment was the next day it was like a milkshake. But still DELICIOUS so I put it in a glass & drank it. :) I was confused at first about why this was a custard (I hadn't heard of custard powder) - I would call this a pudding because to me custard = egg based. Regardless, this was simple, easy & fairly quick. It did take quite some time to chill but I had already eaten most of it by then anyway, lol. And it's fabulous still warm!! I'm making some more very soon. Thanks, lemoncurd!!!<br/><br/>NEW REVIEW!! I FOUND CUSTARD POWDER!!! I MADE IT PROPERLY!! Gosh, it was so long ago that I first made this. I have been looking forever searching under cardamom & pudding. I forgot that 'custard' is in the title not pudding. GAH. I found it when adding recipes for the Go to Saudi Arabia! segment of the regional excursions around the NA/ME Forum 6/13. Anyway, this is still the most fabulous, delicious pudding around. i *had* to share with dd. It did NOT separate in the fridge overnight. I'm so happy I found this recipe again!!

What an interesting way of making an elegant dessert out of simple custard powder! I loved the way the flavors of cardamom and rose subtly stood out without being too overpowering. I love rose water so I used 3 tbsp. Another variation that we could use is adding fresh or dried rose petals to the milk along with the cardamom powder and sugar, bringing it to a boil and switching off the heat to let the flavor infuse for about 20 minutes or so before continuing with the other steps. I saw this being done once on an Arabic cookery show. Apparently this method gives a rich, aromatic rose fragrance to the custard. Thanks lemoncurd...this recipe will be added to mys list for dinner party desserts!