Roasted Peppers: How to Roast a Pepper on a Gas Range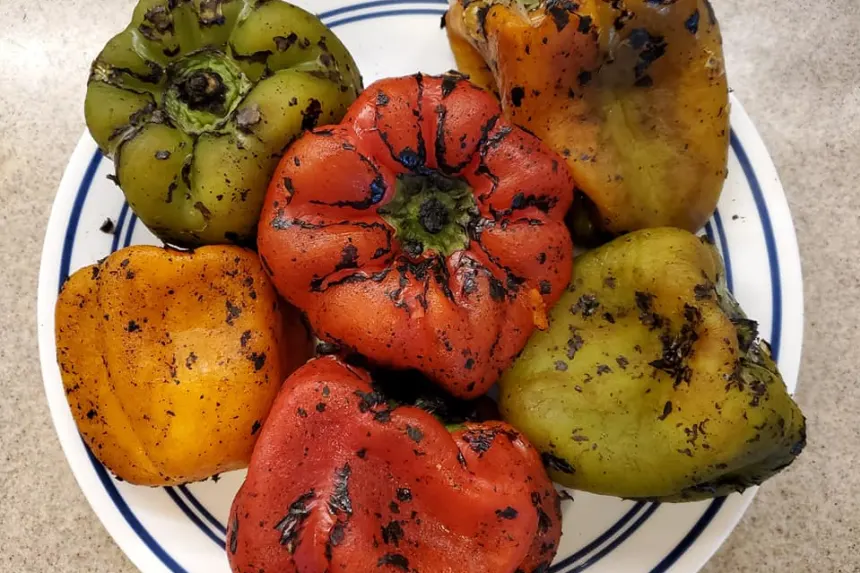 photo by Kevin K.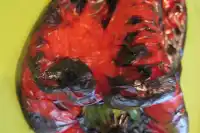 Ready In:

15mins

Ingredients:

2
ingredients
bell pepper (bell or hot, whichever)

skewer (or long handled fork)
directions
Rinse the pepper.
Stick the pepper on a metal skewer or long handled fork.
Hold pepper close to the gas range flame (a small kitchen torch such as is used for crème brulee is also acceptable, but using a range is safer).
When the pepper begins to blister, rotate; continue rotating until entire pepper is blistered and charred*.
Place the roasted pepper directly into a Ziploc and seal.
After 15 minutes, rinse the pepper under small stream of cold water.
Rub the pepper thoroughly until all the skin has come off, or carefully scrape skin with a butter knife to remove.
*Note:the amount of charring is open to debate; some people prefer them evenly darkened but not blackened, but others prefer them very charred- you'll need to experiment and decide for yourself.
Questions & Replies

Got a question?
Share it with the community!
Reviews
MY teachable moment: 1) Use extra long tongs and hold tight. It can easily fall into your burner. 2) Stand back because it sparks and fizzles. 3) Don't rush the process. Quickly burning the outside doesn't constitute a good roast and blister. 4) Once you get the technique down, these are extraordinarily cheaper than store-bought and quicker to prepare than driving to your grocer. 5) Manically think up recipes for use...pesto, salads, pasta, brushetta, pizza...

 

I am a total roasting novice. I wanted to make marinated peppers, so I tried this. I used salad tongs. Note that the pepper spits and crackles as it blackens. It took about 7 minutes per pepper, then I put in a bowl with a lid. I left the one in there while I cooked the other one. I don't think 15 minutes helped the skin peeling any more than the 7 minutes. But I would never use a plastic bag. After I skinned, deseeded and sliced, I put in a mason jar with garlic and salt in layers and covered with olive oil. Put in the fridge to marinate.

 

I've done this same method of roasting before, but I never thought of using one of my long forks to hold on to the pepper, or the trick of putting it in a ziploc bag for 15 min in order to allow it to cook longer & make the peel come off completely effortlessly! Amazing what just a couple simple tweaks can accomplish when it comes to getting something done well and extra efficiently besides! Thank you so much! Harmony Jacobson West St. Paul, MN

 
RECIPE SUBMITTED BY
<p>It's simply this: I love to cook! :) <br /><br />I've been hanging out on the internet since the early days and have collected loads of recipes. I've tried to keep the best of them (and often the more unusual) and look forward to sharing them with you, here. <br /><br />I am proud to say that I have several family members who are also on RecipeZaar! <br /><br />My husband, here as <a href=http://www.recipezaar.com/member/39857>Steingrim</a>, is an excellent cook. He rarely uses recipes, though, so often after he's made dinner I sit down at the computer and talk him through how he made the dishes so that I can get it down on paper. Some of these recipes are in his account, some of them in mine - he rarely uses his account, though, so we'll probably usually post them to mine in the future. <br /><br />My sister <a href=http://www.recipezaar.com/member/65957>Cathy is here as cxstitcher</a> and <a href=http://www.recipezaar.com/member/62727>my mom is Juliesmom</a> - say hi to them, eh? <br /><br />Our <a href=http://www.recipezaar.com/member/379862>friend Darrell is here as Uncle Dobo</a>, too! I've been typing in his recipes for him and entering them on R'Zaar. We're hoping that his sisters will soon show up with their own accounts, as well. :) <br /><br />I collect cookbooks (to slow myself down I've limited myself to purchasing them at thrift stores, although I occasionally buy an especially good one at full price), and - yes, I admit it - I love FoodTV. My favorite chefs on the Food Network are Alton Brown, Rachel Ray, Mario Batali, and Giada De Laurentiis. I'm not fond over fakey, over-enthusiastic performance chefs... Emeril drives me up the wall. I appreciate honesty. Of non-celebrity chefs, I've gotta say that that the greatest influences on my cooking have been my mother, Julia Child, and my cooking instructor Chef Gabriel Claycamp at Seattle's Culinary Communion. <br /><br />In the last couple of years I've been typing up all the recipes my grandparents and my mother collected over the years, and am posting them here. Some of them are quite nostalgic and are higher in fat and processed ingredients than recipes I normally collect, but it's really neat to see the different kinds of foods they were interested in... to see them either typewritten oh-so-carefully by my grandfather, in my grandmother's spidery handwriting, or - in some cases - written by my mother years ago in fountain pen ink. It's like time travel. <br /><br />Cooking peeve: food/cooking snobbery. <br /><br />Regarding my black and white icon (which may or may not be the one I'm currently using): it the sea-dragon tattoo that is on the inside of my right ankle. It's also my personal logo.</p>
View Full Profile