Roasted Lamb Shanks With Red Wine,tomato & Garlic Risotto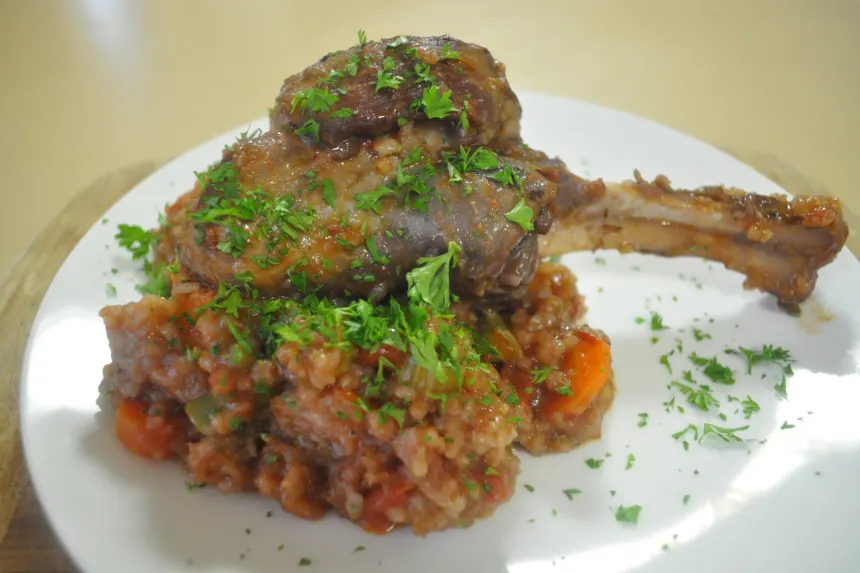 photo by I'mPat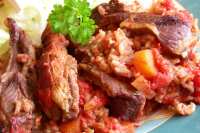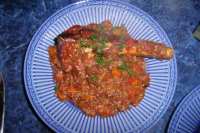 Ready In:

2hrs 45mins

Ingredients:

12
directions
Roast lamb shanks at 200 C in a roasting pan for approx 30 minutes.
Remove shanks from pan and drain fat from pan then add rice. Sprinkle carrots & celery over rice.
Mix chili, garlic, stock, tomatoes, wine & rosemary together and pour over rice. (This mixture could be used as a marinade for the lamb prior to cooking).
Place shanks on top of rice with tomatoes. Cover & cook at 150 C for approx 2 hours.
Check after an hour or so and add more liquid if necessary.
Serve garnished with chopped parsley.
Questions & Replies

Got a question?
Share it with the community!
Reviews
This was wonderful. I only tasted it, because i was on a cooking storm today and needed to use the leftover stewed tomatoes from another recipe before they went bad so took the opportunity. One thing I did do is add "gremolata" the mix of lemonzest, chopped garlic and parsley at the end of the cooking in the sauce. It was rather like ossobucco then with the rice cooked in the pot :) I will be making this again after tomorrows feast of it..that is if i can hold off making a pig of myself at midnight snack!!

 

The final taste was delicious but had a heap of the rice left over (could have halved that especially for 3 of us), I also added some sliced green beans to the mix to round it off a bit better for a complete meal) and was really surprised at how well the veggies held up and were still just tender and not at all mushy but a little disappointed that the lamb was not more fall of the bone even after 3 hours of cooking and definately keep an eye on it for drying out, I added about a cup of water after the first hour and then another 1/2 cup at 2 hours and let cook a further 1/2 and hour (with lid on in the hope it would pull the lamb of the bone more) as the vegies were a little underdone (that really surprised me), so would consider cooking with lid on for the last hour which I think would produce fall of the bone lamb. Thank you **Mandy**, made for I Recommend and recommended by Marra Mamba.

 

I'm preparing this recipe today for the 2nd time. It is the perfect company dish. You actually do just throw it in the oven and basically ignore it for 2 hrs. You can clean up the kitchen, greet your guests, serve appetizers and a pre-dinner cocktail while this prepares itself in the oven. It is absolutely delicious and your guests will think you worked all day on it!

 

An Outstanding 20 stars ! This is a fabulous lamb recipe and one we will be repeating often, just with more lamb next time becuase we were both eyeing up the last piece LOL (DH got it becuase I love him, but if it had been anybody else I *might* have trampled them for it .. just kidding .. well kind of..) It was easy to make too... while the shanks were roasting at the beginning I put everything else together and once the first 30 minutes were up, it took about 2 minutes to throw in the rest per instructions and get it back into the oven. Yes, the wine and stock did look like it might have been too much when I added it but there was none at all left after the lamb was cooked, it had totally soaked up. One IMPORTANT point to make though: I used a metal roasting dish and checked mine after 1 hour to find it perfectly cooked, meat was falling apart tender and the rice was cooked though. My roasting pan is a biggest I could find as I often roast large legs of lamb and so maybe my mixture wasn't as deep and so required less cooking. Luckily we were able to bring dinner forward in a hurry and enjoy this at it's best. It was excellent. My only problem was to know what was meant by sweet chili pepper, are chili not always hot? anyway I guessed and used a small amount of very hot piri piri.. and it was perfect, not terribly hot but enough to pep up the flavours. Please see my Rating System: an excellent 5 stars for a dish that will be back on our tables again and again and again! Thanks!

 
RECIPE SUBMITTED BY
Melbourne I live on a 5 acre property in the Dandenong Ranges Victoria, Australia, having moved from the burbs when I became pregnant with my now 15 year old daughter Alyssa. Once my daughter was born I became a stay at home mum as I couldn't bear the thought of putting her in daycare. She is the light of my life, I never imagined myself as a mum when younger but now wouldn't have it any other way. Alyssa was made a big sister on the 19th April 2010 when our cheeky little boy Blake was born. I love cooking and experimenting with new recipes so quickly become addicted to Zaar as it was previously known & still use it regularly. In addition to being my kids taxi :lol: I also spend my time, reading, gardening and of course shopping. I'm lucky enough that we have the space & so love growing our own fruits, vegies & herbs, this also means we have plenty of room for animals & at the moment have 2 dogs, Max, a Jackshund who's 6, Fletcher, a Kelpie who's 4, 6 cats Snowpea, Fergus, Ginger, Tango, Annie & Cookie, 4 chooks & 2 Ducks. As well as our pets, we also have a lot of native animals around our area, we have kangaroos, wombats, echidna's, possums as well as rosella's, galah's & Cockatoo's hence the name of where I live..
View Full Profile