Roasted Beet Pasta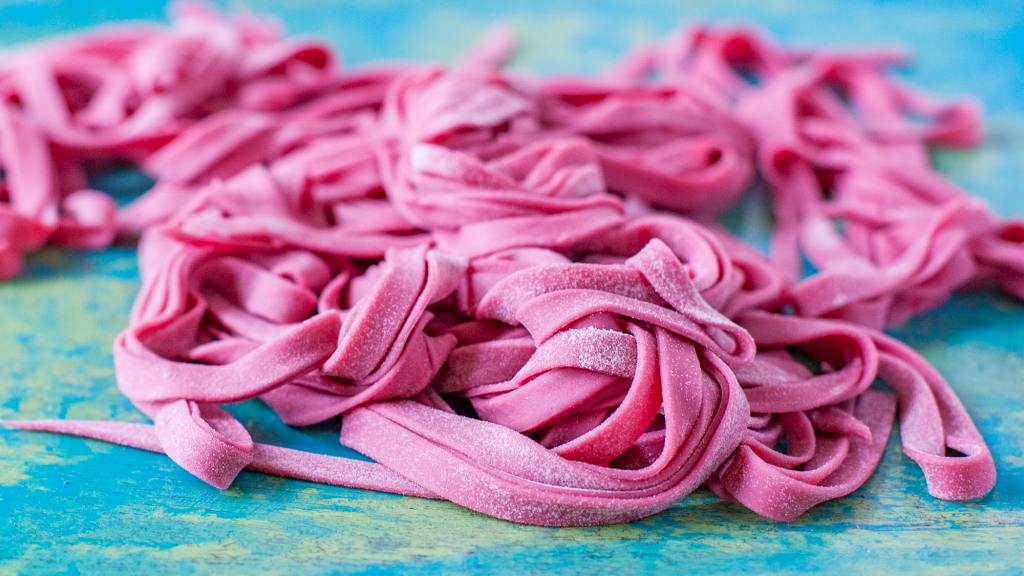 Ready In:

1hr 35mins

Ingredients:

5
directions
Preheat oven to 400 degrees.
In a large mixing bowl, toss beets with oil and salt to coat.
Place on lined baking sheet and place in 400 degree oven for 1 hour.
Remove and allow to cool (about 20 minutes).
Peel beets under running water and cut into 1/4 inch dice.
Then puree in food processor.
To make pasta: Make a mound of the flour in the center of a large wooden cutting board.
Make a well in the middle of the flour and add the eggs, beet puree and any other flavorings you choose.
Using a fork, beat together the eggs, oil and flavorings and begin to incorporate the flour starting with the inner rim of the well.
As you expand the well, keep pushing the flour up to retain the well shape.
Do not worry that this initial phase looks messy.
The dough will come together when 1/2 of the flour is incorporated.
Start kneading the dough with both hands, using the palms of your hands primarily.
Once you have a cohesive mass, remove the dough from the board and scrape up any left over crusty bits.
Lightly flour the board and continue kneading for 3 more minutes.
The dough should be elastic and a little sticky.
Continue to knead for another 3 minutes, remembering to dust your board when necessary.
Wrap the dough in plastic wrap and allow to rest for 30 minutes at room temperature.
Note: do not skip the kneading or resting portion of this recipe, they are essential for a light pasta.
Roll out to four 7 inch by 16 inch sheets and cut in whatever shape you wish.
Join The Conversation
It is indeed a beautiful colour & much superior to just boiling pasta WITH beets! I can see me doing that but it wouldn't be roast beetroot then! I will research gluten-free as I believe there is no need for the kneading, but this is what processors & mixers were made for. I wanted to do as suggested first though. The things I did differently were: beating the beetroot puree & eggs BEFORE adding to the flour & I sifted the flour to a bowl in the first place. I was NOT messing about with flour on a board & DEFINITELY NOT beating eggs in the flour on a board!! My clean-up was minimal as a result. Next time I will add dried herbs (and 2 tbsp water) as I think the speckled effect will make it look attractive too. I made lasagne sheets & cut some in tagliatelle. I may knead a bit longer next time - with a machine! (and it does mean beetroot in step 9)