Roast Chicken With Root Vegetables, Rosemary, and Garlic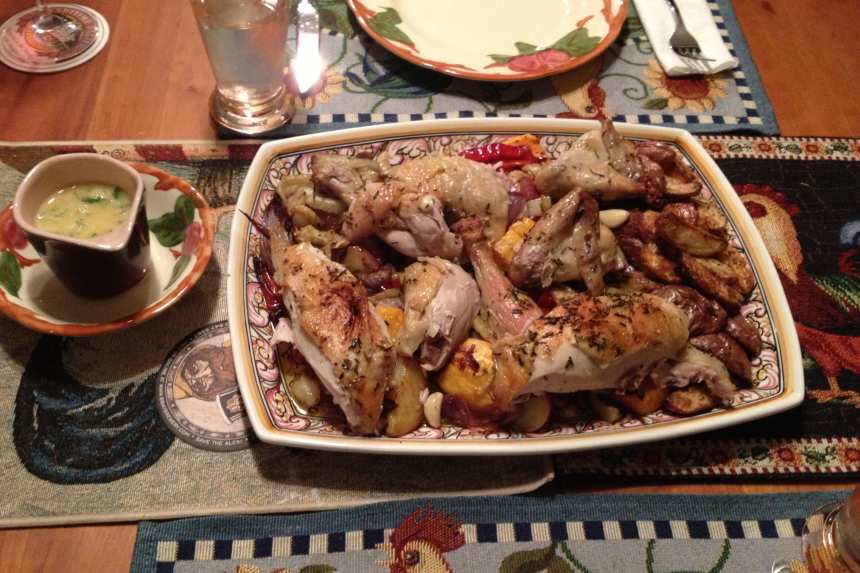 photo by French Terrine

Ready In:

2hrs

Ingredients:

16
ingredients
1

(3 1/2 lb) whole chickens, rinsed, giblets and neck reserved and liver saved for another use

2 -3

heads garlic, separated into whole cloves, with cloves peeled
3⁄4 cup extra virgin olive oil

2

tablespoons duck fat (optional)
1⁄2

winter squash, of your choice seeded peeled, cut into 2 inch pieces (Acorn, Delicatta, Butternut) or 1/2 kabocha squash, available all seasons

10

new potatoes, quartered lengthwise

10

cipollini onions

1

red onion, cut into 8 pieces, leaving pieces attached at the base

2

leeks, white part only cut in half lengthwise in 3 inch lengths

1

fennel bulbs, core removed, sliced into thin half-moons, reserving fronds or 2 celery hearts, cut into 3 inch lengths

6

fresno chile pepper

1

cup chicken stock

1⁄4 bunch Italian parsley, washed and roughly chopped
1⁄2 cup butter, cut into 8 pieces and well-chilled
1⁄2

lemon, juice of
directions
Rinse chicken under cold running water and pat dry, inside and out. Reserve the giblets for making stock and save liver for another use.
Salt and pepper cavity of chicken generously. Place 6 (or more) of the garlic cloves and 3--4 sprigs of rosemary in the cavity, then truss legs together.
Mince 6 cloves of garlic and mash into a paste with Kosher salt.
Finely mince 4 sprigs of rosemary and combine with garlic paste.
Combine the rosemary and garlic paste with about 1/4 cup of olive oil in a gallon sealable plastic bag and place trussed chicken in the bag. Massage the minced rosemary and garlic paste into the chicken and refrigerate overnight or longer.
When ready to prepare, let chicken come to room temperature at least 1/2 hour before baking.
Preheat oven to 375°F.
Prepare vegetables: If using leeks, blanche them for 30 seconds, then rinse with cold water. If using celery hearts, leave them in 2--3 inch lengths. (I don't always use the leeks). Cut chilies in half lengthwise, removing core and seeds. Reserve some of the veggie stalks and trimmings to use in stock. If using Cippollini onions, blanch them, rinse under cold water and peel the outer papery layer and some of the base, leaving enough base to hold the little onion intact.
If you are using stock from a box, finely mince 1 clove garlic. Using a small saucepan, saute garlic in a small amount of olive oil. Then add 1 cup of the chicken stock and 1 sprig of rosemary and reduce to 1/2 cup. Remove the rosemary sprig. This will be the base for the parsley butter sauce.
OR prepare your own chicken stock: To prepare your chicken stock, heat 1 tablespoon of olive oil in a saucepan and brown chicken neck, heart, and gizzard. (Save liver for another use). Once giblets have browned add 2 cups of water and vegetable trimmings, i.e. fennel fronds, a slice of onion, and a sprig of parsley. Add salt and pepper to taste. Continue cooking the stock until reduced to 1 cup. Meanwhile finely mince 1 clove of garlic. Once stock has reduced by half, strain out chicken giblets and vegetable trimmings. Clean the saucepan and heat 1 tablespoon of olive oil, then and saute the garlic. Return stock to the pan with the garlic and add a sprig of rosemary. Continue to reduce to 1/2 cup and remove the rosemary sprig. This will be reduced further to only a few tablespoons when preparing the parsley-butter sauce.
Mince additional 4 cloves of garlic with another 4 sprigs of rosemary.
Place cippolinni onions, red onion, sliced fennel, (or celery hearts), squash, chiles, and any remaining garlic cloves on a large baking tray and toss with 3/4 of the minced garlic and rosemary and 1/4 cup of olive oil. Sprinkle generously with salt and pepper. If you would rather not roast your potatoes in duck fat, toss with the vegetables in olive oil.
In a separate bowl, toss potatoes with remainder of minced garlic and rosemary and add salt and pepper.
Place vegetables in tray in the lower rack of the oven.
Remove chicken from bag and and sprinkle with generous amounts of pepper and another sprinkling of salt. Place chicken directly on oven rack above the roasting vegetables.
Place duck fat in a separate smaller roasting pan and heat in oven for a few minutes. Once hot, add in the quartered potatoes and roast next to chicken which is roasting over the vegetables.
While chicken is roasting prepare the parsley butter sauce: Add in juice of 1/2 lemon to 1/2 cup of chicken stock and continue to reduce until only 2--3 tablespoons remain. Then begin whisking in the chilled butter pieces, one piece at a time, making sure that each piece is incorporated before adding another. After all butter has been whisked in, add in chopped parsley. Keep warm.
Continue to roast the chicken until its internal temp is 165 F., probably about 45 - 50 minutes. It depends on the size of your chicken. If your chicken is done, the juices draining from your chicken should be clear, not pink.
Remove chicken to a carving board allow to stand for 20 minutes.
Increase oven temperature to 425°F and continue to roast the vegetables until done, about 10 or 15 more minutes. Place cooked vegetables and duck-fat roasted potatoes on a large serving platter.
After chicken has rested, carve into serving pieces and arrange over the roasted vegetables on the platter.
Serve with the parsley butter sauce and enjoy.
Questions & Replies

Got a question?
Share it with the community!
Reviews
I will start off by saying that I had to make a few changes (veggie subs, less garlic, no rosemary), but I followed the methods given, and the results were fantastic. I used a 5 lb chicken because leftover cooked chicken is so versatile. I used the full amount of garlic stated for the seasoning rub and cavity (12 cloves total), but ultimately only used about 1 head more for the rest of the recipe -- 3 heads of garlic would've been too much for us. I omitted the rosemary because I just don't like it, but subbed in some freshly dried (not jarred) parsley for the herby element. For the veggies, I didn't have any winter squash, cippolini onions, or fennel bulbs. Instead, I used parsnips, carrots, tricolor mixed baby potatoes, leeks, red onion and celery hearts. I also didn't have any Fresno peppers on hand, but I did have some nice Italian roasting peppers that the landlord dropped off, so into the mix they went. I had to roast my chicken longer because it was bigger, but I didn't actually pay attention to how much longer it took, because I was mostly going by my in-oven meat thermometer instead. Everything came out so beautifully roasty, but sadly, I didn't remember that I wanted a photo until after the chicken was irretrievably torn apart. Since I wasn't actually making this to serve as a proper sit-down meal (I just wanted the chicken and veggies to have on hand for munching and recipes), I didn't bother to make the sauce. I will say that I was very impressed with the chicken in particular; liking the roasted veggies was a given for me, but I was surprised at just how much the flavor from the seasoning penetrated the chicken. Oftentimes, the seasoning on roasted chickens remains on the skin, leaving the meat inside bland, but not this chicken! Very pleased with this overall, thanks for posting! Made for PAC Fall '12