Rigatoni "d" (Maggiano's)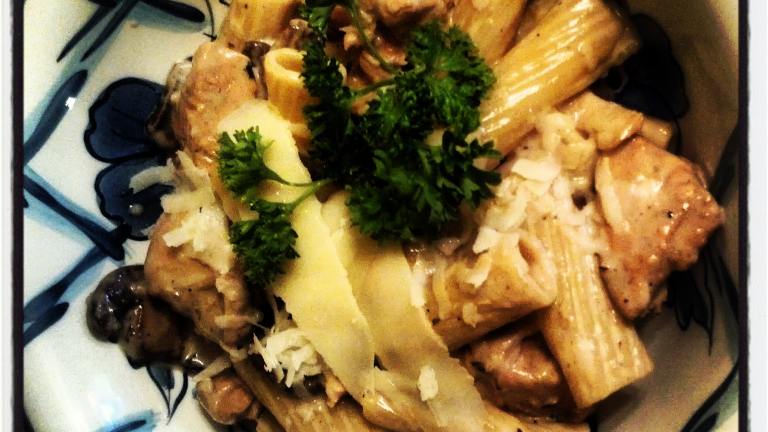 Maggiano's Rigatoni "D" My spin on Maggiano's BEST pasta dish! Totally heavenly! Also...for anyone doing low carb-substitute low-carb pasta & you've got a meal that makes you swear you're cheating!!! (the sauce is thin-but if you've noticed, it's thin at Maggiano's too! If you like it thicker, just lower the heat and let the sauce reduce some more) Also-if you want to use a rotisserie chicken, you can...it turns out quite well if you are pressed for time.)
Ready In:

55mins

Serves:

Units:
directions
Heat oil.
Caramelize onions.
Saute mushrooms with balsamic vinegar.
Add onions to the mushrooms.
Season with salt and pepper.
Add garlic .
Add chicken.
Add chicken stock, Marsala, and white wine. Cook until reduced by half.
Add cream and bring to a boil.
Turn down heat and simmer to skim away any impurities.
Cook rigatoni al dente.
Add drained rigatoni to chicken mixture in pan and finish with basil-parsley mix, parmesan cheese, garlic butter, and salt and pepper.
Add more Marsala for flavor as needed.
Place in pasta bowl and garnish with parmesan shavings and chopped parsley.
Submit a Recipe Correction
RECIPE MADE WITH LOVE BY
"Maggiano's Rigatoni "D" My spin on Maggiano's BEST pasta dish! Totally heavenly! Also...for anyone doing low carb-substitute low-carb pasta & you've got a meal that makes you swear you're cheating!!! (the sauce is thin-but if you've noticed, it's thin at Maggiano's too! If you like it thicker, just lower the heat and let the sauce reduce some more) Also-if you want to use a rotisserie chicken, you can...it turns out quite well if you are pressed for time.)"
Just made this the other night for the family. They absolutely loved it. Also, I made one "slight" modification. Before incorporating the chicken breast into the cream sauce, I browned and sauteed the chicken on high heat for a nice maillard reaction to develop a deeper flavor. Then added the cream sauce into the chicken to deglaze and grab all of the good brown bits. All-in-all, an excellent and reasonably simple recipe. Thank you so much!

Here is how i make it. First bring out all the ingredients, measuring spoons, 2 liquid measuring cups. Put a small frying pan on medium heat. While the pan heats cut up your onion. Put 3 T butter (I like butter better than the olive oil) in pan with onion and as butter melts stir so all onions in butter. Cook on medium until brown 15-20 min stirring occasionally. As that is cooking put 3 T balsamic vinegar in small fry pan with mushrooms. You need the small button ones. I like to use the canned or jar whole ones, drained. Pieces is just not the same and bigger ones too much. I use 2 small cans/jars drained. Cook mushrooms on medium until liquid gone. As the onion and mushrooms cook measure out all ingredients. On a plate grate your Parmesan , measure garlic (I use garlic paste), basil (I use Sold in tube or partially dried. And I use 1 t parsley (sold in tube). Cut your chicken. If you don't have garlic butter, I use 4 T soft butter 1/2 t garlic powder and 1 t dried parsley ( I use sometimes garlic or parsley in tube instead, mix all.Note 1/2 quart means 2 cups so that means 2 cups broth (use low sodium!!! Broth) and 2 cups heavy whipping cream. I use 3 oz Marsala and 2 oz cooking wine (you can measure these in one measuring cup). After onions done put onions and mushrooms in a large cooking pot. Salt and pepper. Add garlic, chicken, broth and wines to mushroom and onions. Cook to half ( I boil for 10 minutes med high). Add cream and turn down to simmer on low. While that simmers Put very warm water in a saucepan cover and bring to boil. Add rigatoni and turn down immediately to medium high. Do not cover. Set timer immediately for 8 minutes to make Al dente. Drain noodles. Add to chicken mixture. Turn heat off. Add Parmesan, garlic butter, basil, parsley. Taste and salt and pepper if needed. Add more Marsala if you want more of that flavor ( I don't).. Noodles will be hard (al dente) and liquid thin. Stir well. Cover with lid and let sit. Stir every 10 minutes for half hour. The longer it sits the better it is. Next day leftovers better yet. Liquid will thicken and noodles finish cooking as it sits. I make it vegetarian as well using better than bouillon vegetarian no chicken base (tastes just like chicken broth, buy online) and omit chicken. Important use low sodium broth or taste before adding additional salt. Also cook noddles al dente or noodles will fall apart. Also let it sit at least 1/2 hour, more if possible. Vegetarian or regular recipe tastes just like maggianos.