Ridiculously Easy, Utterly Delicious Egg Sandwich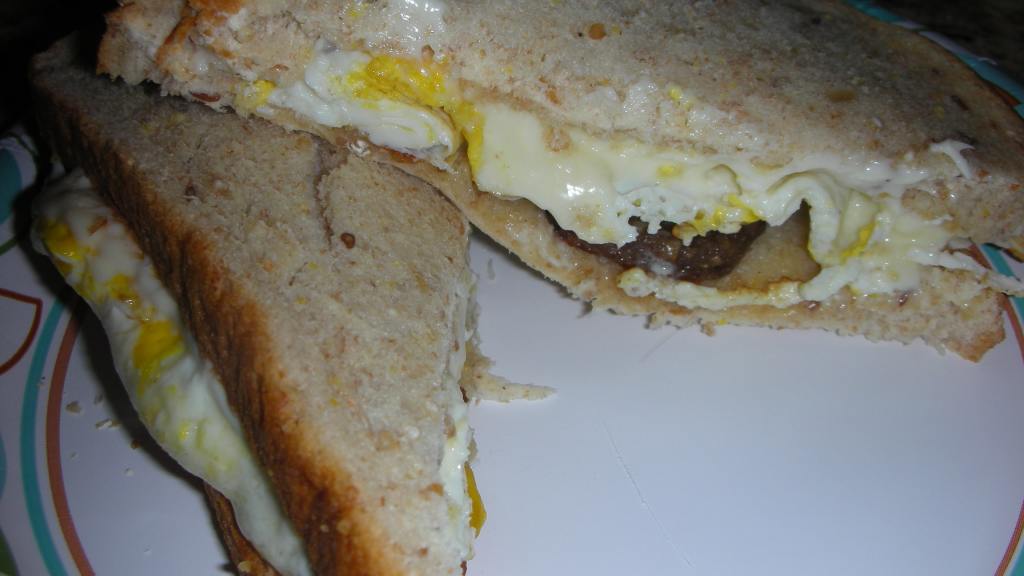 Ready In:

6mins

Ingredients:

10
ingredients
2

eggs
1⁄4 - 1⁄2 teaspoon butter
1 1⁄2 slices American cheese

2

slices bread

1⁄2 - 1 teaspoon butter or 1/2-1 teaspoon mayonnaise

2

slices bacon, cooked (optional)

1 -2

sausage links (optional) or 1 -2 sausage pattie, cooked (optional)

pickle, slices (optional)
directions
Melt 1/2 tsp butter in small, heavy skillet over medium-low heat.
Break 2 eggs into skillet one atop the other so that they form one mass of egg. Use a pancake turner to break yolks so that they run over the surface of the whites.
Season with a dash black pepper and a dash herb-seasoned salt to taste.
While eggs cook, spread butter or mayonnaise lightly on one slice of bread.
Cook about 2/3 done then flip with pancake turner. Scrunch into a bread-shaped mass. Top with cheese.
When eggs are cooked and cheese is melting make your sandwich. Add sausage or bacon and pickles if desired.
If cooking for more than one, make one sandwich at a time unless you can use multiple, small skillets. It looses something if the eggs are cooked in a big mass then separated -- the first eggs get overdone and some people get too much white while others get too much yolk.
Note: I like them done so that the whites are fully cooked and the yolk is almost but not quite hard. Cook to your preferred doneness.
Note: Don't overdo the butter. Use just enough to keep the eggs from sticking to the pan and just enough to carry the flavor on the bread.
Note: My herb-seasoned salt is one of those fancy sea salt grinders. Use any such product that suits your taste or mix salt with some of your favorite herbs (finely crushed) in an empty salt shaker.
Note: Cooked sausage links can be split lengthwise or cooked sausage patties can be crumbled to spread them more evenly on the sandwich.