Rice Flour Crepes / Pancakes- Gluten, Dairy and Egg Free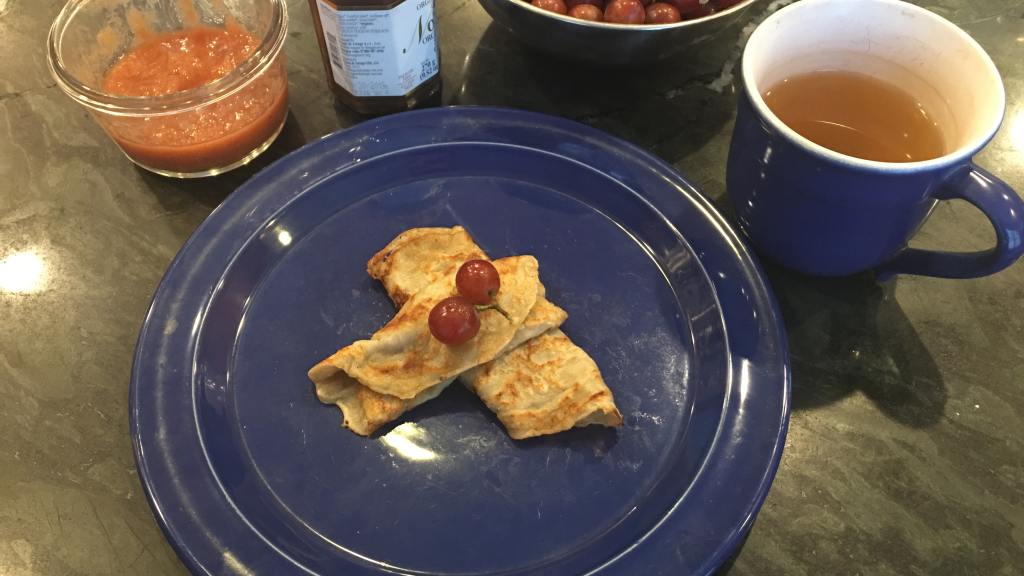 Ready In:

40mins

Ingredients:

6
directions
Whisk all of the ingreients together (dont be tempted to leave out the salt or sugar).
Heat a small amount of allowed oil in a non-stick pan. Pour in 1/4 cup of batter to the pan and tilt to coat pan for thin pancakes. Cook 2-3 minutes- the edges should start to curl. Gentley turn and cook until lightly browned.
Repeat until the batter has all been used.
Serve hot with savoury fillings or as a dessert with fresh fruit or pure maple syrup.
Join The Conversation
I used an organic gluten free "perfect flour blend". Here are my modifications that worked to get a flatter pancake. I made my recipe sugar free. You don't have to or make it organic. 1.5 cups Organic Perfect Flour Blend 1/4 tsp Celtic Salt (or any salt--Celtic has more micro nutrients) 2 tbsp Organic Corn Starch 3/4 tbsp Ground Organic Stevia Leaf Liquid from 1 13.5 ounce can of Organic Coconut Cream (save cream to use in another recipe) 1/2 cup Organic Non-Dairy Milk (I used one flavored with vanilla) 1 cup Water (Add more water as needed) Butter for frying Mix dry ingredients first, then add liquid. Mix well. Using a small ladle (about 2 ounce), melt 100% grass fed butter (good source of vitamin K), in a frying pan on medium heat (you may have to play around since all stoves are different). Plop batter in the middle and spread it out with the ladle in a circular motion to widen the pancake (it will not get to crepe size, but you can get it about 5 inches across). Cook until the batter turns opaque. Then flip. Both sides should be nicely browned. This will make them a bit crispy. If you like them soft like a crepe, cook with a pot lid over, flip and cover again until both sides are browned. It is not exactly like a crepe, but it is enjoyable if you don't mind a little "gumminess". Hope you enjoy. My elementary school-aged kids liked them anyway. LOL

 

Realistically, this recipe doesn't really resemble crepes. Maybe pancakes. I had to revamp the recipe to get it close. That is, close to she shape of a crepe. The taste is quite different. If you like Japanese mochi, with modifications, it could be a tasty recipe. I used an organic gluten free "perfect flour blend". Here are my modifications that worked to get a flatter pancake. I made my recipe sugar free. You don't have to or make it organic. 1.5 cups Organic Perfect Flour Blend 1/4 tsp Celtic Salt (or any salt--Celtic has more micro nutrients) 2 tbsp Organic Corn Starch 3/4 tbsp Ground Organic Stevia Leaf Liquid from 1 13.5 ounce can of Organic Coconut Cream (save cream to use in another recipe) 1 cup Water 1/2 cup Organic Non-Dairy Milk (I used one flavored with vanilla) Add more water as needed. Mix dry ingredients first, then add liquid. Mix well. Using a small ladle (about 2 ounce), melt 100% grass fed butter (good source of vitamin K), in a frying pan on medium heat (you may have to play around since all stoves are different). Plop batter in the middle and spread it out with the ladle in a circular motion to widen the pancake (it will not get to crepe size, but you can get it about 5 inches across). Cook until the batter turns opaque. Then flip. Both sides should be nicely browned. This will make them a bit crispy. If you like them soft like a crepe, cook with a pot lid over, flip and cover again until both sides are browned. It is not exactly like a crepe, but it is enjoyable if you don't mind a little "gumminess". Hope you enjoy. My elementary school-aged kids liked them anyway. LOL