Rice Cooker Chocolate Cake
photo by anniesnomsblog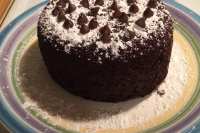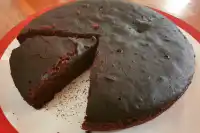 Ready In:

1hr 5mins

Ingredients:

11

Serves:

12
directions
Add together the dry ingredients: 1.5 cups white flour, 1/2 cup raw sugar, 4 tablespoons dark cocoa (powdered chocolate), 1 teaspoon baking soda, 1/2 teaspoon salt, 1/2 teaspoon cinnamon, 1/4 teaspoon double acting baking powder (leave out for heavier cake).
Mix dry ingredients well.
Add wet ingredients to the mixture: 90 ml of sunflower oil (any oil may be used),1/2 teaspoon vanilla, 1 tablespoon vinegar, 1 cup of water.
Mix well till smooth, about 1 minute, do not over work batter.
Pour batter into the greased rice cooker bowl.
Set rice cooker to 'slow' if possible for 60 minutes and start cooker (if your cooker does not have a slow setting don't worry).
Some rice cookers will go to warm cycle after 5 minutes, allow cooker to be in that mode for a few minutes (like preheating) then restart timer for remainder time to equal 60 minutes total cook time.
Check cake at 45 minutes.
Cake is finished when a toothpick comes out clean from edges and center of cake.
Take rice cooker bowl out of machine when cake is finished cooking, and allow the cake to cool in the bowl for 15 minutes before removing.
To remove the cake put flat plate on the top the rice cooker bowl and invert bowl in a smooth motion.
Sprinkle with powdered sugar or top with your favourite frosting.
Try not to eat the whole cake in 1 seating!
Reviews
This cake worked out perfectly and was a delicious find. We are in lockdown in Bali and the villa has only a 2 ring gas top cooker and a rice cooker. Thanks for the yummy recipe. Only thing I found is that my rice cooker switched to warm now and then, I just waited a bit and could turn it on again. It was perfectly cooked in 45 min. Also I added some coffee grounds.

 

I was really wanting this to work, but it was a fail. This recipe needs to include info on what types of rice cookers will work. My rice cooker is the manual kind that you push down the lever from warm to cook. Unfortunately, with my cooker, the lever won't stay down on cook so it goes back to warm. I had to remove it from the cooker and put it in the oven to finish.