Refreshing Lemon & Cucumber Water
photo by Enid T.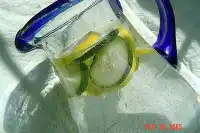 Ready In:

2mins

Ingredients:

3
directions
Place all the ingredients into a pitcher and serve!
For a stronger taste, let the water sit in your refrigerator for an hour prior to serving.
Reviews
I also first tried this recipe at a day spa...minus the lemons. The longer the cucumbers sit in water, the better, more flavorful the water becomes. Do not use a plastic jar; it won't work. I bought a glass sun tea cooler glass jar from Walmart which has a spout on the bottom of the jar. I sliced the cucumbers, poured filtered water on top and put it in the fridge for several days. Whenever I drink a cup of cucumber water, I put a cup of filtered water back into the jar. I think the lemon, lime, or orange addition will be tasty too but I haven't tried it, yet. The biggest key to success is using a glass jar and letting it sit for days. ENJOY!

 
RECIPE SUBMITTED BY
<p style=color: #212121; font-family: alexandriaflfregular, AppleGothic, Arial, sans-serif; font-size: 14px; line-height: 22px; margin: 0px; padding: 0px 0px 15px;><span style=color: #000000;>Kristen Doyle is the creator of the award winning website, Dine &amp; Dish. Since early 2006, Kristen has been sharing her favorite recipes, photographs and life stories with an ever growing audience of engaged readers.</span></p> <p style=color: #212121; font-family: alexandriaflfregular, AppleGothic, Arial, sans-serif; font-size: 14px; line-height: 22px; margin: 0px; padding: 0px 0px 15px;><span style=color: #000000;>Kristen has expanded her reach to include working with major brands (<a style=color: #f5866c; text-decoration: none; href=http://dineanddish.net/?s=bushs beans target=_blank>Bush&rsquo;s Beans</a>,&nbsp;<a style=color: #f5866c; text-decoration: none; href=http://dineanddish.net/?s=Green Mountain Coffee target=_blank>Green Mountain Coffee</a>,&nbsp;<a style=color: #f5866c; text-decoration: none; href=http://dineanddish.net/?s=hallmark target=_blank>Hallmark</a>,<a style=color: #f5866c; text-decoration: none; href=http://dineanddish.net/?s=Zatarains target=_blank>Zatarain&rsquo;s</a>&hellip;just to name a few) as well as providing editorial content and direction for nationwide print publications and websites. Her freelance writing career spans working with magazines on a local and national level as well as creating valuable web content for a variety of sites across the web.</span></p> <p style=color: #212121; font-family: alexandriaflfregular, AppleGothic, Arial, sans-serif; font-size: 14px; line-height: 22px; margin: 0px; padding: 0px 0px 15px;><span style=color: #000000;>Kristen is a busy mom of 4 young kids, loves to entertain, has a passion for photography, and believes in keeping things simple. An avid reader, a kind of runner, a horrible gardener, and the wife of an outstanding man, Kristen&rsquo;s ultimate life goal is to connect and create meaningful relationships with others.</span></p> <p style=color: #212121; font-family: alexandriaflfregular, AppleGothic, Arial, sans-serif; font-size: 14px; line-height: 22px; margin: 0px; padding: 0px 0px 15px;><span style=color: #000000;>Kristen is available for editorial and photography projects, speaking engagements and ambassador partnerships with your brand. If you are local to Kansas City, give me a ring &amp; let&rsquo;s meet for coffee! I hope we get the chance to connect!</span></p>
View Full Profile