Red, White, and Blue Jello Flag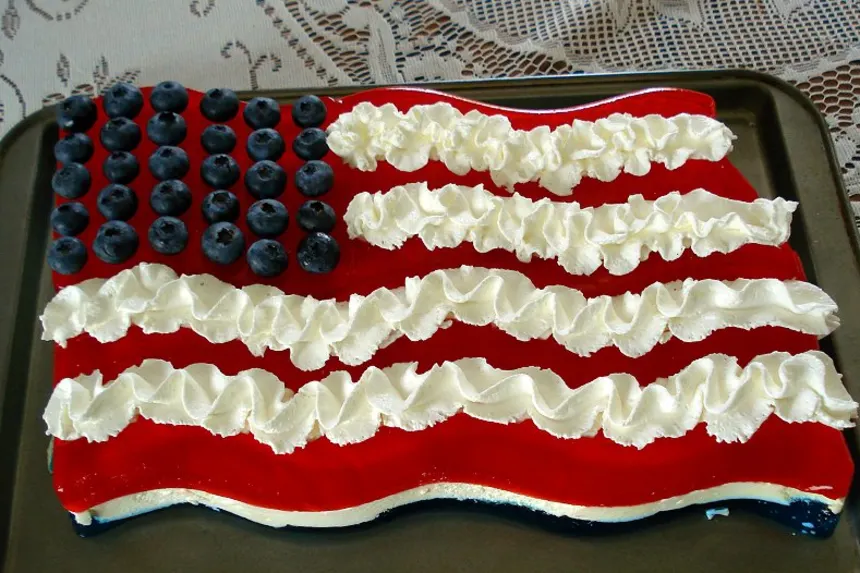 photo by Marg (CaymanDesigns)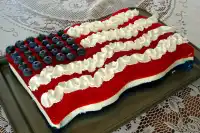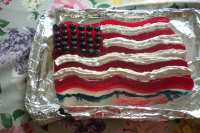 Ready In:

4hrs 20mins

Ingredients:

6
directions
ADD 1-1/2 cups boiling water to dry berry blue gelatin mix in medium bowl; stir at least 2 minutes until gelatin is dissolved. Dissolve dry red gelatin mix in 1-1/2 cups boiling water in separate bowl. Stir 1-1/2 cups ice cold water into dissolved gelatin in each bowl.
SPRAY 10-cup flag mold with cooking spray; place on baking sheet. Pour red gelatin into mold. Refrigerate 45 minutes until set but not firm (gelatin should stick to finger when touched and should mound). Meanwhile, refrigerate berry blue gelatin in bowl for 45 minutes.
MEANWHILE, stir remaining 1 cup boiling water into dry lemon gelatin mix in bowl at least 2 minutes until dissolved. Refrigerate 25 minutes or until slightly thickened (consistency of unbeaten egg whites), stirring occasionally. Stir in whipped topping with wire whisk. Gently spread over red gelatin in mold. Refrigerate 10 minutes or until set but not firm. Gently spoon thickened berry blue gelatin over lemon gelatin mixture in mold.
REFRIGERATE 4 hours or overnight until firm. Unmold.
Reviews
Made this for Fourth of July in my Jello flag mold and everyone loved it! Easy and very festive. Mine looked just like Marg's beautiful picture though I will warn if decorating the top with whipped cream from the can, it should be done just before serving as it will not hold up like fresh whipped cream or Cool Whip. Thanks so much for sharing the recipe! Note: For only one color of Jello in the flag mold, use 2 (8 serving size) or 4 (4 serving size packages) of any red Jello, 3 cups boiling water, 3 cups cold water. Top with blueberries for stars and Cool Whip or whipped cream for stripes.

 
RECIPE SUBMITTED BY
I am a special education teacher for the birth to three crowd! I love my job! My husband and I have 4 teenage daughters. He is so great--he keeps the 5 of us in balance..which isn't always the easiest job in the world! My picture came about while I was in college a few years ago. I was going crazy with tons of homework but felt compelled to make the family breakfast. I wasn't paying any attention to what I was doing and when I looked down, the eggs were smiling up at me! For some reason, I just love that picture and I don't really want to change it to a photo of myself. Biggest pet peeve: Tangled hangars! You try to get just one hangar and 3 more will somehow twist themselves around the one you want! I am very allergic to onions--I do not breathe them, eat them or touch them if I can help it. Sometimes I feel like we are an onion obcessed society! Start looking at labels! You would be surprised at how many boxes and packages contain onion in some form. That's okay....I make most things from scratch--which is probably better anyway.
View Full Profile