Red, White, and Blue Jello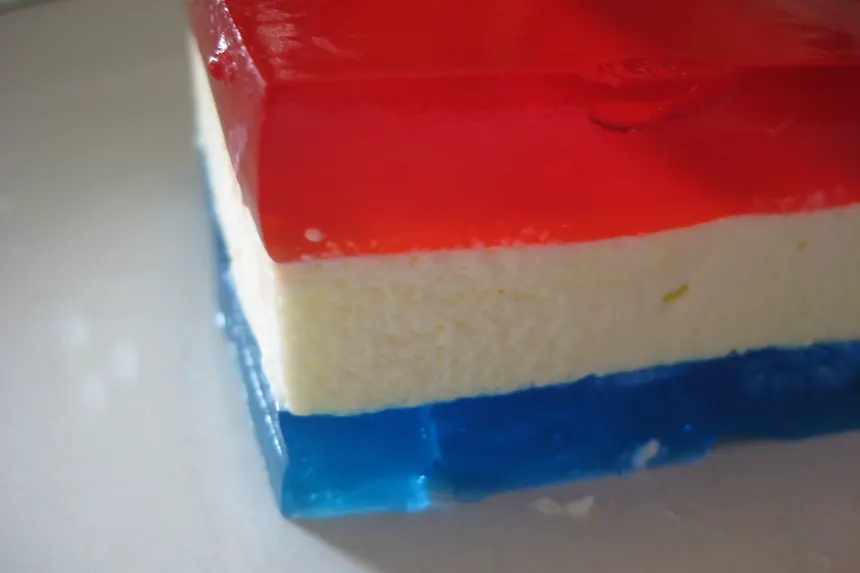 photo by jswinks

Ready In:

2hrs 20mins

Ingredients:

5
directions
Prepare berry blue jello according to directions on box. Pour into 13x9 baking dish and place in the refrigerator. Allow to chill until firm, about 1 hour.
Prepare lemon flavored gelatin using 1 cup of boiling water. Beat cream cheese slightly and then add the lemon gelatin mixture. Beat gelatin and cream cheese until smooth. Set aside and allow to cool to room temperature.
Once the cream cheese mixture has cooled, fold in the whipped topping until mixed thoroughly. Pour this mixture over the firmly set bottom layer. Return to the refrigerator and chill until firm, about 1 hour.
Prepare raspberry jello according to directions on box. Cool this mixture until room temperature and then pour over the middle cream cheese layer.
Return the 3 layers to the refrigerator and chill until top layer is firm.
Cut into squares to serve.
Top with a little whipped topping and a couple of blueberries, if desired.
Reviews
This is one of those 'traditional' desserts, and oh so yummy! I was a little worried it would all fit in the pan, and it does (within about 1/4"). I recommend pouring the top layer while the pan is IN the fridge to avoid sloshy spills. Also, I wasn't sure if I was supposed to follow the "traditional" preparation method on the jello (versus quick set or jigglers), but I did, and turned out fine so I guess that was right! I used one large box for the blue and red. Happy 4th! (The second photo I uploaded was from this year when I put them in 2oz shot glasses and served with demitasse spoons. so great for the kids! After 12 glasses, I still had enough to make a 8x8 pan as well).

 

I loved this recipe! I made it completely sugar-free for my diabetic father, (including using sugar-free cool whip) and used orange and red for Thanksgiving (fall colors). I also used the quick set method for all but the lemon middle. Everyone liked this and didn't think it tasted sugar free. I'm going to make this again for Christmas with red & green.

 

I have made this, but if I am taking it to a outdoor function, I add 2 packages of Knox Unflavored Gelatin to EACH layer.<br/>This allows it to keep its form much longer.<br/>I also make it in an metal pan, then place it in a ice bath. The metal pan allows for the ice to keep it cool, unlike plastic or glass, which are poor heat (cold) conductors.

 
Tweaks
I tried it once a couple days ago and an hour between layers wasn't long enough. The final product, the white layer had a mix of the blue and red in it... Plus when I put the red layer in in made a hole in the white layer and the red layer ended up in the middle. I am trying it again with 2 hours between layers. I just placed the white layer and so far it is acting much better.

 

Ok I really enjoyed this recipe but had a major problem on my side. I did not realize that my metal cake pan had a crack and therefore it made a huge mess all over and I ended up having to put a layer of paper towels in my fridge so the jello could set at least. That being said the blue was rather a small amount. I also used strawberry jello instead of raspberry. Made this fourth of July and decorated it with whipped cream to make it look like a flag (kind of)