Red Hot & Blue Potato Salad - the Original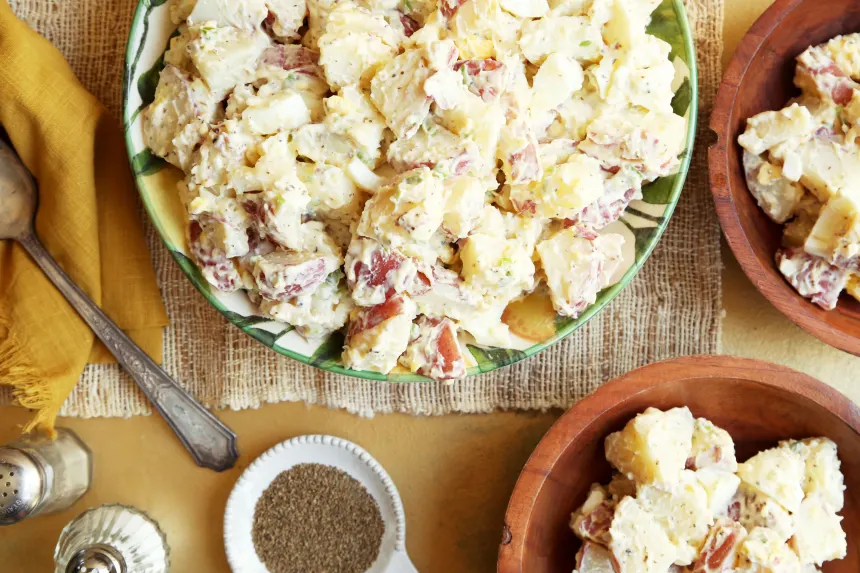 photo by Jonathan Melendez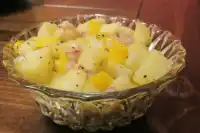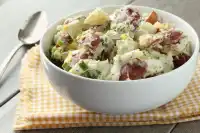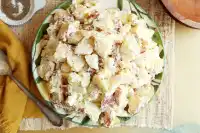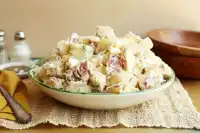 Ready In:

55mins

Ingredients:

6

Serves:

12
directions
Steam the potatoes skin-on for approximately 45 minutes (you can boil them, but they tend to be slightly mushier in the end result). Set aside until cool enough to handle. Boil your eggs, then do the same. When cool enough, peel the eggs ONLY (do NOT peel the potatoes -- the skin gives it part of it's unique texture and taste).
In a large bowl, mix the remaining ingredients together until thoroughly mixed. Chop the potatoes and eggs into bite-size pieces and add to bowl. Mix GENTLY -- you want salad, not mush -- until blended.
Serve at room temp for up to 2 hours after making -- refridgerate leftovers. It tastes best when room temp, but is delicious cold too -- so if you are making this in advance, it's fine to chill it.
NOTE - If you are on a low-sodium diet, you can easily reduce or eliminate the salt the recipe calls for. Just let people salt it at table to taste!
***Wanted to say THANKS to all the reviews! Here's another hint to make this easier: when you are going to make boiled eggs, ALWAYS make sure you buy the eggs at LEAST 7-10 days in advance. Why? Because as an egg matures, it develops a small air "bubble" inside it (it's the membrane separating from the shell). Having this bubble makes it a BREEZE to peel the eggs once they've cooled completely (also a great trick for Easter Eggs, BTW). You want your eggs to be around 10-12 days old, and it takes, on average, 2-3 days to get them from the laying facility to the store.
Reviews
I made this potato salad for my fiance's family reunion. He used to work at Red Hot and Blue and was absolutely in love with their potato salad. When he tasted it, he was floored. Thank you for helping me make him so happy. It was also a huge hit at the reunion as well. I've eaten at Red Hot and Blue and this recipe is spot on. So simple and so delicious!!!!

 

This is a great recipe! Here is a trick to get the "perfect" hard boiled egg to put in this recipe. Place your eggs in a pot with enough COLD tap water to cover completely by one inch. Bring to a rolling boil over high heat. Once the water is brought to a rolling boil, PROMPTLY reduce heat to a lower medium boil and cook for an additional 10 minutes only. Remove from the heat and IMMEDIATELY place eggs in a bowl of ice water until they are completely cooled (I also peel the eggs in the ice water for easy clean up) This prevents that greenish ring from forming around the yolk and makes the yolks very very bright yellow. Also you must use Hellman's Real Mayonaise, if you don't think it makes a difference, try it....Enjoy!

 

YUM!!! This recipe, which I followed exactly, results in a delicious salad that is just like the restaurant serves. It's VERY easy to make. You don't even need to peel the potatoes! I always boiled my potatoes but steaming the potatoes made a big improvement in the taste and texture. If you need to cut back on salt, I think you could cut the salt in half and still have a great salad, and people can add salt at the table if they need to. Make plenty. It'll go fast. Goes great with BBQ and corn on the cob : )

 

LOVE, LOVE, LOVE this recipe!! I found it awhile back on-line from someone who had the restaurant manual so had to cut it back. It's been awhile so had to look it up again. Was thrilled to find it on this (my favorite!) website. This is the best potato salad EVER and will never make anything else. The celery seed is the key ingredient so don't leave it out. In fact, I usually add extra. Thanks so much for posting so I can find it again. A definate keeper and always my go-to recipe! This is a crowd-pleaser that won't let you down! By the way, I've always boiled the potato so I can't wait to see how steaming them works out. Great tip!

 
Tweaks
I make this in the Instant Pot. Add 1c water. Add vegetable steamer. Put diced potatoes on steamer, and eggs on top of potatoes. (I like using 6 eggs instead.) Instant Pot: High Pressure for 3-4 minutes with quick release. Move eggs to ice bath and pour potatoes onto flat layer on cookie sheet to cool. Make sauce and peel eggs. Chop eggs and onions. Fold everything together when cool. Tastes much better when you give it several hours or overnight to meld and season the potatoes. Enjoy! (P.S. Thanks for this recipe! It's really spot on!)

 
RECIPE SUBMITTED BY
I am just your average, run-of-the-mill, "fluffy" person who loves everything food, crafty stuff, and just generally finding things that I can make myself. Have a big garden, and do a LOT of canning, too.
View Full Profile