Red-Braised Pork Belly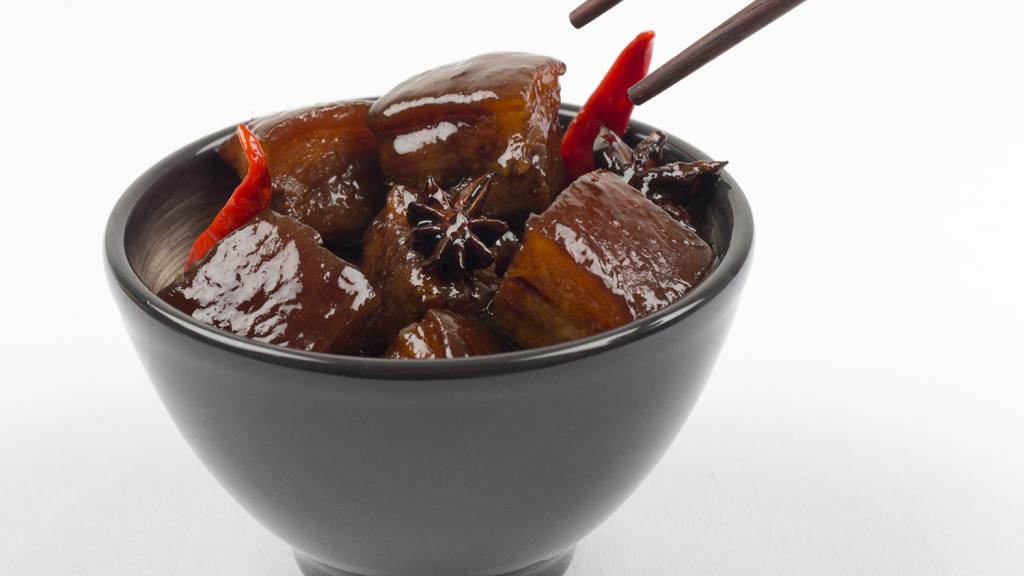 Ready In:

1hr 50mins

Ingredients:

11
directions
Bring large saucepan of water to a boil. Add pork and return to a boil. Reduce heat to medium-high; cook 5 minutes. Transfer with tongs to cutting board; let cool enough to handle. Cut into 1-inch (2.5-cm) chunks. Set aside.
Heat oil in wok or large (4-L) saucepan over low heat. Add sugar and cook while stirring until it's melted and light brown; about 8 to 10 minutes. Remove from heat and carefully add rice wine. Note mixture may splatter and steam.
Stir in pork, broth, soy sauce, dark soy sauce, star anise and cinnamon stick; bring to a boil over medium-high heat.
Slice 2 green onions into 2-inch (5-cm) lengths. Add ginger to cutting board; hit sliced green onions and ginger several times with back of knife to lightly bruise and crush. Stir into pork mixture. Reduce heat to medium-low; cover and cook until pork is fork-tender, about 1 hour.
Uncover, skim fat from surface of cooking liquid and discard. Increase heat to medium and cook uncovered stirring often until sauce is thick and syrupy; about 15 to 20 minutes. Discard star anise and cinnamon stick. Transfer pork mixture to serving bowls. Thinly slice remaining green onion; sprinkle over top of pork mixture. Garnish with cilantro.
Chef's tip: If you can't find pork belly, use 900 g boneless pork shoulder roast instead.