"REAL" Italian Bolognese Sauce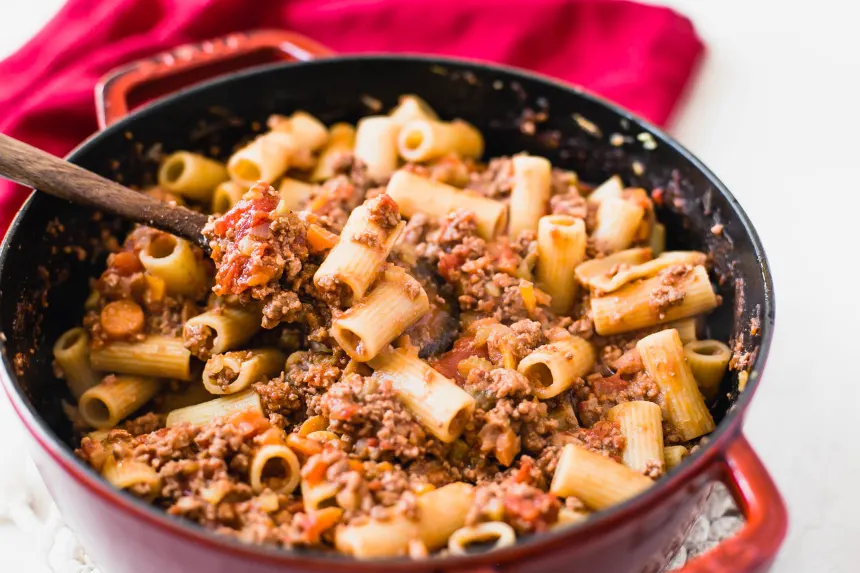 photo by Ashley Cuoco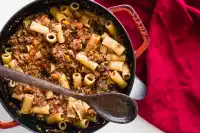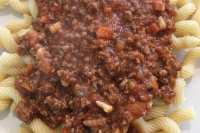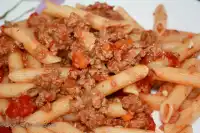 Ready In:

2hrs 40mins

Ingredients:

20
directions
In a Dutch Oven or Medium Size Pot, heat butter and olive oil over medium heat until butter begins to froth.
Add onion, celery, carrot, garlic, and bacon.
Cook until onions are translucent (about 8 to 10 minutes).
Remove bacon and remove fat.
Chop lean portions of bacon in small pieces and return to pot.
Add Ground beef and ground Pork, and cook until meat loses red, raw color.
Raise heat and add wine and consomme.
Cook sauce until wine and consomme are mostly evaporated.
Turn heat down to simmer and add oregano, salt, pepper, sage, red pepper flakes, and nutmeg.
Let cook for approximately 20 minutes.
Add crushed tomatoes and bring heat to a boil.
Once the mixture comes to a boil, return to simmer.
Let sauce simmer (very slowly) partially covered for about 2 to 4 hours (the longer the better), stirring occasionally to prevent sticking.
About 5 to 10 minutes before serving, add milk.
Sauce can now be added to cooked Penne Pasta, Spaghetti or many other Pastas to your liking.
Remaining sauce may be frozen for up to two months for future use.
Questions & Replies

This sounds excellent. Can't wait to try it. Just a question - something that bugs me on lots of recipes - What's a Medium Onion?. I have 4 different onions on my counter ranging from 3.5oz, to 7oz, to 10 & to nearly 1lb. Why not give the amount in volume or weight like all the rest of the ingredients? Is a medium onion finely chopped 1/2 Cup? 1-Cup? Thanks!! Carrots too- they can be average size like in the 1-lb bags, or Jumbo like I get in the ethnic markets on Devon Ave. by my house. Volume would be helpful...

 
Tweaks
I have a couple of tips based on these many experiences. Taken from my knowledge of Kenji Lopez-Alts very scientific approach to all things - one way to really give this recipe that "umami" is adding a tbsp. of fish sauce at the end to finish. Stir in. You won't taste a fishiness, but it does add depth and flavour and is a no brainer if you have it. Secondly, I use ground pork and ground beef, but I know ground veal is recommended. Veal has a gelatinous quality that really adds dimension to your sauce. to substitute, add gelatine to your stock (consume) and it is a more convenient and economical way to get the same effect as veal. (I now keep a box of Knox gelatin in my cupboard and it has come in handy multiple times for this reason).

 

I've got veggie-averse kids, so this was a great recipe to hide them in. I didn't limit myself to carrot/celery/onion, but have since tried cabbage, leeks, greens, etc- all put through the food processor. It takes on a similar size/texture to the meat, so it passes unnoticed (I know this isn't a new tip, but it's really worked well in this recipe).