Real French Onion Soup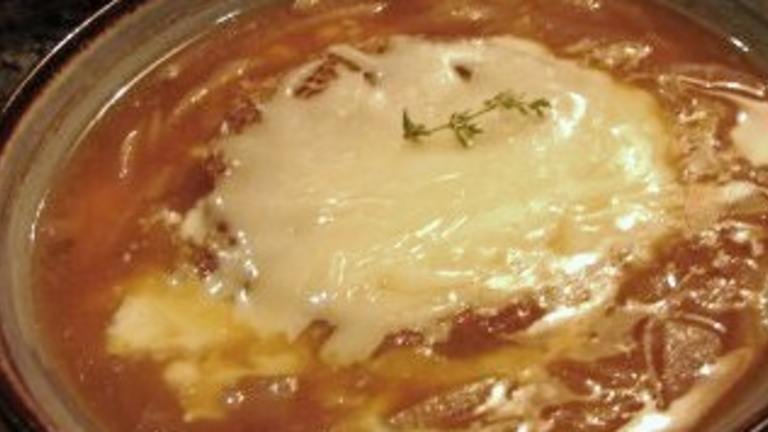 When made properly this is melt in the mouth magic. So good I've even eaten it cold spread on bread! The beef stock must be of really good quality (the little sachets of jellified ones are best) and the onions will need to be treated with your loving time. That's the secret to a good French onion soup, the long slow cooking of the onions which eventually reduce down to almost nothing so don't be alarmed at the amount used, although it is sure to induce a good cry. If you're going to make this, do it properly, you must have Gruyère cheese and crusty French bread. For this there are no substitutes. Follow the rules and you'll achieve pure alchemy
Ready In:

2hrs 30mins

Serves:

Units:
Nutrition Information
directions
First, tackle the onions. Wearing gloves, peel the onions in a well ventilated area and slice into thin rounds or half rings (I use a mandolin for speed, precision and less crying).
Melt the butter in a large pan over a medium heat, add the onions (don't worry if they're spilling over the sides) stir well and cover with a lid (you may have to do this in 2 pans but you'll be able to add them together once they've reduced down).
After a minute or so, reduce the heat and cook very very gently for about 40 minutes, checking and stirring every 5-10minutes.
The onions should be unctuously soft by now, bathing in their own liquid. If not give them another 10 minutes or so.
Remove the lid, stir in the sugar, turn up the heat just a little and gently simmer for another 20-30 minutes or so until almost all of the liquid has evaporated. Be careful the onions do not burn.
At this point you must stand over the pan and stir the onions constantly, for 10-15 minutes or more scraping the bottom of the pan if necessary so they do not burn until they become golden brown. Once this point is reached you can breath a sigh of relief!
Add the vermouth and boil for a few minutes until it has completely evaporated then add the stock, bay leaves and salt along with a good amount of freshly ground black pepper.
Simmer gently for half an hour, stirring from time to time then taste and adjust seasoning if necessary
Meanwhile toast 6 slices of French bread and set aside.
When ready to serve, put a toasted slice of bread in each bowl, pour over the soup, sprinkle with grated gruyere cheese and grill until hot and bubbling.
Serve with extra crusty bread and allow yourself to be soothed and calmed.
You will be rewarded for all your hard work I promise!
Submit a Recipe Correction
RECIPE MADE WITH LOVE BY
"When made properly this is melt in the mouth magic. So good I've even eaten it cold spread on bread! The beef stock must be of really good quality (the little sachets of jellified ones are best) and the onions will need to be treated with your loving time. That's the secret to a good French onion soup, the long slow cooking of the onions which eventually reduce down to almost nothing so don't be alarmed at the amount used, although it is sure to induce a good cry. If you're going to make this, do it properly, you must have Gruyère cheese and crusty French bread. For this there are no substitutes. Follow the rules and you'll achieve pure alchemy"
Join The Conversation
id give this 10 stars if i could!! it`s like an exquisite piece of artwork! i wanted to try this recipe because it sounded slow and good and there wasnt a rating on it yet; the planets must have been aligned :) thank you! i was stirring the onions, thinking how the aroma of the onions wasnt getting any more appealing, even when browning them (which, just for note`s sake, they went soft like pad thai noodles for while before the liquid all evaporated, then when browning them they lost their silkiness and became more clumpy)....but then, the magic began when the vermouth went in - and from there, how it melded with the broth and the onions -after the full 30 minutes, into a taste delight. i will never substitute with white wine again! i used cubed stock (which i diluted down to lose to half strength) - even then, despite how god it tastes, it`s clear how crude it must taste compared to using good quality stock as the balance of flavours in this is so beautifully calculated....im going to try making real baguettes tomorrow to have together with this, but i couldnt wait to share my excitement! im going to have to make do with jahrlsberg/parmesan, but next special occasion i am definitely making this EXACTLY as stated, because it`s one of those rare recipes where it really is perfect. thanks again :)

When made properly this is melt in the mouth magic. So good I've even eaten it cold spread on bread! The beef stock must be of really good quality (the little sachets of jellified ones are best) and the onions will need to be treated with your loving time. That's the secret to a good French onion soup, the long slow cooking of the onions which eventually reduce down to almost nothing so don't be alarmed at the amount used, although it is sure to induce a good cry. If you're going to make this, do it properly, you must have Gruyère cheese and crusty French bread. For this there are no substitutes. Follow the rules and you'll achieve pure alchemy