Real, "down Home" Southern Country Biscuits and Gravy: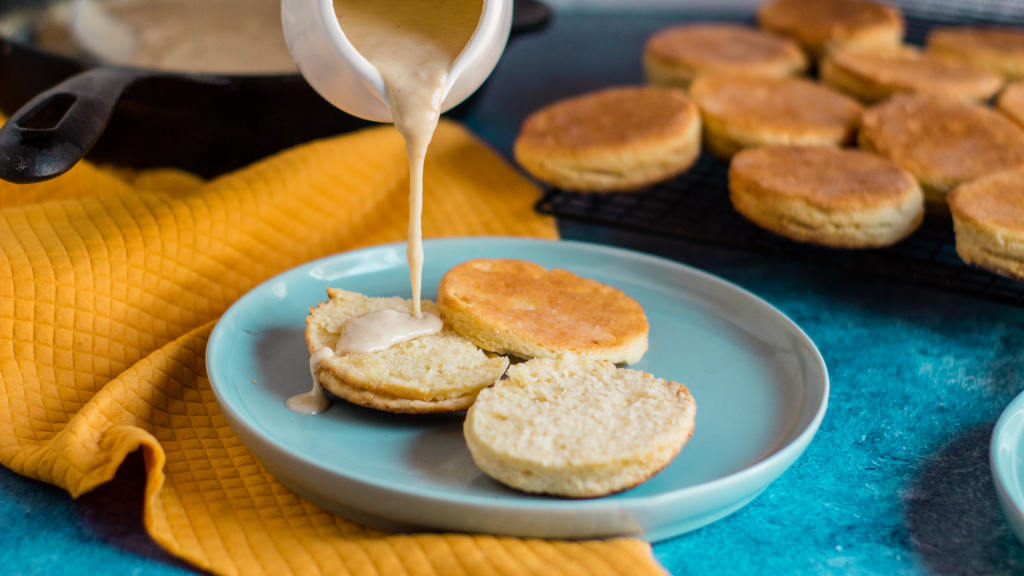 Ready In:

1hr 10mins

Ingredients:

10

Serves:

4
directions
FOR THE BISCUITS:

Wash Hands.
Sift flour into a medium or large mixing bowl. Shake the bowl side-to-side lightly to even out the flour.
Beat the eggs slightly to blend yolks and whites.
Combine oil and egg with half the buttermilk and pour into the flour. Mix thoroughly with a large spoon or fork, or use your hand to squeeze the dough through your fingers, until the dough is well blended.
Add the remaining buttermilk, a little at a time, blending into the dough after each addition, until the right consistency is achieved.
The dough should be just firm enough to form into balls but light enough to slump slightly when placed onto the baking sheet. Experience will enable you to tell from the feel of the dough. If dough is too light, add flour, 1 tablespoon at a time, mixing thoroughly each time, until the dough is the right consistency. If dough is too dense (stiff), add buttermilk, 1 tablespoon at a time, blending well into the dough after each addition, until the dough is the right consistency.
Clean the dough off your hands, then rinse and dry them. Flour the palms and fingers of both hands to prevent the dough from sticking to them.
Pinch off a handful of dough roughly 2/3 the size you want your biscuits to be and roll it between your hands in a circular motion, using just enough pressure to form a ball. Shaping the dough will flour the outside of the biscuit.
Place the ball of dough onto an ungreased baking sheet and press down with fingers just enough to flatten the dough slightly and form the biscuit shape. Repeat, flouring hands after each dough ball is formed and placing biscuits about 1/2-inch to 3/4-inch apart, until all the dough is used up.
Cathead Biscuits.
For cathead biscuits, use about half again as much dough for each biscuit as you would use for regular size biscuits, leaving them thicker than for regular biscuits. Place cat-head biscuits about 3/4-inch apart on the baking sheet.
Place the pan of biscuits as close to the vertical center of the preheated 350-degree oven as your rack guides will allow and bake for 20-30 minutes. Check biscuits after 20 minutes and periodically thereafter until done. Biscuits will be done when the tops are golden brown. Cathead biscuits will take longer to bake. The lower edges of the biscuits may be slightly lighter than the center.
Remove biscuits from oven when done. Serve hot.
Makes 8 to 10 biscuits, or 4 to 5 cathead biscuits.
FOR THE GRAVY.
Mix evaporated milk and water and set aside within reach.
In a large, cast iron skillet, combine oil (or meat fat), flour, salt, and pepper.
Over medium-high heat, stir in flour until blended with oil. With a fork, tines flat against the skillet's bottom, stir the mixture constantly, using a back-and-forth motion, until it begins to brown very slightly. Do not allow the flour to scorch or burn.
When flour has browned slightly, pour in milk, all at once, stirring constantly.
Continue to stir, scraping the bottom of the skillet as you stir, in the manner previously described, to keep flour and milk from scorching and to keep lumps from forming. Bring to a boil, stirring constantly.
As soon as the mixture boils, marked by a sudden foaming up of the mixture, reduce heat to medium so that mixture simmers but does not boil over. Briefly lift pan from heat if necessary to keep contents from boiling over. Don't forget to use a pot holder to avoid being burned.
Continue to stir vigorously, as described above, until gravy achieves desired thickness, usually within a minute or two after boiling. When the gravy is the desired thickness, immediately remove from heat. Serve from the skillet or pour into a serving bowl.
Add additional salt and pepper if needed.
Serves 4.