Ranch Dressing and Seasoning Mix
photo by Axe1678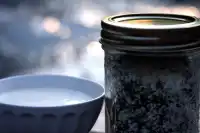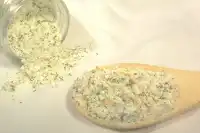 Ready In:

1min

Ingredients:

8

Yields:

1

bottle of salad dressing mix
directions
Combine all ingredients in a blender.
Blend at high speed until smooth.
If you want to use this to make salad dressing combine 1 tablespoon mix with 1 cup mayonnaise and 1 cup milk.
Otherwise use 1 tablespoon in any recipe calling for an envelope of ranch dressing mix.
Reviews
My daughter was just diagnosed with a milk allergy, but she LOVES ranch dressing (it is the only one she would eat). She enjoys salads, but won't eat them without dressing and it is impossible to find one that doesn't have milk and/or soy. This is the first one I tried and my family loves it. I omitted the buttermilk powder (obvious reasons) and mixed it with Veganaise and rice milk. I didn't follow any specific measurements, just had her taste it until it was the right amount, but she loves it and my anti-vegan husband thought it was delicious too! I did add a splash of lemon juice, to add that extra tang. You will note on all commercial dressings, that there is vinegar and/or lemon juice in them and some of you not happy with the flavor may find that adding an acid (vinegar/lemon juice) would put it over the top for you.

 

They were out of dried buttermilk at my local Walmart, so I looked up the conversion from dried to liquid buttermilk and it's simple. All you need to do for this recipe in order to make one bottle of Ranch dressing is to shake up 1 cup each buttermilk and mayo in a mason jar with the same exact amount of spices that the recipe calls for. I used Hellmann's Light mayo and it worked out superbly. I cut the amount of salt to half a teaspoon as per some of the reviews. I don't like dill but in this recipe it makes the dressing spot on Hidden Valley Ranch and now I can say after many years of searching, my quest to find HV's ranch dressing is thankfully over!!! If you're on the fence with this recipe, try my suggestions, you won't be sorry.

 

Thanks for a great substitute for ranch dressing. I have just started a gluten free diet and was really missing ranch dressing for my salads and dipping veggies in. This was exactly what I was looking for and I had all the ingredients on hand. I mixed 1 tbsp into about 3/4 c of greek yogurt and it was wonderful. Thanks, Angela!

 
Tweaks
Made this as directed except for 2 small changes. I used dry nonfat milk instead of dry buttermilk since it's what I had on hand, and I omitted the salt since I'm on a low sodium diet. I then reconstituted with 1 cup of buttermilk and 1 cup of Greek yogurt (in place of mayo). It turned out great and only had a tiny fraction of the salt in the store bought stuff. My only complaint is that it turned out a little thin, so next time I will be experimenting with the consistency. Thanks for a fabulous recipe!

 

This is a very nice mix to keep on hand if you don't want to buy bottled salad dressing. I replaced the parsley with dried basil, but otherwise made the mix as directed. To mix, I put 1 teaspoon into 1/3 cup mayo, and added 1 teaspoon white wine vinegar (to give it some tanginess) and 1 teaspoon milk. This is a perfect dip consistency for me. The flavors of the herbs really don't show themselves until after they've had a chance to sit, so chill this for several hours before you need it.