Quick Yeast Bread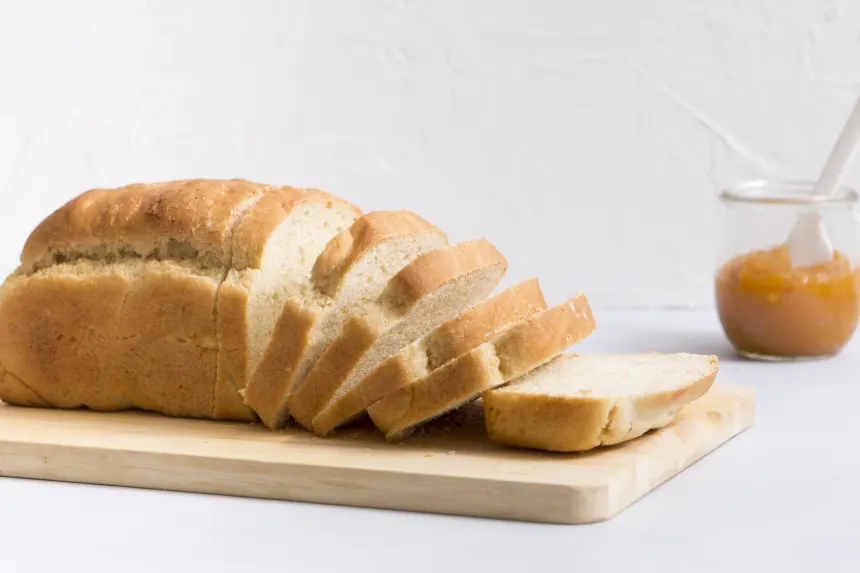 photo by Billy Green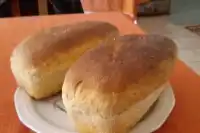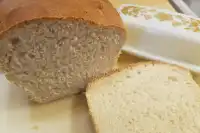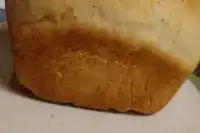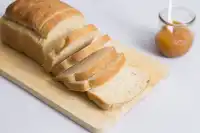 Ready In:

1hr 20mins

Ingredients:

6
directions
Put 4 cups of the flour, yeast, sugar and salt into large bowl.
Pour in hot water and oil and mix until combined- it will be sticky.
Add the remaining flour in increments until dough is no longer sticky.
Knead for about 5 minutes until dough is elastic and smooth.
Place dough back into bowl and cover with a damp teatowel and let it rise until double its size- about 1/2 hour.
Punch it down and divide dough into two pieces.
Roll pieces long enough to fill two well oiled loaf pans and leave to rise until dough has reached the rim of the pan.
Bake at 400F for 40 minutes.
Rub hot breads with water and wrap in a teatowel to'sweat' to soften the crust.
Questions & Replies

okie dokie...i have made this recipe as close as i could twice now with fantastic results... i thought i would get a head start on the morning and get all of the dry prepped this evening...sooo, long story short, i put all 5 cups of flour in with all of the rest and mixed it up all nice then realized what i had done...i'm going to have to take a cup out in the a.m. and hope for the best..from the rest of the comments and my own limited experience, i think the recipe is almost foolproof...anyways, will keep you posted...

 
Reviews
WOW! This bread was simple and awesome! My GF was wanting some bread but it is too cold and rainy to go out so I said I'd make some. My old recipe called for 3.5 hours and that was just too long! I saw this recipe, and thought we'd give it a try. I did end up adding about 1/2 cup more flour because my dough was too sticky after mixing. Then, I didn't have bread pans so after punching it down and dividing it, I just placed the loaves on a jelly pan diagonally. I baked at the prescribed time and temperature, and all the while the fresh bread aroma was wafting through the house. The crust was softened with water and a towel, cut, buttered, and then woofed down! This bread was perfect and better yet, my GF was happy so that meant I was happy! 5 Stars :o)

 

I've been using this recipe for over 2 years and LOVE IT! I have altered the flour amount so I could make it using some rye flour and added gluten to ensure it would be light and it is perfection plus. My grandkids love Grandma's homemade bread. Thank you for sharing this great bread recipe with us.

 

So being a newish baker at 46, baking bread has been a huge goal for me to achieve. I totally added too much oil, added flour, water, salt, yeast, sugar and a whole lot of hope to compensate for my blunder. Low and behold the gods of baking two beautiful sexy delicious bread arose from my potential failing. The dough rose, then rose again. This is the first recipe that I managed to not taste or even smell the yeast at all. I know some people enjoy both the taste and smell of a hot yeasty loaf of bread but I do not, nor does my teen. I will use this recipe for all my future bread making. It was a total winner. Plus, no preactivating the yeast, just mix it in the dry ingredients. I mixed it all by hand as I don't have a mixer or even a bread machine. It was quick and easy. Highly recommend giving it a try! Love, love, love. Huge thank yous, warm crushing embraces and tender kisses for whom posted this recipe online.

 
Tweaks
A few things. 1. ADD AN EGG!! you won't be sorry! 2. Instead of 1tsp of sugar, use 1 TBS. The sugar helps activate the yeast! 3. Instead of 1/4c oil, use that, PLUS 1/4 c melted butter! Add all that with plus your salt to the warm water and yeast and whisk to make a slurry BEFORE you add your flour. 4.Bump that oven down to 375. 400 is way too hot. And bake for 30 min not 40. I did this, and the result was fluffy, tender more flavorful delicious loaves of bread!

 

Used 3 packages quick acting yeast because they said they were 2-1/3 tsp. each. Then I added about 2 tbsp. crushed dried rosemary, 2 tbsp. dried minced onion, and about 2 teaspoons of garlic powder. I felt like having a little more flavor in the bread, didn't know how it'd work out. After the loaves were risen, I brushed with olive oil and sprinkled with crushed dried rosemary, it doesn't exactly show on the photos. Bread was fast, easy to make and really tasty!

 

This recipe is extremely forgiving!! I accidentally used the 5 cups of flour in the beginning. I over kneaded in the stand mixer for about 8 mins(I just walked away and wasnt paying attn). I did a touch more flour then I covered the dough and allowed it to rise for like 2hrs, accidentally again. My dough tripled/quadrupled in size. I punched it down, shaped it into rolls( I had only one bread loaf pan) and proofed the rolls for 30 min. I baked them until early browned and they were so wonderful. The has a soft fluffy almost spongy crumb and were extremely soft and fluffy. They did not taste like a yeasty bread either. I want to try this recipe again following the directions.