Quick Curried Vegetables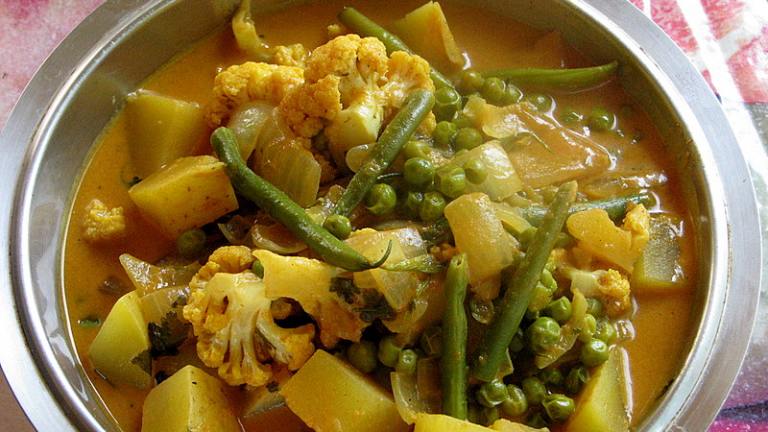 Ready In:

30mins

Serves:

Units:
directions
Heat oil in a large saucepan over medium-high heat.
Add onion, and cook 5 minutes, or until lightly browned, stirring frequently.
Add coconut milk and broth. Whisk in tomato paste and curry powder. Bring to a boil.
Add potatoes, reduce heat to medium, cover and cook 15 minutes, or until potatoes are still firm but almost done.
Stir in green beans and cauliflower. Cover and cook 5 minutes more, or until vegetables are tender. Remove from heat.
Stir in peas, cilantro and lime juice. Season to taste with salt, pepper and cayenne.
Serve with basamati brown rice if desired.
Submit a Recipe Correction
Just can't give this any less than 5 stars. I wasn't sure about this, tasting it as it cooked, but in the end, after adding the lime juice and a bit of salt- wow! Great flavor! I served it with steamed swiss chard which worked very well. Oh, and in the first step I tried sauteeing the curry powder with the onion, but there just wasn't enough oil there, so I doubt it made a difference. My advice is to be generous with the lime juice, and I added about 1/2 tsp salt. Thanks, will enjoy leftovers!

This was nice! I was a tiny bit wary of the two not-so-wonderful reviews, but hey, I'm a good cook, I can make this taste good. And I did! Yay me! Yay Engrossed, this IS a good recipe. I am loathe to use frozen veggies, I will only use frozen peas, and I did, the green beans were fresh. I did use full-fat coconut milk, that probably added to the flavor. I also have a great curry mix that I get in my local market, they grind it all there fresh each day. This was a lovely veggie dish that I served up with Thai rice, and the leftovers were very yummy the next day at the office.

This was quick, and therefore seemed to lack some depth of flavour. I would rate this as a side dish to compliment a full flavoured curry such as a vindaloo. I have tried this twice, the first time as the recipe is written, not too hot. Second time around I tried the more conventional method and fried the onion with the curry powder, I also added a couple of cloves of garlic, and some okra and sliced carrots, this improved things a lot. The lack of salt was not missed, and, I added a chicken stock cube to help things along. As a main dish this would appeal to vegetarians and those not used to a real curry. On leaving the dish and reheating on the following day things improved. Unlike one reviewer I had no problem with the coconut milk, I used to live in Sri Lanka where it is used in many curry dishes. As A thought this would make a very pleasant soup with a crusty roll on a cold day.

I am a curry lover (in main dishes) but did not go for this. Not sure if it was the tomato paste or what it was. I also left out the coconut milk, so maybe that would have made a diff. I think, if leaving out the milk, the broth needs to be increased. I used broccoli instead of cauliflower. Did not want to rate, so someone else could try and might like it (I also changed it too much with the deletion of coconut milk and cilantro.)