Purple Sweet Potato Casserole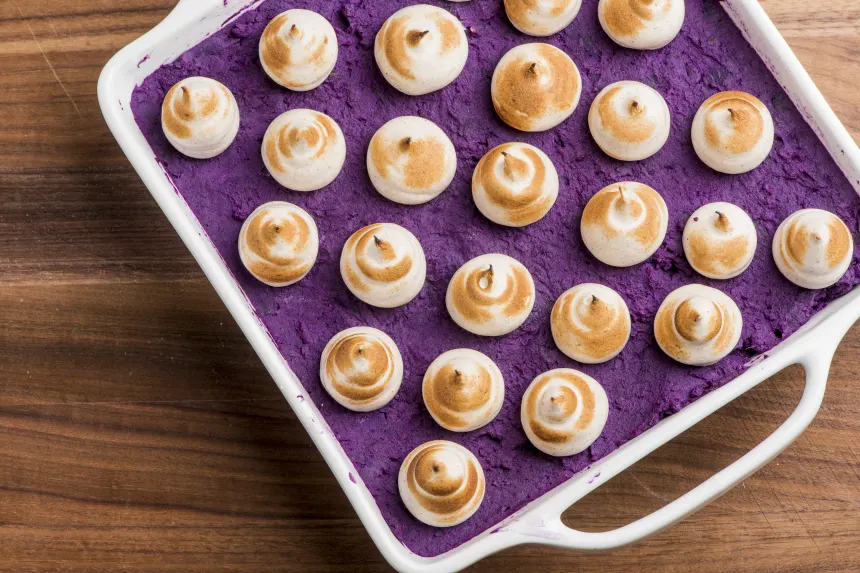 photo by Food.com

Ready In:

45mins

Ingredients:

10
directions
Place sweet potatoes in a large saucepan and cover with cold water by 2 inches.  Salt generously.  Bring to a boil, then reduce heat to a simmer and cook until sweet potatoes are easily pierced with the tip of a paring knife, 15-20 minutes.
Meanwhile, combine egg whites, sugar, and salt in the heatproof bowl of a stand mixer set over a pan of simmering water.  Whisk constantly by hand until mixture is warm to the touch and sugar has dissolved (the mixture should feel completely smooth when rubbed between your fingertips).
Attach the bowl to a mixer fitted with the whisk attachment.  Starting on low and gradually increasing to medium-high speed, whisk until stiff, but not dry, peaks form.  Continue mixing until meringue is fluffy and glossy and completely cool (test by touching the bottom of the bowl), 10-15 minutes.  Add vanilla and pumpkin pie spice and mix on low just until combined.  Transfer meringue to a disposable piping bag fitted with a 1A Wilton decorating tip and set aside.
When sweet potatoes have finished cooking, drain, then return to pan.  Heat over medium, stirring, until any remaining liquid has evaporated and a thin film covers bottom of pan, about 2 minutes.
Remove pan from heat.  Add milk and butter and mash until smooth.  Season to taste with salt and pepper.  Transfer mashed sweet potatoes to a buttered 8x8" square baking dish.  Using the meringue, pipe a checkerboard pattern onto the potatoes.  Toast meringue with a kitchen torch, or place under a broiler, until peaks are toasted and golden and serve.
Questions & Replies

Hi-- This is my first time checking out the new site, and I have a question. I'm wondering why you don't observe the standard convention of listing ingredients in the same order in which they appear in the instructions. I was looking at the recipe for Purple Sweet Potato Casserole, and I found it very hard to follow the instructions, because the ingredients were listed in just some random order. Is this just a mistake specific to one particular recipe? If not, I'd respectfully suggest making this change throughout. Thanks for tolerating my little quibble.

 
Reviews
I am also too confused by the ingredients list. Currently as written, this recipe is not do-able. You list sugar in 2 separate portions AND one of the portions is a unit of measure of 'cup tbsp'??? What is "1/2 cup tbsps sugar, 2 tablespoons sugar"? Then in the directions, you only reference using sugar once by saying "combine egg whites, sugar, and salt...", so which sugar measurement are you referring to or are you combining both?

 
RECIPE SUBMITTED BY
Hungry for good food AND great conversation? Food.com boasts a smorgasbord of over 500,000 recipes and a community-inspired activity feed that allows our users to add reviews, tweaks, questions and photos to their favorite recipes. Grab a plate and join the fun!
View Full Profile