Pureed Squash Butternut, Acorn Any Hard Winter Squash!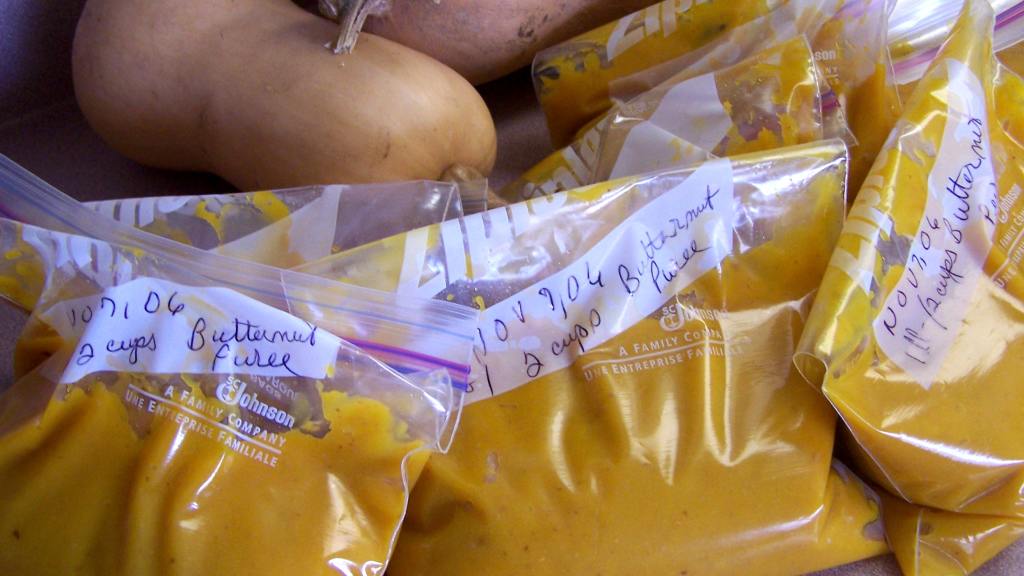 Ready In:

1hr 10mins

Ingredients:

2

Serves:

3
directions
Preheat oven to 350.
Place squash on cookie sheet pan and bake for 60 minutes till tender and caramelized.
Remove from oven and let cool to handle.
Slice in 1/2 and remove seeds. (Discard seeds or rinse, towel dry and make my Recipe #102043 or #50958 it does work!).
Puree in a Vita mix blender optional skin and flesh with a pinch of salt till smooth.
Cool and place 2 cups in freezer ziplock bags. Freeze till ready to use in your favorite pie, soup, bread or sauce!
Join The Conversation
Are you kidding me with this??? Who knew that you could just put a pumpkin in the oven and it would be ready in an hour. For goodness sakes, I will never buy pumpkin in a can again! I used 2 small pumpkins which must have been 2 different varieties (one from the local patch and one from my coop organic box) because 1 had a super soft skin and I could puree it and the other was harder than a rock (and when I cut it open the pumpkin just fell off the skin into the center which was very cool). Thanks for posting!!

I always worry about halving the winter squash before roasting it in preparation for recipes - this is the solution! Who knew you could bake it whole? Now, I have to admit, I didn't puree the skin on - I peeled it off, but that's an easy job. I made two butternut squash, and got four 1 1/2 cup baggies of pureed squash, using my food processor. This is so easy, and I can't see myself doing it any other way from her on in! I used some to make recipe #447024 - delicious - and I can definately say that wouldn't have been made today if not for this recipe! Thanks, Rita~! Made for Veggie Swap 30 - January 2011.