Pumpkin Cheesecake (A Cheesecake Factory Copycat)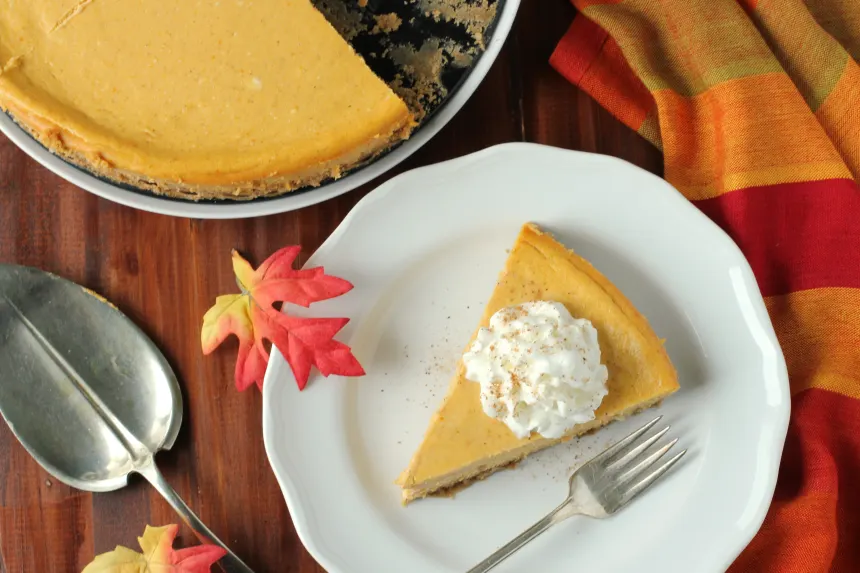 photo by Food.com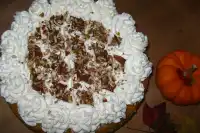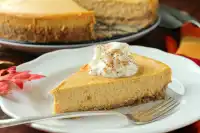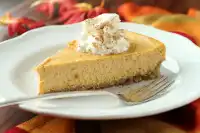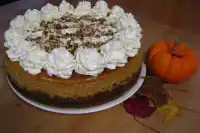 Ready In:

3hrs 25mins

Ingredients:

15
directions
Position a rack in the middle of the oven and preheat to 350 degrees.
Brush a 10 inch springform pan with some of the butter;stir remaining butter into graham cracker crumbs with 1/4 cup sugar and pinch salt.
Press mixture into bottom and up sides of pan , packing it tightly and evenly.
Bake until golden brown, 15 to 20 minutes.
Cool on rack, then wrap outside of springform pan with heavy duty foil and place in a roasting pan.
Bring a medium pot of water to boil.
Meanwhile beat cream cheese with a mixer until smooth; add remaining 2 1/2 cups sugar and beat until just light, scraping down sides of bowl and beaters as needed.
Beat in the sour cream, then add pumpkin, eggs, vanilla, 1 teaspoon salt, cinnamon, ginger and cloves and beat until just combined; pour into cooled crust.
Without pulling rack out, gently place roasting pan in oven and pour boiling water into roasting pan until it comes about halfway up side of springform pan.
Bake until outside of cheesecake sets but center is still loose, about 1 hour and 45 minutes.
Turn off oven and open door briefly to let out some heat.
Leave cheesecake in oven for 1 more hour, then carefully remove from roasting pan and cool on a rack.
Run a knife around edges of springform pan, cover and refrigerate for at least 8 hours or overnight.
Bring cheesecake to room temperature 30 minutes before serving.
Unlock and remove springform ring.
To finish, place a dollop of whipped cream on each slice and sprinkile with toasted pecans.
Questions & Replies

I've had this link saved for years, but I don't recognize the recipe? Have there been revisions made recently? There used to be comments made about adding a different amount of cinnamon too that used to work for Cheesecake Factory...the recipe most definitely never called for sour cream either..I used to have the measurements of the ingredients but I seem to have lost it. Any information on the original recipe?

 

This is not the same recipe that used to be here. I am severely disappointed, as the cheesecake recipe was a family and friend favorite that I have been making every Thanksgiving for years. The cheesecake I made tonight looks nothing like what it usually does. I knew in my gut that this wasn't right. The recipe never called for sour cream or 6 eggs, and didn't use ginger or this much sugar. I'll have to look for the old recipe on other sites.

 
Reviews
This recipe is terrible. The cheesecake is incredibly dense because of the 6 eggs and is sickeningly sweet. It turned out very dark and unappealing compared to how the cheesecake used to turn out. This is not the recipe it used to be, someone has changed the recipe since last year. Look for Harvest Pumpkin Cheesecake if you want a proper cheesecake recipe

 

I cut the sugar to 1 1/2 cups, and had enough for 3 ramekins. I just finished eating one of them( I had to try it out!) It's so good. BTW, I baked the ramekins after letting the cheesecake sit in the turned off oven for an hour. Reheated oven, put ramekins into the bath, cooked x 1 hour, let cooled in oven overnight. Thank you for this recipe!!