Pumpkin Cheese Praline Bars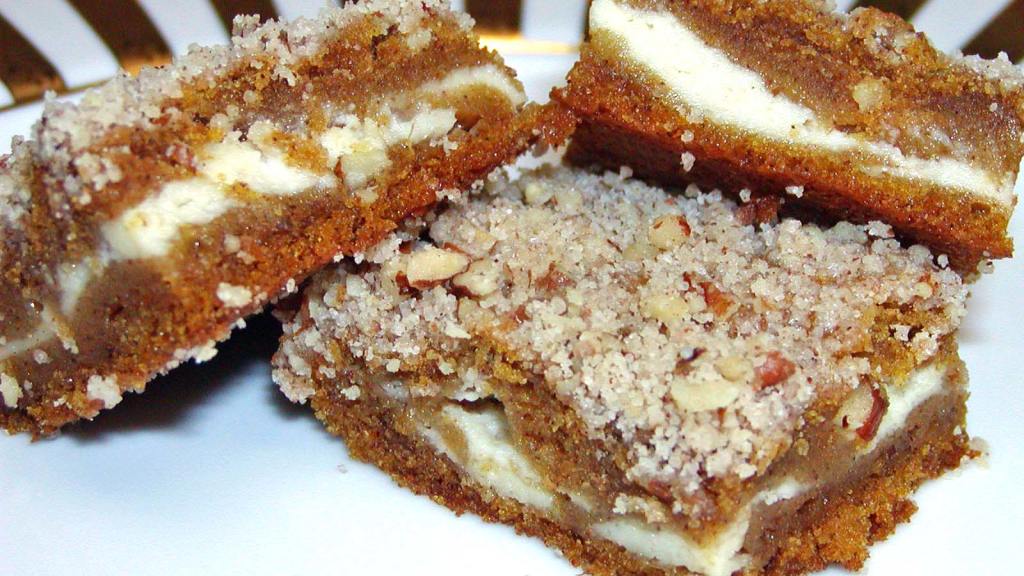 Ready In:

55mins

Ingredients:

19
directions
Preheat oven to 350 degrees. Line a 9-by-13-inch baking pan with parchment paper; brush pan with softened butter.
Prepare pumpkin batter;
In an electric mixer on medium speed, mix together brown sugar, cinnamon, ginger, cloves, baking powder and baking soda for about 30 seconds, until evenly combined. Add butter, eggs and pumpkin; beat on medium speed for 2 minutes, until smooth. Scrape bowl with rubber spatula. Add flour all at once; beat on low speed for 30 seconds, until flour is evenly blended inches.
Pour half the pumpkin batter into prepared pan. Reserve other half in a small bowl, scraping mixing bowl well.

Using the same mixing bowl, prepare cream cheese batter:

Beat cream cheese, egg and extracts on medium speed for abut 2 minutes, until fluffy and smooth. Add sugar; beat on medium speed for about 1 minute. Spread cream cheese batter over pumpkin batter in pan.
Pour reserved pumpkin batter over cream cheese layer. Using a rubber spatula, cut through the batter several times through the length of the pan, then through the width of the pan, to create a marbled effect.

Prepare topping:

Using an electric mixer on medium speed, beat butter and brown sugar for 2 minutes, until fluffy and light in color. Add flour and pecans; bet on low speed for about 1 minute. The mixture will be crumbly.
Sprinkle crumbs evenly over marbled batter.
Bake for 30 to 35 minutes. When done, the topping will have begun to brown and the top will feel slightly firm when touched gently with your fingertip. Remove from oven; let cool completely on wire rack; cut into bars.
Join The Conversation
These bars were a big Tgiving hit with family and friends! I added oatmeal to the crumble for more texture, but otherwise followed everything exactly (almond extract being the other exception). If I made this again, I'd spread the cream cheese mixture on top instead of sandwiching it -- purely for speed, and possibly aesthetics. LOVELY. Thanks.