Pulled Pork With Cabbage and Onions (Crock Pot)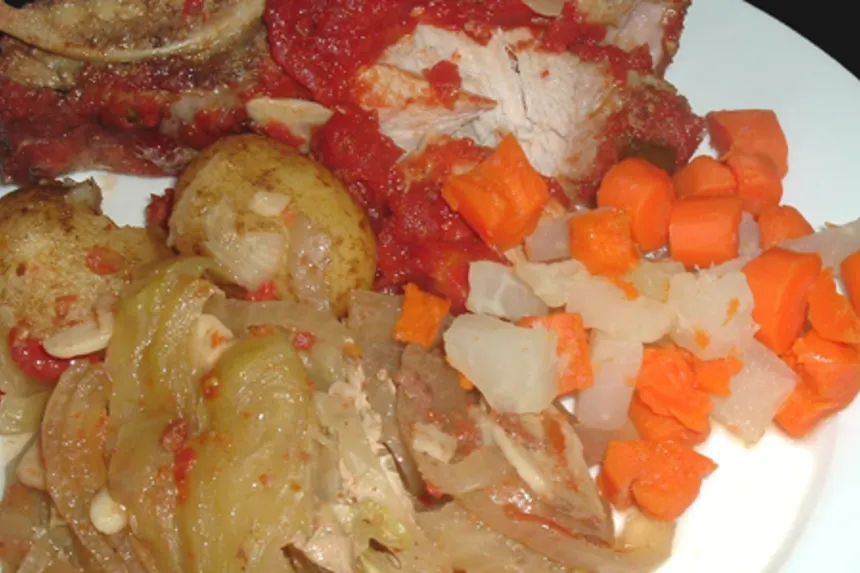 photo by Bergy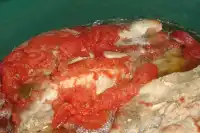 Ready In:

6hrs 10mins

Ingredients:

8
directions
Place onion and cabbage in bottom of crock pot, season with 1/2 teaspoon each of red pepper and garlic.
Put pork roast on top of vegetables and season with the rest of the spices.
Pour barbecue sauce over all.
Cook on low for 6-8 hours.
Take roast out of crock pot and shred with two forks.
If you want a thicker sauce, put the temperature on high then mix the water and cornstarch and put it in the crock pot while you are shredding the pork.
Eat on kaiser or Portuguese buns and enjoy!
Reviews
Very enjoyable crock pot recipe. I used country style ribs. They were not cut through so they were like a little roast Instead of BBQ sauce I used a can of mexican style stewed tomatoes and popped small scrubbed potatoes in the pot 2 hours before serving. The ribs were served for dinner along with the potatoes, carrots & Kohlrabi. Tonight I will add BBQ sauce to some of the pork & serve Pulled Pork on a Pita. I added extra cabbage and I will make cabbage soup with the left overs. It is very hot (34C) so getting 3 nights dinner with a cool kitchen and minimal work is heaven. Thanks for posting the recipe majakete

 

Fabulous! I followed the instructions only changing it up a bit by slicing up 3 onions (because I love onions :-))..and using about a third of a head of cabbage. I used 3/4 of a bottle of Kraft "Hot" barbecue sauce and let it go for 6 hours in the crockpot. I did thicken up the sauce with some cornstarch and water. I decided it would be really good to give the sauce a bit more substance so I shredded up the remainder of my cabbage head and added it back in...I let it simmer for about 30 minutes and removed the crock to the stovetop to cool. The cabbage that was added still has a bit of a crunch so this made for an amazing hot slaw to accompany the shredded pork! I made this tonite for tomorrow's dinner..and to at on thru the week sandwiches for lunch and such. But I have to say I can't wait to invite company over sometime soon so I can make it again ! Thanks so much for posting this Majakete. :-)

 

I only used about 3/4 of an onion (what I had leftover from something else) and then about 1/2 a head of cabbage as 1-2c. seemed disproportionate to me. I'm leary of red pepper as I haven't mastered 'to taste' with it yet, so had tried doing 1/4t. over the cabbage and onion, and then 1/8t. over the roast. Also, my bottle of BBQ sauce was 18oz so I just dumped the whole thing in to make life easy. *grin* It smelled FABULOUS while cooking and was easy to shred--had pulled it out, peeled off the fat and shredded in a separate bowl. Tried spooning some of the sauce from the crockpot into the shredded pork, but it was too watery (I didn't thicken it). We served the shredded pork with a little extra bottled sauce mixed in it on kaiser rolls with a strained dollop of the cabbage and onions and some sliced cheese. Had green salad and some cottage cheese for our side dishes. Very tasty. Next time I'll increase the red pepper to at least 1 tsp total and see how we like that as my limited use of it was a little bland. We liked having the veggies piled on top instead of mixed in so I might scoop them out then thicken the sauce instead of using add'l bottled sauce in the shredded pork. Will try to remember to comment on these changes to our way of doing it. It's a definite keeper in our house, we just need to find the happy medium for DH's desire for kick and my need for not so much kick. *lol* Thanks so much for posting this recipe!!

 
Tweaks
Very enjoyable crock pot recipe. I used country style ribs. They were not cut through so they were like a little roast Instead of BBQ sauce I used a can of mexican style stewed tomatoes and popped small scrubbed potatoes in the pot 2 hours before serving. The ribs were served for dinner along with the potatoes, carrots & Kohlrabi. Tonight I will add BBQ sauce to some of the pork & serve Pulled Pork on a Pita. I added extra cabbage and I will make cabbage soup with the left overs. It is very hot (34C) so getting 3 nights dinner with a cool kitchen and minimal work is heaven. Thanks for posting the recipe majakete