Properly Prepared Spaghetti Squash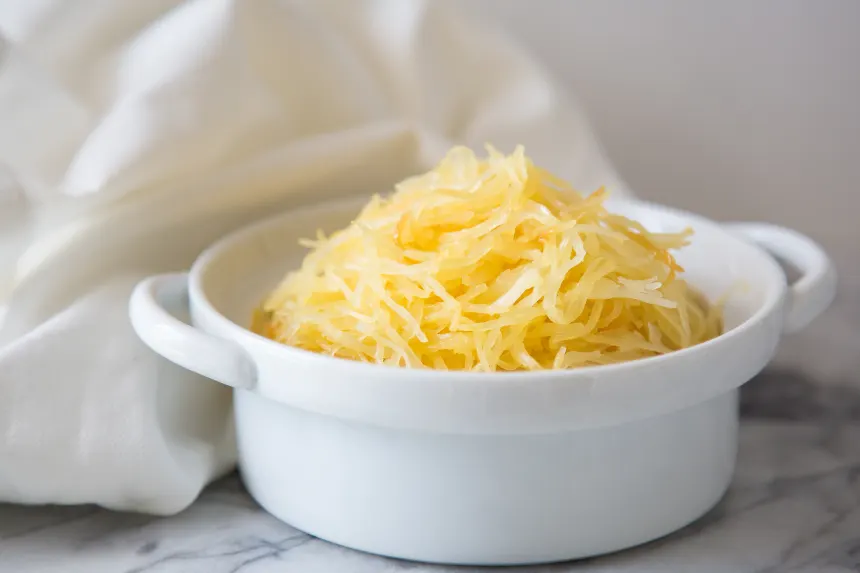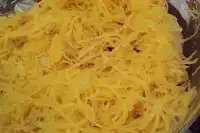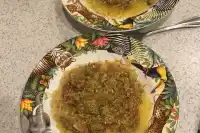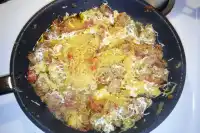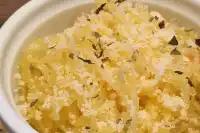 Ready In:

1hr 5mins

Ingredients:

7
directions
Preheat oven to 350-375.
Halve raw spaghetti squash with a sturdy sharp knife, scoop out, and discard the squash poop with a spoon.
Place halves onto an oven safe cooking dish face up.
Clean head of garlic and thinly slice garlic, (the larger pieces of garlic brown nicely, and offer a wonderful layer of complexity to the dish).
Spread garlic into the bowl like shape of the squash, salt and pepper vigorously, drizzle with a 50/50 mixture of olive oil, and vegetable oil (get the oil everywhere inside the squash).
Place onto the upper middle rack of the oven for about 30-40 minutes. (You will know it is ready when the squash separates with little resistance from the skin).
Remove from oven, and place in coldest location possible for at least 20 minutes, before separating from skin.
Use a fork to scoop and separate squash strands, add any other ingredients you like at this point.
Parmesan, Romano, or Pecorino, Feta, are all excellent additions to this dish, as well as, meat, sausage, veggies, olives, the list is endless.
WARNING **** If you use a loose tomato based sauce DO NOT add it immediately to the squash; this makes the squash runny, mushy, and unpalatable. Instead garnish the dish with a little bit of sauce atop the squash, and then offer more sauce on the side, in a separate dish.
If you ever had it served this way you know what I mean.
You can also take any leftovers and add a little bit of flour, and make into patties and fry.
Questions & Replies

Reviews
Outstanding! This is by far the best way I've found to prepare spaghetti squash. We only had minced garlic, so we just spread a bunch of that inside the halves, and it worked out well. Other than that minor change, we followed the recipe as written. The strands weren't mushy, and we served them with a tomato-based meat sauce. My six-year-old scarfed it right up - I may never serve regular spaghetti again! We also had a good bit left to freeze, which is always nice. Thanks so much for sharing!

 

Three cheers for using the technical term "squash poop!" This is the perfect method for cooking the squash. And thanks for the tomato sauce tip. I always wondered what I was doing wrong! Here's a tip from me: If you can't safely cut through the raw squash (either due to lack or arm strength or lack of proper cutting tools) you can bake the squash right on the oven rack for thirty minutes BEFORE you cut it open and complete the rest of the cooking process. Just be sure to let it cool before you cut it open or you can seriously burn yourself.

 

I have made spaghetti squash many times, but when using it as a pasta substitute it always failed because it was so watery. I used to bake it rind side up because that is what all the instructions I saw online said to do. I decided to try it this way, and sprinkling the inside with salt and baking it pulp side up seems to make the squash perfect! Thank you so much for this way of preparing it! I cut the squash in half, sprinkled it with salt and pepper and garlic powder (I was too lazy to deal with real garlic), and rubbed it down with oil. I baked it at 350 for about 45 minutes, at which point there was a pool of liquid in the bowl of the squash. I poured it out and baked it another half an hour, then let it sit on the counter to cool. The sweetness of the squash went perfectly with the bite of this: http://www.food.com/recipe/creamy-sun-dried-tomato-roasted-red-pepper-and-artichoke-pasta-52282

 
Tweaks
Don't cut the squash from pole to pole (the stem end to the blossom end). That cuts all the squash fibers in half. Instead, cut the squash around the equator (the middle). You may have to slice the poles to get a flat spot for the squash to sit on. The result is nice long squash strands. Long enough to twirl like pasta spaghetti.

 

Wow I can't believe how much better this spaghetti squash tasted than any other time I have made it before! Really good flavor and I can taste a lot of sweet from the roasting process. Instead of using a whole head of garlic I used one big clove and roughly chopped it and then sprinkled in the hollow halves of the squash. Before stringing it out, I did remove the large chunks of garlic, but in my opinion one large clove was the perfect amount to flavor the squash. Served with Parmesan cheese and it was perfect!