Prize Winning Marinade for Beef
photo by SloppyJoe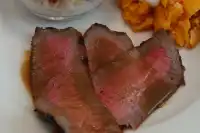 Ready In:

3hrs 15mins

Ingredients:

7
directions
Using a food processor, crush peppercorns until fine.
Add garlic to processor and crush.
Add soy sauce, Worcestershire sauce and lemon juice and blend.
Pour mixture into giant zip lock freezer bag and add the meat to be marinated (even the cheapest cuts of beef will taste like prime rib!).
Seal bag.
Refrigerate for 48 hours (turn bag every time you open the fridge door).
Reserve the marinade for later use.
Barbecue the meat as you would normally however, I prefer to cook the meat very VERY slowly using an indirect cooking method--only ONE side of the barbecue is lit and turned down to low.
The meat is placed on the one side of the barbecue which is off, over a pan of water, which sits on the barbecue rocks.
Note: Total barbecue time depends on the size of beef roast.
Relax while your dinner cooks.
Put marinade on the stove and bring to a boil.
Add just enough marinade to some sour cream, to make a sauce to drizzle over the cooked meat.
Sit back and enjoy the compliments.
Questions & Replies

Reviews
Since it's the middle of winter, I didn't want to fire up the grill. But this marinade was great on the 4 lb. bottom round roast that I didn't know how to cook. I kept it in the marinade for 36 hours and then in the oven at 250, lightly covered with foil until the internal temperature was at 160. Best tasting, most tender roast ever! This marinade is now in my recipe box! Thanks!

 

I don't usually comment on these but I was impressed with this recipe. Growing up, I helped my mom in the kitchen a lot. I am of the Sunday dinner generation and she was an excellent cook. Our roasts were always medium rare and as we didn't have much money, my mom would search out the cheaper cuts that would still offer a tender, med rare finish. Eye of the round was one of those roasts and although I had intended to make a pot roast for my daughter's birthday, when I saw an eye of the round I changed my mind. My mom used to ask my dad to cut this roast razor thin to accentuate the tenderness. No need for that with this recipe. I love bbqing in the winter so I made up a smoker with some charcoal, put the 5.5 lb (2.5kg) roast on the gas bbq at 200 F for 3 hours. I put water in my cast iron pan and placed it under the roast. I only used one of the 3 burners on med/low and kept the roast well away from that burner. In cooking it this way, I sacrificed the potatoes around the roast like my mom was so well known for but with some duck fat and hard work, I did her proud with those too. I did not process the marinade yet the exterior of the roast had a gorgeous finish. I marinated it for 24 hours but rather than poking it to compensate for the shortened period, I allowed it to marinate outside of the fridge for some of that time. The marinade/sour creme was a tasty touch. Thank you for this recipe. It was genius. I will be using it again.

 

This marinade made an excellent roast. I had a 5 lb sirloin tip roast that I marinated for just over 24 hours, then cooked to medium in a slow oven. The meat was very tender and tasty. I used all of the leftover marinade, thickened with a bit of corn starch with the sour cream and it made a very tasty gravy for the meat and the potatoes. Very nice.