Prime Rib Seasoning Mix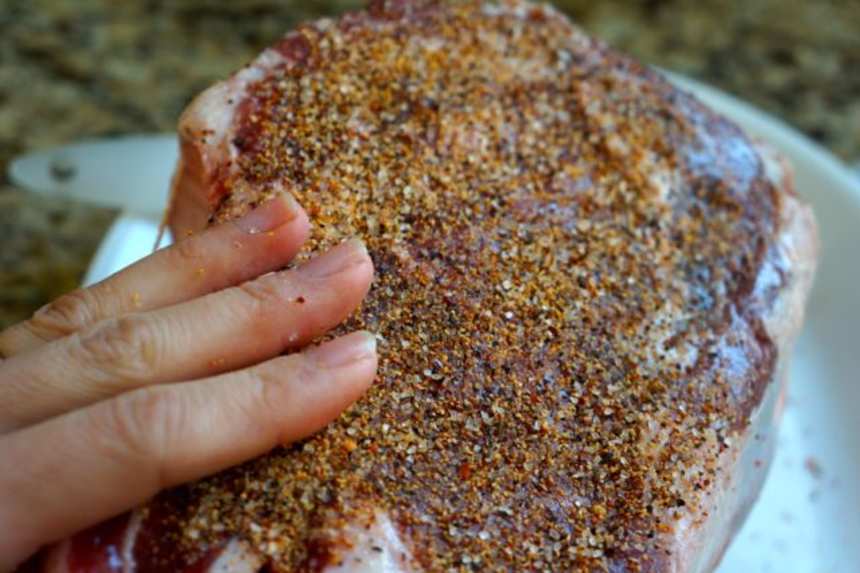 photo by Alan Penn

Ready In:

2hrs 10mins

Ingredients:

8
directions
Rub 1/2 cup per 10 # meat. Rub and massage seasoning in with SOY SAUCE after all wet, work the seasoning in real good!
keep adding more seasoning till you have the amount needed.
Place in refrigerator, let seasoning soak into meat for 24 hours before cooking.
Take a large onion or more to make 1" thick slices to.
line down center of pan big enough to fit your piece of prime rib on! take rib out of refridgerator,sit at room temperature ½ before cooking.
Cook 350° around 2 hrs or more depending.
on the weight size of the prime rib! Use a meat thermometer.
Rare:120°.
Med: 140°.
Well: 160°.
Please note that beef roasts will "render" and continue cooking, increasing in temperature by as much as 15 deg. F just sitting on the counter. So, keep this in mind -- i.e., for a final temp of 120 deg F, take the roast out when the center of the meat reads 105 deg F.
____________________________________________.
May also Cook 500° 5 minutes per pound. After the 5 minutes times the pound of meat turn oven OFF. But you must leave oven door closed for 3 hours. NO Peeking!
.
Reviews
I made this rub and applied it 24 hours prior to cooking our Christmas dinner. Oh my goodness. The prime rib was amazing! My husband considers himself a prime rib connoisseur and he was so happy with the results and I was happy to have cooked it perfectly. One of the best ever!! I made a large batch of rub and will be happy to use it again. Thanks for sharing this wonderful recipe!