Pressure Cooker Carnitas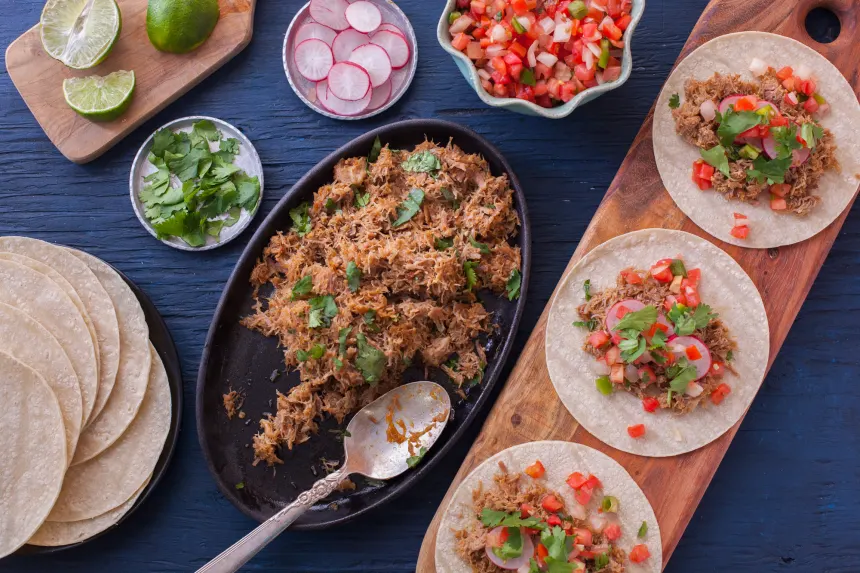 photo by DianaEatingRichly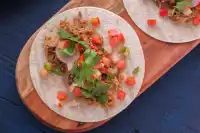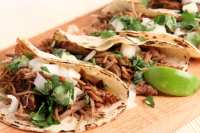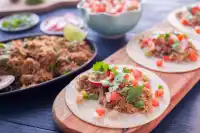 Ready In:

1hr 5mins

Ingredients:

5
ingredients
2 1⁄2

lbs pork butt or 2 1/2 lbs pork shoulder, sliced to 3/4 inch cubes

1

large onion, roughly chopped

2

cups low sodium chicken broth (or more to cover meat)
1⁄2 teaspoon cumin

1

teaspoon dried chipotle powder (ancho for the weak)
directions
Throw all ingredients into the pressure cooker, stir and set it on high (2 bars on mine).
Make sure there is extra liquid, you don't want your cooker to dry out!
Cook for 35-45 minutes depending on your cooker.
Release steam according to your cooker's instructions.
The meat should be falling apart by now, and there should be lots of liquid left.
Drain and save the liquid, put the meat on a plate and shred it with two forks, or use a potato masher, the onion included.
Place meat on a flat roasting pan and put it under the broiler in the oven for about 15 minutes, stirring often, and adding juice from the cooker to make sure it doesn't get too dry.
It is done when it is a bit crispy, but not burned.
Alternatively, after you shred the meat, you can heat oil in a large skillet and brown it, adding a bit of the meat juice after it is already well crispy.
Serve with pico de gallo, tortillas, rice, and any fixin's you have on hand like guacamole, lettuce, cheese, etc.
HINT-.
For spicier carnitas, blend 3/4 cup of juice from cooking with 4 chipotles en adobo, or a fresh habenero, serrano, or jalapeno. Pour this over the meat before you put it under the broiler.
Reviews
I tried this recpie and didn't think it was fantastic. I made a few changes the second time and LOVED IT! Instead of the chipolte powder I added a can of chipolte peppers in adobo sauce. I then added a navel orange cut in thick circular slices, upper cumin to 1 tsp and added 1 tsp mexican chili powder. I also added 1/2 cup brown sugar and about 1 tsp cinnamon. After cooking I discarded the oranges and all but 3 peppers. I chopped them finely and mixed into the shredded meat mixture. I agree with a previous review that you don't need to cut your meat into cubes. It's more work in the beginning and more when shredding!

 

I've got this on my menu for this week, authentic or not. It sounds absolutely delicious. A good recipe is a good recipe, regardless of what it's titled and whether or not it's the way others would make it.....I'll add to this review after making it, but my mouth is already watering. (Edit)....somehow forgot to update my review. I have a horrible time finding dried chipotle powder, so I've use Tabasco chipotle sauce and it's worked great. I added a bit more cumin, but either way it's well into drool worthy territory. I've made it several times and will make it many more. Every single person who's eaten it has raved and asked for the recipe, so I guess it's a keeper....thanks, TJW

 

The ingredients have changed since I first tried tried recipe. I used 4 lbs. of pork stew meat, 1 tsp. of cumin, and 4 heaping tsps. of chipotle powder. This was some of the best carnitas I've ever made, and believe me, I've tried a lot of them. Don't be afraid of the chipotle powder, the spice was perfect. You also can add 4 7 oz. cans of Embasa green salsa verde after its cooked and make it green chile verde. Really, really great. 5 stars easily.