Bread Bowl Potato Soup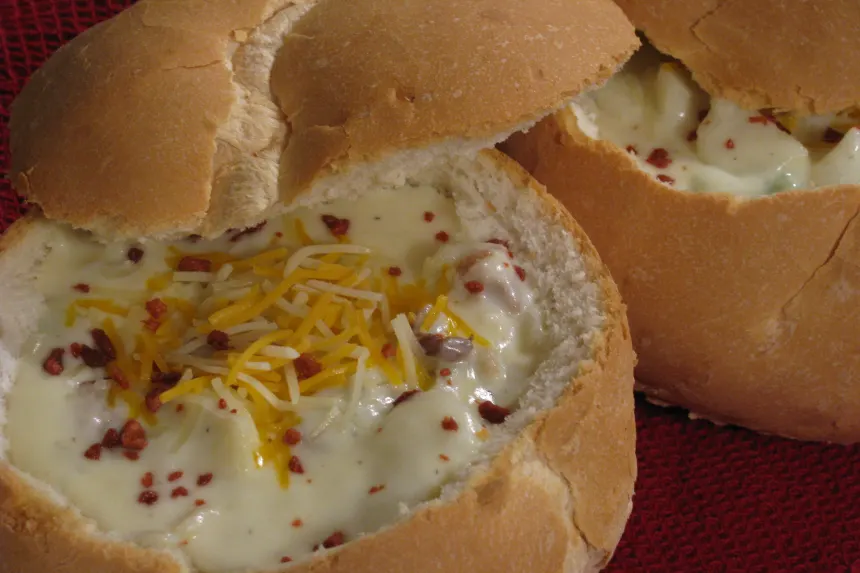 photo by Shelby Jo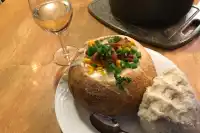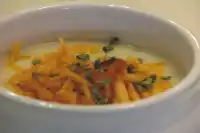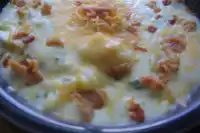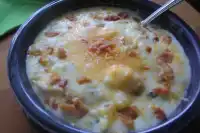 Ready In:

1hr 20mins

Ingredients:

16
directions
In large, heavy pot, saute bacon, onions and celery over medium-high heat until celery is tender. (I like to cook the bacon first and get it it almost crispy before adding the celery and onions).
Drain grease and return bacon, onions and celery to pot.
Add milk, water, chicken base, salt and pepper.
Heat over medium-high heat until very hot but do not let soup boil.
In heavy, large saucepan over low heat, melt margarine.
Stir in flour to make a roux.
Mix well and let bubble, stirring 1 minute.
If desired, a larger amount of roux can be made to produce a thicker soup.
Gradually add roux to soup, stirring constantly.
Continue to cook, stirring, until thick and creamy.
Stir in potatoes, parsley and cream.
Serve hot, garnished with cheese, bacon bits and/or onions.
Questions & Replies

Got a question?
Share it with the community!
Reviews
The flavor and texture of this soup was great. I used a white onion and used 8 chicken bouillon cubes for the base. I also used a pint of half and half for the cream and a cup of the milk. I will definitely make this again, however, there are a few changes I would make as this does take a lot of time to put together. I will only saute 4 or 5 strips of bacon when I begin and do the rest in the oven to be sure all the bacon is evenly cooked and crispy, then add it when I add the potatoes at the end. I may also peal, cube, and boil the potatoes since pealing the baked potatoes was where most of my effort went. Thank you for a great recipe.

 

Ridgely, this was a wonderful, flavorful soup! I had a chuck roast Sunday and had roast beef sandwiches and this soup on Monday. My husband was in heaven. Also, my 3 yr. old grandson even ate it, and he is really picky. I used half and half, milk & 4 chicken bouillon cubes (I didn't have chicken base). I crumbled 5 pieces of bacon and put it in last. Also, I put all the thickening in at once and I thought it made the soup too thick, so next time I will add this gradually. I had a large bowl of this soup left over on Monday & so today I had it for lunch. I dissolved a bouillon cube in water and added to soup to thin it out a little. The flavor was even better two days later. This is a winner and you can be sure I will make this soup often. By the way, the name of the restaurant where this recipe originated is called the Machine Shed Restaurant. I also found this recipe and the name of the restaurant on "Recipelink". Thanks for posting here.

 

Not that this needs another raving review, but I'm going to give it one. My fiance had been saying how much he'd like for us to make some potato soup, so we settled on this recipe. We were not disappointed! It was VERY good! We left the skin on the potatoes, because we love it, and we pre-cooked the bacon because we wanted it to be crunchier. It was amazing, and I know we'll make this many, many more times! Thank you!

 

Awesome recipe!! I coordinated a St. Patrick's Day potluck at work today. As I love to cook and since I initiated the potluck, I wanted to bring in something more substantial than a store bought item. I decided to make a potato soup in reverence to this major crop of Ireland. I looked at many recipes, but decided to make this one because it has a chicken stock and milk base. I thought that would be more flavorful. Yesterday, I chopped the raw bacon and cooked it. I saved the bacon grease in a small, covered pyrex dish. I put the chopped, cooked bacon in a bowl, tightly wrapped it and put it in the fridge. I chopped the onions and celery and put them in their own plastic bags. This morning I awoke at 6:45am and put the reserved bacon grease in a large frying pan and melted it. I then proceeded with the recipe, sauteing the onions and celery. I added the cooked, chopped bacon toward the last 3-5 minutes of cooking. As I doubled the recipe (to serve 24) I had trouble thickening the soup, even after I added the full amount of the roux. I was terribly worried it would scorch the bottom of my large pot and thus I constantly stirred it. I added another 1/4 cup roux (as that's all the butter I had). Fortunately after sitting for a bit, the soup thickened up. I took it to work in a giant lobster pot. I poured the soup into two crockpots and kept them on low all day (periodically coming to stir it). Many people had seconds, thirds, and fourths. I gave away the recipe to several people. I went home with both crockpots completely cleaned out!!! One of my co-workers exclaimed that I ALWAYS make amazing dishes. What she doesn't understand is...I just follow recipes and most of them are from this site. Thanks for another amazing recipe I can add to my favorites box!

 
Tweaks
Hello Ridgely, I loved the soup! It was just what the doctor ordered!!! Used 1 1/2 jumbo onions, instead of the water I used low-sodium organic chicken broth, & added dill as well. The flavor was awesome! We used the bread bowls and topped it with the green onions, bacon bits(from the real bacon),and melted the shredded colby, it was really good but not diet friendly!!! Thank you very much for posting! Reviewed for "I recommend...A New Thread".