Portobello & Kale Pizza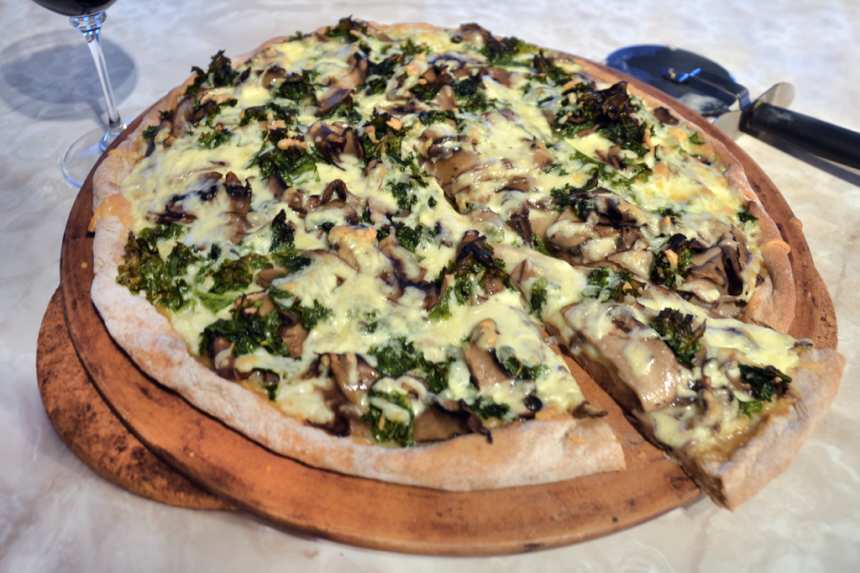 photo by iav8
Ready In:

2hrs 10mins

Ingredients:

18
directions
Garlic Pizza Sauce:

Preheat oven to 350 degrees.
Peel the outer skin from the garlic head to expose the individuals cloves.
Cut the top off all the cloves - the root of the garlic holds it all together.
Place the garlic top up in an oven proof bowl preferably deeper than the height of the garlic - I used a french onion soup bowl.
Pepper the top of the garlic - I use lots of pepper.
Drizzle some of the olive oil over the garlic and save the rest for later.
Cover the dish with aluminum foil sealing it by crimping over the edge.
Roast in the oven for 1 hour.
Uncover and let the garlic cool.
Squeeze the garlic cloves out of their skins into a small bowl.
Pour the olive oil from the baking bowl in with the cloves.
Add more freshly ground pepper if desired.
Mash with a form until smooth - using more olive oil as needed to get a smooth sauce.

Whole Wheat Pizza Crust:

Mix water, honey and yeast.
Let yeast "start" for about 5 minutes.
Add 1 cup of the flour
Add wheat gluten, olive oil, spices (optional)
Knead about 7 minutes - adding additional flour until you get the right consistency
Knead until smooth and elastic.
Keep the remaining flour for when you roll the dough.
Put a damp towel over the bowl and let rise for 20 minutes.
Roll the dough to about 13" rolling the edges thinner than the centre.
Twist up the edges into a pizza crust shape.
Pierce the base of the pizza dough with a fork.
Let the crust rest in a warm place for a few minutes.
Bake the crust at 450 degrees on a pizza stone for about 5 minutes before putting on your toppings.
Portobello & Kale Topping.
Heat olive oil in a large skillet on medium-high heat.
Add the portobello mushroom slices.
Add freshly ground pepper and if desired, salt.
Cook for 3 to 5 minutes or until mushrooms are softened
Add kale and cook for about 3 minutes, until it is wilted
Remove from heat and set aside until the dough is ready.

Final Assembly & Baking:

Spread the garlic sauce on the pre-baked crust.
Put the soft cheese slices on next (mozzarina or similar).
Spread the portobello and kale mixture
Top with the shredded mozzarella
Put the assembled pizza into the oven at 450 for about 10 minutes.
Questions & Replies

Got a question?
Share it with the community!