Pork Cutlets Parmesan with Tomato Sauce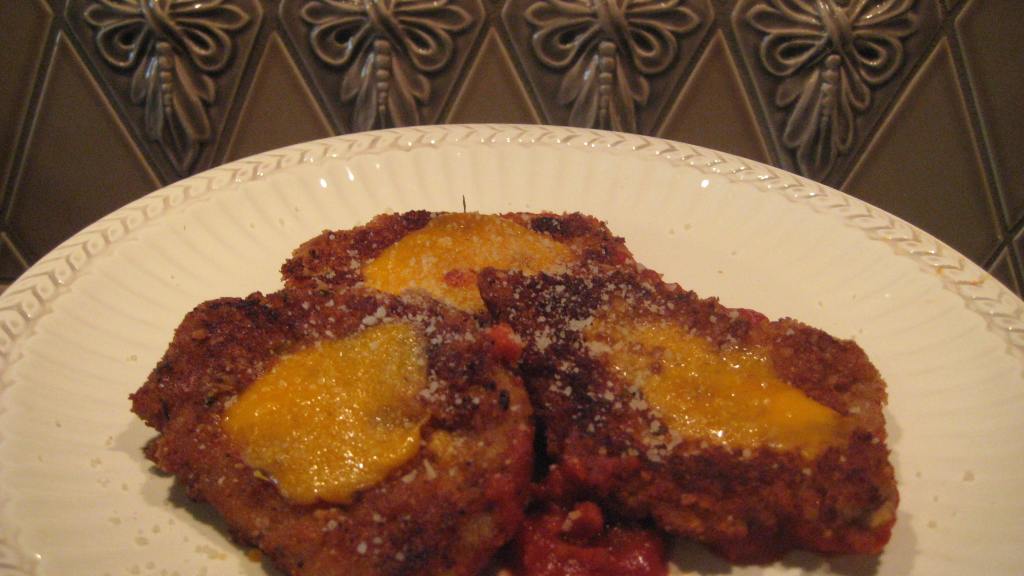 Ready In:

28mins

Ingredients:

14
directions
FOR TOMATO SAUCE---------------.
Heat oil in saucepan and add garlic.
Cook briefly (do not brown).
Add tomatoes and bring to a boil.
Add rosemary, pepper flakes, salt and pepper.
Simmer for 10 minutes.
FOR CUTLETS------------.
Sprinkle the cutlets with salt and pepper.
Mix egg and water well.
Put breadcrumbs in shallow dish.
Dip cutlets in egg mixture--then in breadcrumbs (pat the crumbs with a flat knife to help them stick).
Heat olive oil in nonstick 10 inch skillet.
Cook cutlets on med.
hi heat about 5 minutes per side until lightly browned.
Preheat the oven to 400 degrees.
Place cutlets in baking dish.
Put mozzarella slices on top.
Sprinkle with parmesean.
Spoon sauce around the cutlets.
Bake until piping hot and the cheese is melted (about 8 minutes).
Join The Conversation
As it's said...you can fool some of the people some of the time because my husband thought this was veal! I slathered the sauce at the bottom of my baking pan placing the breaded cutlets on top so as to keep my crumbs crisp. I, also, had no mozzarella so I topped it off with cheddar. Move over Paula D.

Yum! We loved this version and I love the versatility of this recipe. The sauce was fantastic and easily made ahead. I substituted some fresh basil I had on hand for some the the rosemary and decreased the oil a bit. I used some whole grain bread and rye bread which was great for the crumbs. Proportions and cook times are perfect. I'll definitely be making this recipe again. Thank you!