Pork Adobada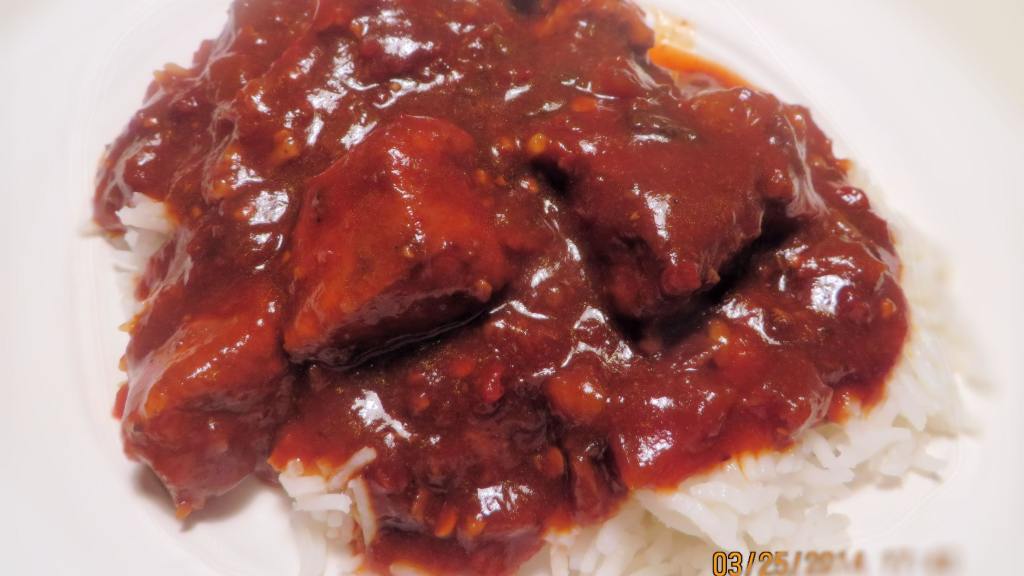 Ready In:

4hrs 30mins

Ingredients:

14
directions
Tear chile pods into pieces, removing steam and reserving seeds.
Place chile on baking sheet, preheat oven to 350 degrees.
When oven is hot roast the chile for 10 minutes.
Place the chile in blender container.
Bring the chicken stock to a boil, add cider vinegar and pour over chile.
Allow to sit for about 10 to 15 minutes to soften chile.
Add orange juice contentrate, tomato paste, brown sugar and cumin.
Blend into a smooth paste, add 1 tablespoon of the chile seeds and blend until smooth.
Warm olive oil in skillet, add onions and garlic.
Saute until onions begin to brown lightly then pour onions into crockpot.
Toss the pork with 1 tablespoon of flour.
In same skillet add pork cubes and brown stirring frequently.
May need to brown the meat in batches to enusre even browning,.
As meat is browned, transfer to crockpot.
When all the meat has been browned, pour 1/2 cup water into skillet, bring to a boil and scrape up browned bits.
Pour into crockpot along with chile sauce, stirring well.
Cover and cook on low for 4 to 5 hours.
Please note: This freezes well, freeze in a rigid container; defrost and heat through.
Join The Conversation
Loved the recipe. One different thing was that I used fresh pasilla chilis and roasted them in the oven to loosen the skin. Also, I was in a hurry and put all this on the stove to cook it over the stove instead of a crock pot. Only problem was that I forgot about it so it burned ever so slightly on the bottom but I caught it before it was a flavor hazard. As a result, it had a smoky taste and was delicious. We served it on corn tortillas heated in a skillit with melted shredded cheese on the tortilla, topped with adovada and grated cabbage on top. So delic! Thanks for a great recipe.

So good, certainly deserves all the great reviews. DH loves Mexican and this one was that little bit differant that he raved about it. I little on the sweet side for me so next time thinking I'll cut down in half the orange concentrate & brown sugar - but that's just me. The baking of the peppers sure brought out the flavor what a great idea - I'll need to use that one more often. I couldn't find the Pasilla chilies so used the only dried ones in the store Anjo's, the flavor was still right on. It was made even easier as I used my Ninja crock pot which fried the meat, Saute the onions & slow cooked all in one pan. Can't wait to try this again but next time want to try the hint to do it in the tangine just to see if it makes a differance.

Okay friends, I have never reviewed a recipe before, but this one was FANTASTIC and I wanted to let others know. I recently ate pork adobada at a restaurant for the first time and I loved it. I kept craving it and decided I would give this recipe a try based on the ratings. I am an amateur cook, and I didn't understand the baking of the dried chiles. (To educate others like me, this intensifies the flavor of the already dried chiles. Also, you are basically making your own chili powder rather than using a store bought type that has other spices added.) Also, I couldn't find the exact dried chiles, so I had to research this. I used Chile Californias for the anaheims. I couldn't find dried pasilla or an equivalent, but I luckily stumbled across some pasilla powder in the Mexican aisle at my supermarket. I used 4 tsp of this. As another reviewer mentioned, it definitely needed some salt, so I added 1/2-1 tsp. about halfway through the cooking. Other than that, I followed the recipe exactly. I served topped with cheese, an avocado dressing I made, and some fresh chopped cilantro. This was truly so good. My inlaws dropped by at dinnertime and we offered them dinner. They also kept raving about how amazing this was. And my nine year old went back three times for more. It was full of flavor, but my version really was not spicy. (My family doesn't do spicy, so I was relieved.) Thanks for sharing this great recipe. It is a keeper for sure.