Poor Digestion Relieved With Honey & Acv
photo by CulinaryExplorer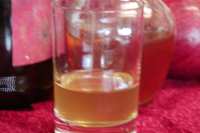 Ready In:

5mins

Ingredients:

3
directions
Mix honey with apple cider vinegar.
dilute to taste with water.
Questions & Replies

Got a question?
Share it with the community!
Reviews
Considering the weather outside I had this in a mug of warm water. I used organic apple cider vinegar and creamed honey. The one star review has no warrant. It doesn't taste like tea. I do notice my skin doesn't look as good in the pores on my face when I consume apple cider vinegar (I have only ever used organic). I am trying to figure out why. Made for Veggie Swap 31 ~ February 2011.

 

For more than 25 years I've sipped a concoction very similiar to this one. My father taught me that the apple cider vinegar would balance out my body's PH factor, creating a healthy immune system. I've used it and given it to my kids whenever we were feeling under the weather. sometimes a clue to being out of balance is a slight "furry" feeling on your teeth. Now, Rita, you are telling me that it's also the honey in the drink that is so good for me. Looks like I'll be making this more often and enjoying it even more. I usually add the honey and vinegar to a cup of hot water and sip it like tea. It's really good. Thanks so much Rita for educating us and providing so many recipes that help us take care of our bodies.

 

I am giving this 5 stars based soley on the fact that it was nowhere near as terrible as I assumed it would be lol. It actually tasted good! If it helps my IBS at all then it deserves 10 stars since nothing else seems to. The honey greatly masks the bitterness of the vinegar, but be prepared for a bit of a zing! Definately a sipper!

 

I have always liked vinegar...all kinds...but I never thought I would like it in a drink! I first started drinking a version of this ( 2 tsp Braggs ACV + 2 tsp organic raw honey + 8 oz water) about 3 years ago when I received a sample of Braggs ACV in the mail. I was hooked. You will either LOVE this drink or HATE it... My BF thinks I am crazy for drinking this, but I really think it helps cleanse your system, quenches my thirst, and provides a little energy boost. I really do think it has boosted my immune system and it tastes fantastic!!! Thanks for posting!