Polpette Alla Casalinga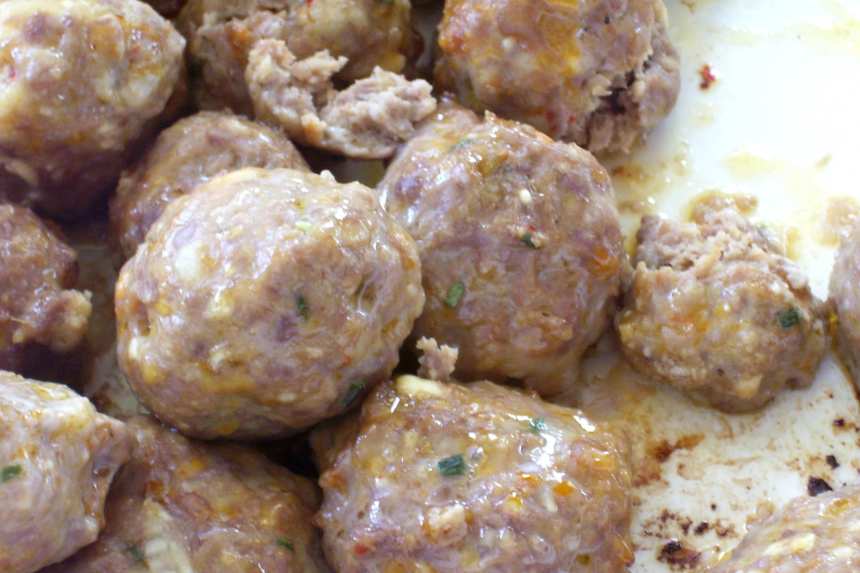 photo by Amberngriffinco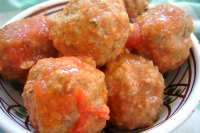 Ready In:

1hr

Ingredients:

14
directions
Soak the pieces of bread in 1/2 cup milk for 5 minutes, then squeeze them dry and discard the milk.
In a large mixing bowl, combine all ingredients and mix vigorously with both hands or beat with a wooden spoon until all of the ingredients are well blended and the mixture is smooth and fluffy.
Shape the mixture into small balls about
1 1/2 inches in diameter.
Lay the meatballs out in one layer on a flat tray or baking sheet, cover them with plastic wrap and chill for at least 1 hour.
Heat 1/4 cup of olive or vegetable oil in a heavy 10 to 12 inch skillet until a light haze forms over it.
Fry meatballs 5-6 at a time over moderately high heat, shaking the pan constantly to roll the balls and help keep them round.
In 8-10 minutes the meatballs would be brown outside a d show no trace of pink inside.
Add more olive or vegetable oil as needed.
Serve the meatballs hot in your favorite tomato sauce.
Questions & Replies

Got a question?
Share it with the community!
Reviews
4 thumbs up or 5***** from my family. We tasted them before and after throwing them in a marinara sauce, YUM. My husband proclaimed them, 'just like Mama Maria's" (our local fave pizza joint). So the good news is, 5****, the bad news is, I may not get to order them from Mama's any longer. Poor me. I followed the recipe to a 't', the only difference is I used spicy. Italian sausage and it rocked! It made 36 "balls of meat". P.S. I baked @400° for 21 minutes instead of frying.

 

I can't say that I have ever been a "huge" fan of meatballs. I like them but don't love them. These I love! Super easy to put together-they do stay very moist yet hold together well without being in any way tough. Fantastic flavor! For the sausage I used Hot Italian & ended up baking them rather than frying. (just cleaned the kitchen and stove top) 350 degrees for 30 minutes, then I turned off the oven and left them in for another 10 minutes. I got 45 meatballs that will be gobbled up in no time! Thanks for posting, Di ;-)

 

I JUST made these. . I LOVE mild Italian Sausage.. prefer it on pizza too. My guys love meatballs: i don't.<br/><br/>This recipe combined the best of both worlds in my opinion! I get my sausage, they get their meatballs. Nice shape, so I don't have to go digging for pieces of sausage in my pasta! The taste was perfect and, I will now make these instead of the hassle of making both each time!<br/><br/>Nana, thank you! it's awesome!!!!

 
RECIPE SUBMITTED BY
Wife, mother of 4 daughters, and grandmother to soon to be six, (Oct '09)Hublet is father of 5, grandfather of 13, and great grandfather of 3, soon to be 4, (Oct '09) We live on a farm, 20 plus acres in rural SE Missouri. We are still trying to be self sufficiant and we are almost there. We raise chickens for eggs and and we will be raising "Cornish X's " for meat. Our chickens are 'Free-Range", they run the house (outside of course) and help with the ticks and other nasty bugs, and yes, snakes. Currently we have 20 goats, does, a few of their babies, a buck and a whether (castrated male). Next batch of babies should be around Nov '09. Our goats are a mix of La Mancha, and Nubians for milk production and Boer, for meat, however we don't eat our goats, we sell them Their milk is wonderful and I just started making cheese. Also living with us are, 2 dogs, Sadie, 5 yo Black Lab/Golden Ret mix and Rosie, 3 yo Rottie/Akita mix. There are 3 cats who let us live with them, Tiger, 13 yo, Angel, 2 yo and the newest, Stinky, 1 yo +/- a month or two. Tiger has never been out, but Angel and Stinky are inside/outside kitties and help with keeping the rodents at bay. Trixie and Dixie are the two bunnies and I have no idea why we have them, other than the fact they needed a home. Currently we are raising 2 Angus steers, Sir Loin and T-Bone. One is for the freezer and one for profit. Rebel, a 30 year old Fox Trotter has retired here as well as us two humans. His days are spent grazing, napping and wading in one of the two ponds. Occasionaly he gets tacked up to give the grandskids a ride. We raise at least one pig every fall, but this year it will be 3, yikes! One for us, and one for hublet's youngest son. He and his wife and kids moved here in February. The third is for a friend, who sold us the steers. This year I would like to add to the mix some geese, ducks and a few turkeys. We have a garden every growing season and when we moved here 3 1/2 years ago we started an orchard. Oh, and finally, one of our ponds is stocked with catfish, well at least we threw them in 2 years ago. But no one fishes, maybe the snapping turtles got 'em. Now if I stocked the pond with lobsters, that would be a different story. Besides farm "stuff", I love to cook and bake (no duh, why would I be here if I didn't), knit, I knit everyday, and sew. In my former life, I worked for clothing designers. I guess decorating my old stone farm house is a passion as well, along with refinishing antiques. My days are very full. Hublet and I love to travel, however as of late we haven't had a chance because there was no one to watch the farm. Well for joy, son, wife and kids live here now, yea! Farm sitters! Favorite place to unwind, the Florida Keys.
View Full Profile