Poached Tom-Yum Chicken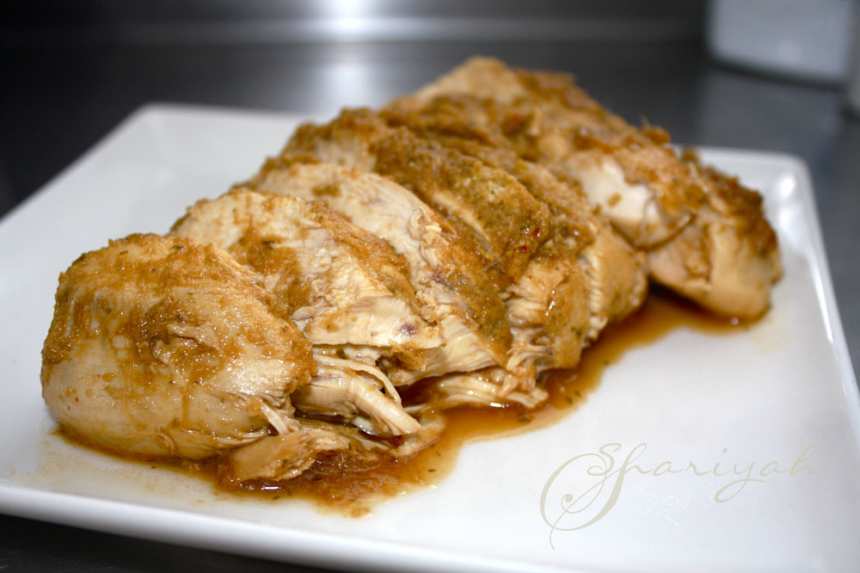 photo by Mrs_Morris

Ready In:

30mins

Ingredients:

15

Serves:

2
ingredients
4

tablespoons tom yum paste (you may use a store purchased brand of Tom-Yum paste, or you can use my recipe below and make your o)

for the tom yum paste (Makes approx 3/4 c. Tom Yum Paste,enough to marinate up to 6 pieces of fish or chicken)

Ingredients

4

tablespoons finely minced lemongrass (available at Asian food stores)

1

fresh red chili, sliced (or substitute cayenne pepper) or 1/2-1 teaspoon dried crushed chili (or substitute cayenne pepper)

1⁄2 cup chopped fresh coriander leaves, & stems

2

tablespoons fish sauce (available at Asian food stores)

1

tablespoon soy sauce
1⁄2 teaspoon shrimp paste (available at Asian food stores)
1⁄4 cup fresh-squeezed lime juice

3

teaspoons Splenda sugar substitute, granules (or sweetener of choice)

2 -3

spring onions, sliced

optional

1 -2

tablespoon coconut milk, don't add it (this thins it out to make blending easier, if you want a thick paste (or non-fat option)
directions
If making the Tom Yum Paste above, simply place all ingredients for the paste in a mini food chopper or food processor. Blitz to create a fragrant Tom Yum spice paste. Ready to use as a marinade, soup, etc.
1. Take 2 large pieces of plastic wrap (saran wrap), both the same size (approx 12").
2. Spoon 1 Tablespoon of Tom Yum paste in the middle of both sheets and place your chicken breast on top of paste. Spoon another Tablespoon of the paste on top of each chicken breast and carefully fold the plastic wrap tightly on top to cover.
3. Roll the plastic on either side of your chicken breast, being careful not to tear the saran, but making sure it is sealed tightly with no air bubbles. Once you've rolled the ends tightly to form a "rope" tie the ends together in a knot.
You can let breasts marinade in the paste overnight, or for at least an hour before cooking. This will add lots of flavour, and make for the most tender poached chicken.
4. Place a saucepan of water on the stove-top filled about 3/4 with water and let it heat to a rapid simmer. (just make sure the saucepan is large enough to fit both chicken breasts in a single layer, you don't want them stacked on top of each other).
5. After the water has come to a rapid simmer (almost a boil), carefully place both chicken breasts (in their plastic "cocoon") into the simmering water and quickly reduce heat to a bare simmer so that only an occasional bubble breaks the surface. Place a lid on the pot, so it's just partly covered, and cook for about 10 minutes (it's a good idea to set a timer, as you don't want your chicken to overcook!). After 10 minutes, turn off the heat and close lid completely, leaving the chicken to finish cooking in the hot water for 10-15 more minutes.
6. Remove chicken, then enjoy it warm or refrigerate it for later use. Slice or shred your poached chicken depending on what you want to use it for.
Questions & Replies

Got a question?
Share it with the community!
Reviews
Have any thoughts about this recipe?
Share it with the community!