Plain Good Butter Biscuits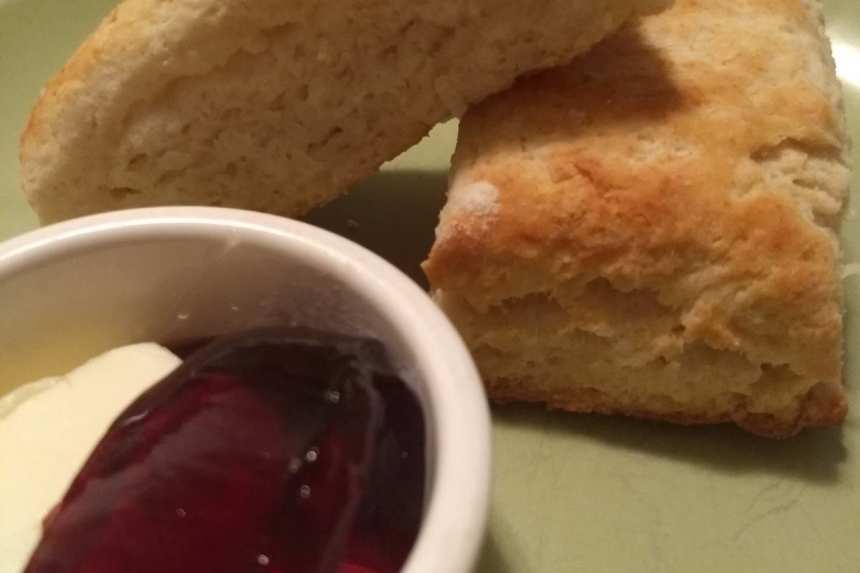 photo by Russell M.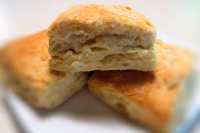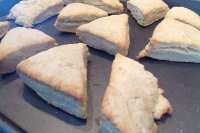 Ready In:

22mins

Ingredients:

5
directions
Sift the flour then measure. Add b. powder and salt and sift again.
Cut in the butter. Hyde recommends using your fingers for this by rubbing the butter into the flour. I usually don't because the heat of my hands and fingers tend to melt the butter and that's not good. If you have "hot hands" too, use a pastry cutter or two knives to cut the butter into the flour.
Add the milk gradually, stirring gently. Add only enough milk to bring the flour together in a soft ball. Turn the mix onto a floured surface and knead it reluctantly, just enough to incorporate all the milk. Gently pat the dough into a 1/2" tall layer. Handle the dough as little possible so the biscuits will be tender.
Cut the dough into rounds or squares and place in a buttered pan. It helps biscuits to rise more if you allow the sides to touch. I don't know why this works but it usually does for me.
Bake for 12 - 15 minutes at 400 deg.
You can make these into great appetizers by adding shredded cheddar and fresh parsley to the flour before adding milk. Then cut the biscuits with a small cutter (or glass) about 2" in diameter.
Reviews
It is a good biscuit!! I have always been partial to the buttermilk biscuit but I don't always have it on hand. I also didn't have any all-purpose flour on hand so I used bread flour. This made for a minute or two extra cooking time but the biscuits were crispy outside and moist and wonderfully biscuity (lol) on the inside. Oh yeah it also made a near perfect dumpling for my chicken and dumplings.

 

Made these for breakfast today and only made one small change - used heavy cream instead of milk as that's what I had. Then made sure to handle them as little as possible and cut into squares. No added egg, and they where not heavy at all, nice buttery flavor and while not super fluffy - a good texture and what I'd expect a biscuit to be. Don't rise a lot but plenty enough for a quick and tasty biscuit, if you're wanting a super light, high rising biscuit I'd think you would need to follow an angel biscuit recipe that uses yeast and takes longer. I'll be using again whenever I want a fast, but nice biscuit. Made for Spring PAC 2014

 

I ran out of boxed biscuit mix and didn't have any lard (shortening) in the house so I searched for a recipe here. I used half & half (didn't have milk either) and put an egg in it (thanks to "atravellingchef") before mixing it in with the butter/flour mix. I didn't manipulate the dough very much, and when I quickly rolled it out, I left it at about half an inch thick. I just cut it into triangles and brushed them with melted butter. At ten minutes I checked them, decided to leave them in for another two minutes with my convection fan on in the oven. While they weren't super light and fluffy, they were very yummy and I think I might use this on a pot pie or casserole dish in the future. The key is not to handle the dough excessively. I've added a picture for your review!

 
Tweaks
Made these for breakfast today and only made one small change - used heavy cream instead of milk as that's what I had. Then made sure to handle them as little as possible and cut into squares. No added egg, and they where not heavy at all, nice buttery flavor and while not super fluffy - a good texture and what I'd expect a biscuit to be. Don't rise a lot but plenty enough for a quick and tasty biscuit, if you're wanting a super light, high rising biscuit I'd think you would need to follow an angel biscuit recipe that uses yeast and takes longer. I'll be using again whenever I want a fast, but nice biscuit. Made for Spring PAC 2014