Pizza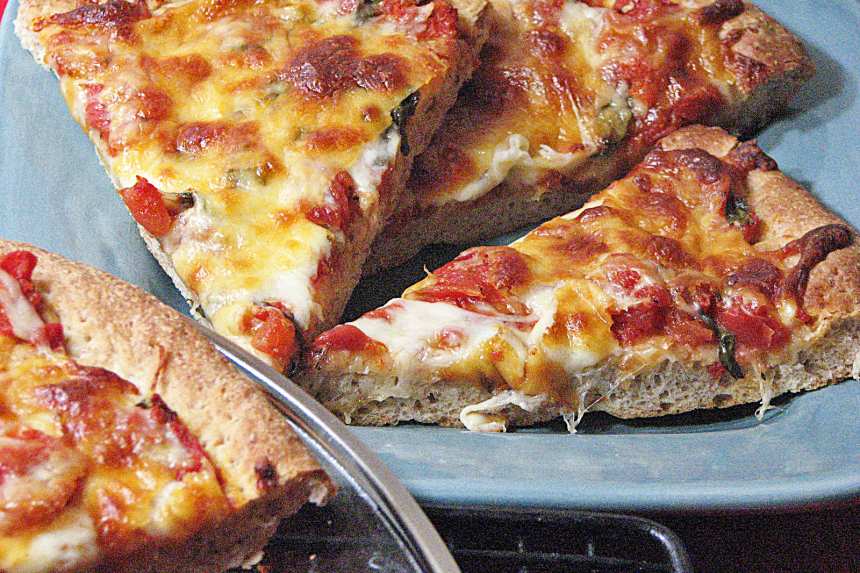 photo by KerfuffleUponWincle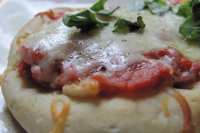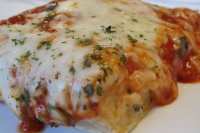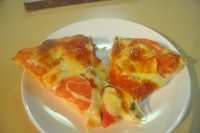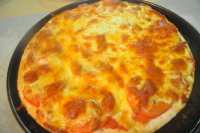 Ready In:

4hrs 10mins

Ingredients:

10
directions
Place 28-ounce can of crushed tomatoes in fine-mesh strainer set over medium bowl.
Let sit 30 minutes, stirring 3 times to allow juices to drain.
Combine 3/4 cup tomato solids, 1 tablespoon olive oil, and 1/8 teaspoon table salt. (Save remaining solids and juice for another use.).
Place towel or shelf liner beneath stand mixer to prevent wobbling.
Mix flour, water, and table salt in bowl of stand mixer fitted with dough hook on low speed until no patches of dry flour remain, 3 to 4 minutes, occasionally scraping sides and bottom of bowl.
Turn off mixer and let dough rest 20 minutes.
Sprinkle yeast and sugar over dough.
Knead on low speed until fully combined, 1 to 2 minutes, occasionally scraping sides and bottom of bowl.
Increase mixer speed to high and knead until dough is glossy, smooth, and pulls away from sides of bowl, 6 to 10 minutes. (Dough will only pull away from sides while mixer is on. When mixer is off, dough will fall back to sides.).
Using fingers, coat large bowl with 1 tablespoon oil, rubbing excess oil from fingers onto blade of rubber spatula.
Using oiled spatula, transfer dough to bowl and pour 1 tablespoon oil over top.
Flip dough over once so it is well coated with oil; cover tightly with plastic wrap.
Let dough rise at room temperature until nearly tripled in volume and large bubbles have formed, 2 to 2-1/2 hours.
One hour before baking pizza, adjust oven rack to middle position, place pizza stone on rack, and heat oven to 450 degrees Fahrenheit.
Coat rimmed baking sheet with 2 tablespoons oil.
Using rubber spatula, turn dough out onto baking sheet along with any oil in bowl.
Using fingertips, press dough out toward edges of pan, taking care not to tear it. (Dough will not fit snugly into corners. If dough resists stretching, let it relax for 5 to 10 minutes before trying to stretch again.).
Let dough rest in pan until slightly bubbly, 5 to 10 minutes.
Using a dinner fork, poke surface of dough 30 to 40 times; sprinkle with kosher salt.
Bake until spotty brown, 15 to 17 minutes, rotating baking sheet halfway through baking.
Using metal spatula, remove pizza from oven, spread tomato mixture evenly over surface, and sprinkle with shredded mozzarella.
Return pizza to oven and continue to bake until cheese begins to brown in spots, 5 to 10 minutes longer.
Questions & Replies

Got a question?
Share it with the community!
Reviews
Happy Belated Birthday to Youuuuuu!! :) I began the dough in the ABM (3 cups flour and 1 1/3 cups water, and added two tablespoons dried onion). I could tell immediately that I needed more flour! I added 2/3 cup of whole wheat flour and made the dough into two 12" crusts and pre-baked them for 12 minutes at 425F in Pyrex pans. For one Pizza Bianca, (using one crust) I used one 14 1/2 ounce can of diced tomatoes (seasoned with garlic, oregano, and basil and drained really well). I added 1/8 teaspoon garlic salt and four large fresh basil leaves snipped ~ and 1 cup mozzarella cheese! I will use the second pre-baked crust to make Recipe #227042 in a day or so! :)

 

Beyond brilliant in its simplicity! This is truly pizza as it was meant to be. I used San Marzano tomatoes that I whirled in the blender for just a moment. Mixed them with 1 clove garlic and a bit of garlic infused olive oil, then made as directed, topping the baked pie with fresh torn basil and cracked pepper. Mmmmmmm....

 

First of all Andi an apology the day did not pan out as expected so I had to use a prepared base (didn't have time to make the dough) and then when I went to get my 2 x 400 gram cans of tomatoes discovered I only had one which gave me only 1/2 cup so top with some fine slices of well ripened tomatoes which I topped with torn basil leaves fresh from the garden (just can't have tomato without basil seems sacrilege not to do so) topped with a premade pizza mix of cheese (mozzarella, cheddar and parmesan) and 20 minutes in a 200C fan forced oven (just baked on a pizza tray) and yummy pizza that 3 of us devoured with garlic bread for dinner. Thanks Andy for a deliciously simple meal, made for Potluck Tag.

 
RECIPE SUBMITTED BY
I have been a member of food.com (Recipezaar) since January 2007. . I love to photograph food and have reviewed almost 1500 recipes. I used to be a forum host here for many years, but now - all that has gone away. Memories are all that exist. I hope you enjoy any one of my recipes and make it your own. Thanks for visiting my page.
View Full Profile