Pita Bread -- Using the Master Recipe #309834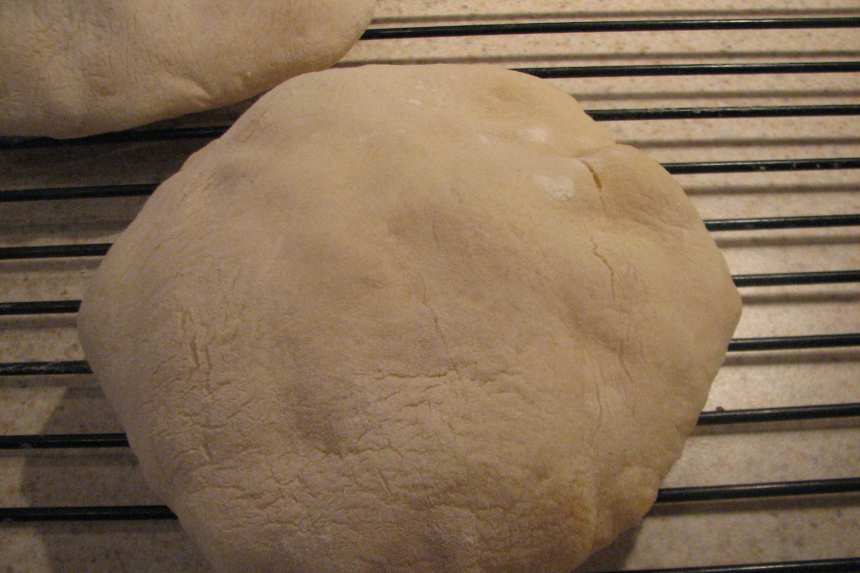 photo by Galley Wench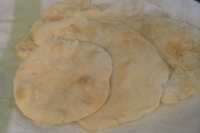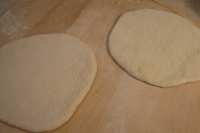 Ready In:

12mins

Ingredients:

6
directions
Refer to Recipe #309834 for instructions to prepare the dough necessary to make the pitas.
TO BAKE: (Dough should be refrigerated for at least 24 hours).
Twenty minutes before baking, preheat the oven to 500 degrees with a baking stone.
Just before baking, dust a pizza peel with flour.
With wet hands, pull up one end of the refrigerated dough (Recipe #309834). Using a serrated knife, cut off a 1-pound, or grapefruit-size, piece of dough. (Note a 1 pound piece of dough will make 4 pitas so adjust the amount needed as necessary.)
Divide the dough into 4 pieces (no larger than 4 ozs. each) and shape into a ball by stretching the surface of the dough around to the bottom on all four side, rotating a quarter-turn as you go.
Place the dough on a flour-dusted pizza peel, dusting the top with flour.
With a rolling pin, roll the dough out into rounds with a uniform thickness of 1/8 inch. This is important, because if it's too think, it may not puff.
With a quick motion, slide the pitas from the pizza peel directly onto the preheated baking stone.
Bake for 5 to 7 minutes, until lightly browned and puffed.
For authentic, soft-crusted results, wrap the pitas in a clean cotton dish towel and set on a cooling rack when baking is complete.
The pitas will deflate slightly as they cool, however the space between the crust will still be there.
Serve with your favorite filling.
Once cooled the pitas can be stored in a zip-lock bag.
Questions & Replies

Got a question?
Share it with the community!
Reviews
Great fresh bread, but boy, did rolling these out thin enough give new meaning to "pita" bread, LOL! I needed these for Recipe#423400, so I divided the 1 lb piece into 8 pieces instead of 4. I ended up using quite a bit more flour for dusting in order to be able to roll these out — the wet dough kept sticking to me, the rolling pin, and occasionally the pizza peel too! My kitchen looked like a bomb had gone off by the time I was done fighting with those ornery little suckers (due, of course, to my lacking as a bread maker, not to the recipe), and my dog was looking at me like I was completely out of my tree, lol. All the frustration went out the window as soon as I saw that first perfectly round, beautifully puffed little pita bread in the oven. I can't say much for the appearance of the rest of my pitas, but the flavor and texture made up for the high percentage of uglies I made. The beer gives these a nice tang, and as difficult a time as I had rolling these out, it WAS really nice not having to knead or do multiple rises. By the way, these were perfect in the recipe I used them in. Now I need to try some of the other methods with my remaining dough! Thanks for posting :)! Made by a fellow Queen of Quisine for ZWT6 Greece

 

I am giving this 5 stars based on flavor and texture, but you do need a baking stone to achieve a pocket. I made mine on a very hot heavy cast iron griddle (over low heat) but it didn't work very well (I didn't want to turn on the oven because it was too hot). I will make them properly next time.Thank you Galley! Made for Swizzle Chick and ZWT6.

 

This certainly was an interesting and fun way of making bread! I am so used to the conventional method that I think I am still in shock about how easy and effective this method is. The only problem I had,was that my dough was on the sticky side,so rolling it to make the pitta was not easy.In fact I gave up and pulled them by hand,and it worked pretty well. Once I am over my shock,I will be trying your other suggestions for this dough GW. Thank you...

 
RECIPE SUBMITTED BY
"Life is not a journey to the grave with the intention of arriving safely in a pretty and well preserved body, but rather to skid in broadside . . . Chardonnay in one hand . . .chocolate in the other; the body thoroughly used up, totally worn out and screaming "WOO-HOO, what a ride!!"
View Full Profile