Pink Guava Jam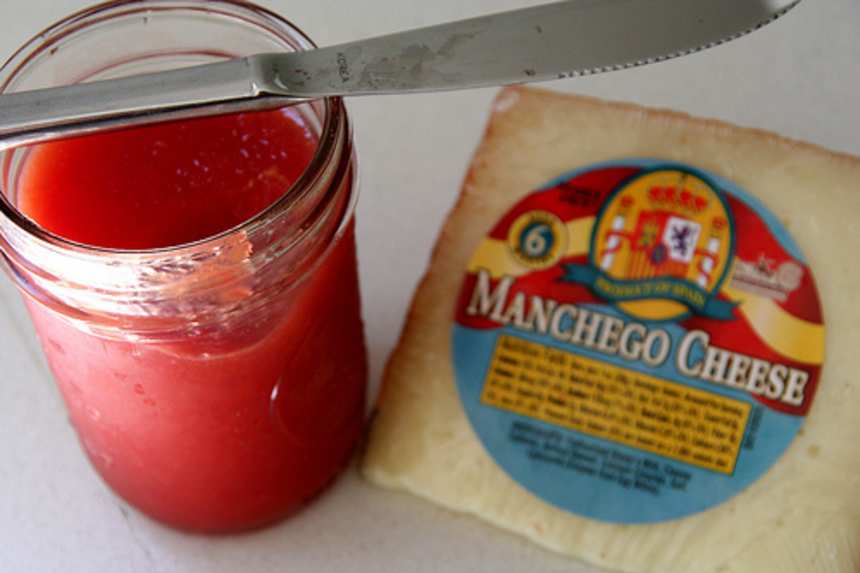 photo by Chez Jonny

Ready In:

1hr 20mins

Ingredients:

4
directions
Use only ripe pink guavas for this recipe; pink guavas are ripe with they either fall off the tree on their own or when they come off the tree when barely touched. They will be bright pink on the inside and quite soft. Wash.
Cut the guavas in half, using a small spoon to carefully spoon out the middle sections containing seeds. Do not allow a single seed to remain as they are quite hard and unpleasant to bite into; people with dentures may want to injure you if one slips inches Set aside seedless guava "meat." (Shells and seeds make good fertilizer for the garden.) Freeze if you cannot make jam on the same day -- a good option as guavas mature at greatly varying times.
Place guava "meat" into blender and pulse until relatively but not completely smooth. Measure before placing into nonreactive pot for boiling. Using this measurement, add the same amount of sugar to the "meat." If you have two cups of guava "meat," add two cups of granulated sugar (i.e. one-for-one). Add two tablespoons of pectin and the juice of two small limes (or one large Persian lime). Bring to rolling boil for 20 minutes, stirring continually. The jam will be become a more intense pink/red color at this point.
Pour guava jam into sterilized jars and process in boiling water for ten minutes, with at least one inch of water over top of jars. Remove from canner pot and place on a towel, allowing jars to cool. Listen for lids to pop signifying airtight seal. Remove rings only, dry, and re-place them on the jars. Store away.
Questions & Replies

Got a question?
Share it with the community!
Reviews
Delicious Pink Guava Jam- I had to adjust this recipe a little, just way too much sugar and a little too tart. 1st of all dont waste your time and material trying to scoop out the seeds. Wash and cut off the stem/tips, throw all the guavas in a bowl and mash them up. I put the mashed guavas in a Vitamix blender with only a little lime juice and just a little water. Blended on low to medium to puree them (the seeds are way too hard to blend in so dont worry about the seeds) and then pushed it thru a coarse strainer with a rubber spatula. I really love the solid, heavy duty RösLe 20cm coarse strainer #95270. It's perfect for allowing the thick puree thru while straining out the big seeds. It's really handy for straining out the seeds of cactus prickly pears too. Anyway, With 8 cups of strained guava puree, I put only 4 cups of sugar, 8 tlbs of pectin and juice of 2 limes. Then it took about 30-40 mins constantly stirring to boil it down. This made the jam plenty sweet with just the right amount of tart. Hope you enjoy.

 

I did not use pectin, added 1 lg finely grated tart apple and a few unripe guava instead. set up nicely. i also took the seeded centers that i removed and cooked in a small amount of water for about 5-10 minutes to soften, blended well and put through a seive (easy) to remove seeds and added the beautiful tasting puree to the jam mix. added vanilla bean lime juice (as specified) and grated lime rind. jam is heaven in a jar.

 
RECIPE SUBMITTED BY
As a hobby, I am teaching myself Asian dishes. I also grow tropical and Asian plants. My adventures are chronicled in my illustrated food blog -- see below for link. You may visit my blog at www.desertmodernism.com/blog to see what I'm eating!
View Full Profile