Pina Colada Jam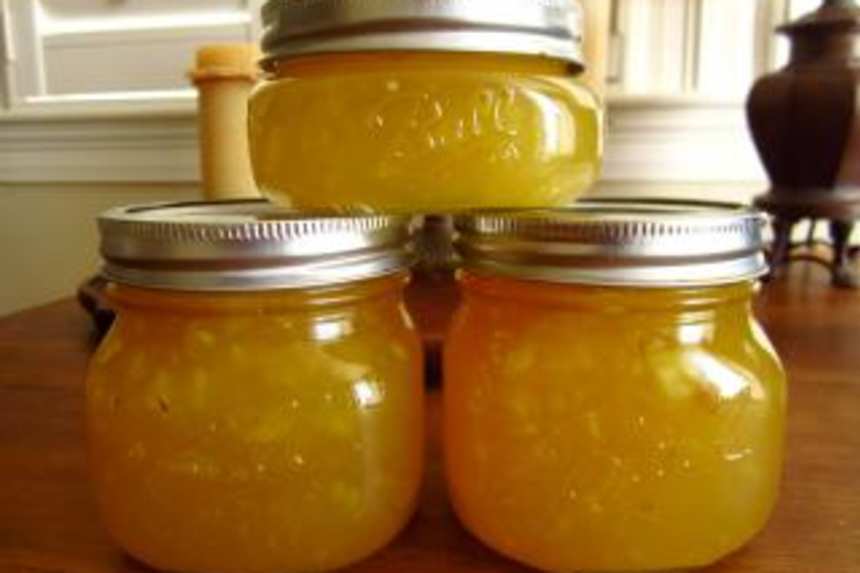 photo by gailanng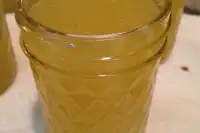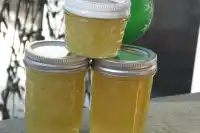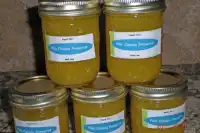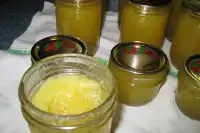 Ready In:

45mins

Ingredients:

6
directions
In a large heavy bottomed pot, mix together pineapple puree, cream of coconut, rum, and lemon juice.
Stir in sugar and bring to a full rolling boil (one that can't be stirred down) over high heat.
Stir constantly, boil hard for three minutes.
Remove from heat and stir in pectin.
Skim off any foam.
Ladle into sterilized jars to within 1/4 inch of rim. Wipe rim clean.
Apply lids and rings and tighten rings just fingertip tight.
Process jars in boiling water bath canner for 5 minutes.
Let sit at room temperature until set.
Check seals -- center of lids should be indented.
Refrigerate any unsealed jar up to 3 weeks.
NOTE: Do NOT use coconut milk!
This made 9 half pints and 1 quarter pint(1/2 cup).
Reviews
MY OH MY - This is wonderful stuff! I had Malibu Coconut Rum so I used that instead of plain white rum just because I could. I can't say whether or not it set up because I just finished making it so it's still warm in the jars, but I had a little bit left over so I'm eating it by the spoonful - YUMMY! I got 8 half pint jars and will probably go buy another pineapple so I can make some more. I really don't care if it doesn't set up because it would be wonderful over ice cream or drizzled over cheesecake or just about anything you can think of even an old shoe sole - LOL!

 

Another one I just realized I have never reviewed. This jam tastes delicious. Mine didn't set up properly but I didn't even care. It makes a wonderful ice cream topping this way hehe. If anyone else makes it and it doesn't set, be ready; it separates. It is still perfectly fine, you just have to stir it all back together when you open the jar. If you love Pina Coladas, try this one!

 

This is very good and different. It took me forever to find cream of coconut. I bought a coconut thinking I might have to make my own, until I found it after the 4th store. So now I had a coconut I had to use up, so I cracked it open and put 1 cup of grated coconut in the recipe as well. I used coconut rum too. So the batch I made has slivers of white/clear coconut floating in it which is nice texture. This is a nice change for our Xmas basket this year. Thank you for the recipe.

 

I was very fortunate to receive a jar of this in the mail from KDP. I loved it!! I agree with her I could eat it by the spoonful! It is very good on biscuits!! I cant wait to use it between cake layers of a coconut cake and as a dipping sauce. Guess I need to get busy and make my own supply of it!! Thank you KPD for sending me my own personal jar!! Love ya!!

 
Tweaks
Yum. Yum. Yum. This was such a fantastic recipe. I actually had coconut rum on hand versus plain white rum so I used that instead. Not much change but probably heightened the coconut flavor. I can't wait to try this now that it is set. I now it will be scrumptuous as my son and I scooped a sample before we put to jars. Wow!