Pico De Gallo, Kid-Friendly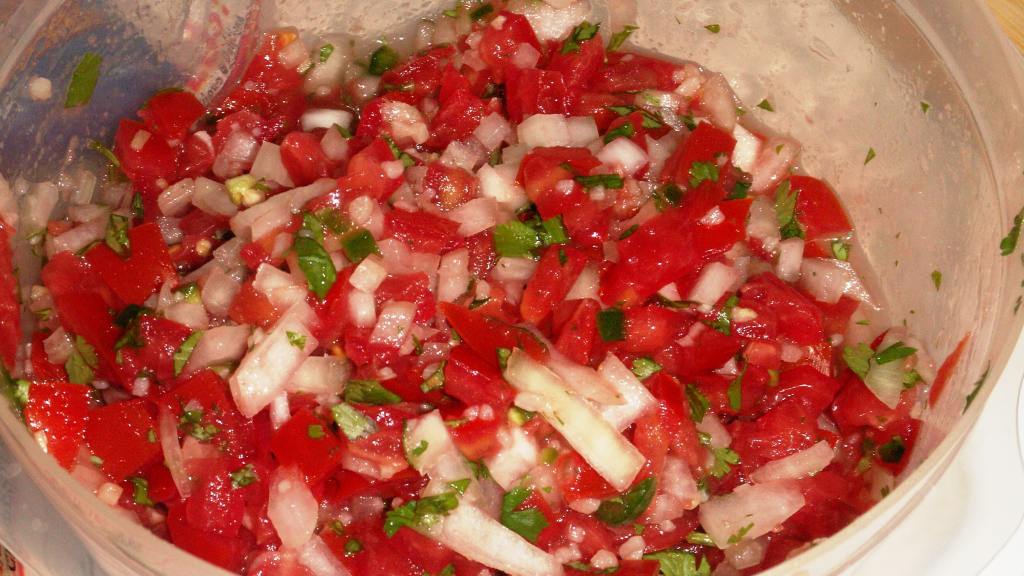 Ready In:

20mins

Ingredients:

7
directions
Finely dice and combine all ingredients. Chill until ready to serve.
Detailed directions for beginners: Works best with a "trash bowl" to one side of the cutting board and a Tupperware or other storage container to the other side.
Cut tomatoes into fourths and use a spoon to scoop out any seeds and white ribs from the insides into trash bowl.
Flatten the tomato flesh against the cutting board and cut into thin strips, then cut in the opposite direction to get a dice. Repeat with all tomatoes, periodically scooping the diced pieces into the storage container.
Peel the onion and cut in half horizontally and vertically. Place the onion flat against the cutting board and holding the onion by the stem piece cut thin strips horizontally all the way to the stem without cutting all the way through. Then dice the strips vertically until you get to your fingers. Add all or half of this depending on the size of your onion and preference.
Separate approximately 12 stalks of cilantro from a bunch. Cut off the long clean stems (don't worry about the ones attached to the leaves), discard. Finely mince the remaining leaves and stems so no large pieces remain.
Cut the top and stem off one jalapeno and cut in half vertically. Using a spoon and working over the trash bowl, scoop out all seeds and pale flesh until only dark green flesh remains. Flatten this against the cutting board and slice into several thin strips. The dice these strips into a very fine dice (tiny!). Add the amount desired to the pico, if they have been properly seeded they should not be hot. If more heat is desired by another family member, repeat with additional jalapenos: the more seeds and ribbing remaining the hotter the jalapenos will be. Reserve in a separate dish.
Add the minced garlic, salt, and lime juice. Stir and chill.
Join The Conversation
I made this, with a few alterations (DH and DF are very spice-phobic) for last night's NYE dinner party. I used 8 roma tomatoes (because hothouse were over 2x the price per pound and don't pack the flavor punch of romas. I diced a bell pepper in place of the jalapeno and half a red onion in place of the small onion. It ended up making close to a quart (thank goodness because DH was hungry when we got home from work yesterday afternoon and we kinda attacked it). My mom LOVES pico, and this is the closest recipe I know of to one from Nicky's, a local Mexican restaurant chain. Needless to say, this is a keeper!

This is the closest recipe to what I use all the time. I don't measure, but proportionally, this looks right to me. Looking at your picture, I like to leave my tomatoes a bit chunkier. I generally leave out the jalapeno altogether, and sometimes add some fresh ground pepper and a little olive oil, but this is optional. To make guacamole, I just stir a few spoonfuls of this into a mashed avocado. It's like getting two dips for the effort of one! Perfect on plain cheese quesadillas.

For beginners, those with kids or who just like to start out mild. Pico de Gallo is a great condiment to serve along side spicy dishes or any meat dish that could use a kick of cool, fresh flavor. It is also a nice way to feed your family fresh vegetables. Typically Texan Pico uses serranos, however for the kids I use jalapenos (just cut up an extra serrano for daddy).