Pico De Gallo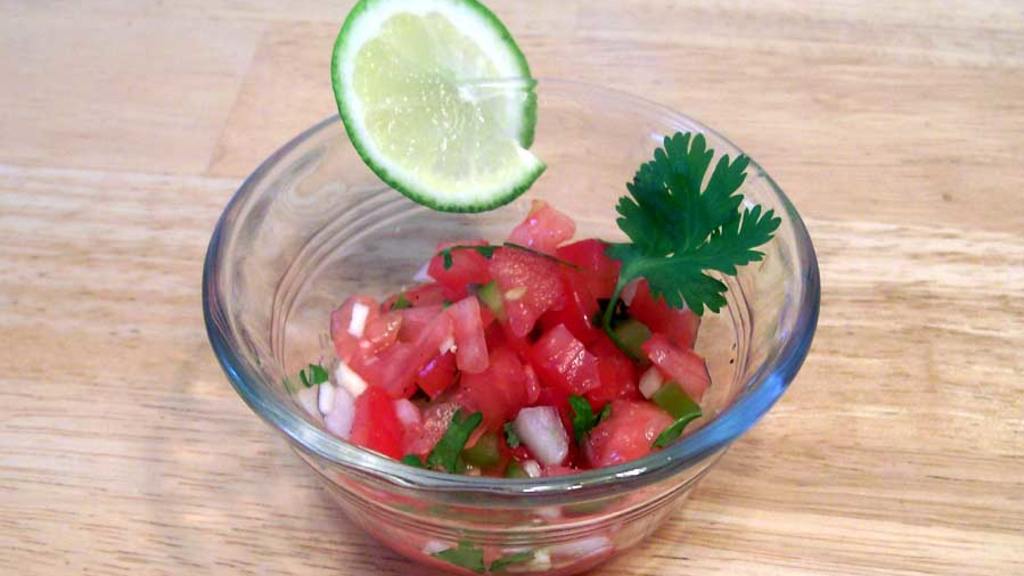 Ready In:

2hrs 20mins

Ingredients:

11
directions
On a cutting board, finely chop tomatoes, jalapenos, onion, bell pepper, garlic and cilantro.
Place all in a glass bowl and mix together.
Add salt, pepper, water and vinegar.
Squeeze the juice from the lime into the mixture and mix thoroughly.
Chill before serving.
Join The Conversation
We have a good friend who is both a fireman and of Spanish descent. Both bode well for his being a great cook. His homemade Enchiladas, Gravy and Tomatillo/Serrano Sauce are to die for. After watching him prep and cook, with all the wonderful sounds and smells, the first ten minutes of dinner was nothing more than a chorus of satisfied grunts, yums and kudos. Long way to go for this review but I wanted to paint a picture ... We were charged with making the Pico. Looking for something that could stand with Robert's cooking, I looked at a bunch of recipes and was drawn to this one. Read the reviews. Sounded good. Boy, was it! Everybody raved ... even Robert. We, too, believe the secret with this lies in the vinegar.<br/><br/>Just a few changes: We doubled the recipe (12 servings). This called for 8 Jalapenos. We cut it back to 6 and added a good size Serrano (with seeds) for a little more heat and flavor. (I use Serranos whenever I can because of its flavor.) Given all the chopping, I would suggest making more than you need and freezing some of it for a hot summer day ... nice accompaniment to the well-chilled Margarita. Enjoy!

I love Pico De Gallo, but I've never found a recipe that I thought would match up to those I've eaten in restaurants. This one does! If there is a secret ingredient to this recipe, I think it would be the vinegar. Mixing it with the lime juice is what I think gives it that traditional flavor. For my taste, next time I will leave out the bell pepper and jalapeno. Perfect condiment for so many dishes! Thanks for posting! Made for ZWT3.

I made this last night for our weekly bonfire party and it went over very well. The fresh ingredients and just enough bite to satisfy make this a keeper. Also, my son's girlfriend is Mexican and if I make something with a Mexican spin and she likes it (and she did!) I know the recipe is a success. Thanks for a great, easy, well received recipe!