Pickled Cluckerberries (Eggs)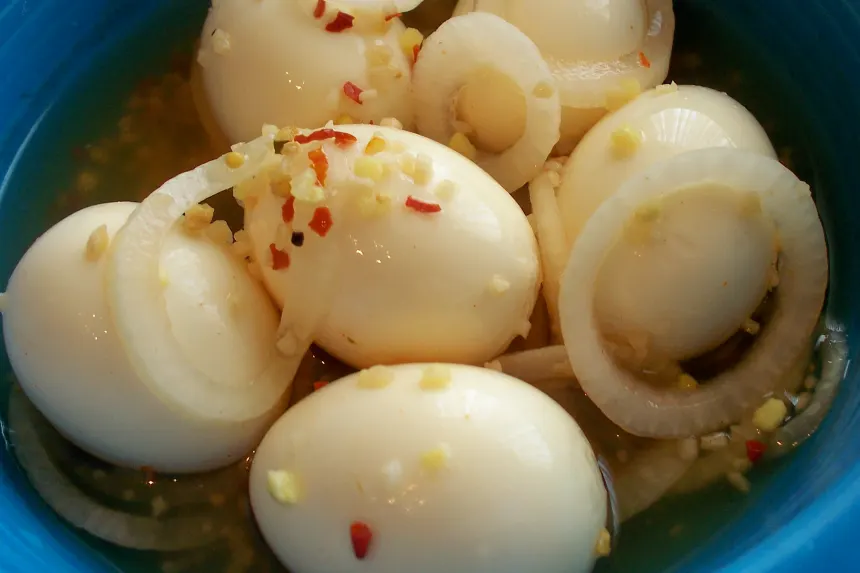 photo by *Parsley*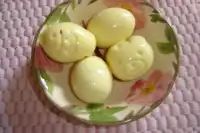 Ready In:

40mins

Ingredients:

6
directions
Put cold eggs in enough cold water to cover by a few inches. Bring to a boil and let cook for about five minutes -- then remove from heat for about 15 or 20 minutes. Put eggs into the coldest ice water you know how to make and chill them til they are thoroughly cold. Probably 20 minutes or so. Your eggs should peel easily without the shells sticking.
While eggs are cooking- put onion slices into the pickle juice jar.
Peel and smash the garlic cloves by simply pressing them with the palm of your hand on a cutting board til they split open and throw them into the jar as well.
If you want a spicier egg -- then add red pepper flakes and/or hot sauce like Tobasco to the mix.
Add the eggs.
Let them sit in the fridge as long as you can stand it before eating. Try for at least a few days. The longer they soak the more pickled they will be.
If you like really hot and spicy throw a small can of pickled jalapenos and their juice in with the brined eggs.
Reviews
I'm posting this review for my dad. He is a pickled egg loving son of a gun and when I gave him this recipe I thought he was in chicken heaven! He has chickens and I get all my fresh eggs from him, so after reading the recipe, he wandered out to the pen and got him a bunch of eggs "straight from the source" as he likes to say. I'll have to say that everyone who tasted these eggs RAVED about them!! Potscrubber, he made me print ALL of your recipes and bring them over since he liked this one so well. THAT in itself is a huge compliment!

 

These are the most vile, disgusting, horrific things I have ever put in my mouth (and you can just imagine what's been in THERE)! I abhor pickled eggs. But my Sushiman loves them, and I made them for him. And he loved these as well. I didn't use the crushed red pepper flakes or the hot sauce. Instead, I added some tiny, dried Moroccan peppers. While Sushiman was upping his cholesterol level by inhaling the eggs, I munched on the yellow onion, which had been nicely pickled as well. Thanks, Pots, you've made Sushiman a happy Brit, and when he's happy, I'm happy.