Pick-Your-Flavor Ice Cream Cake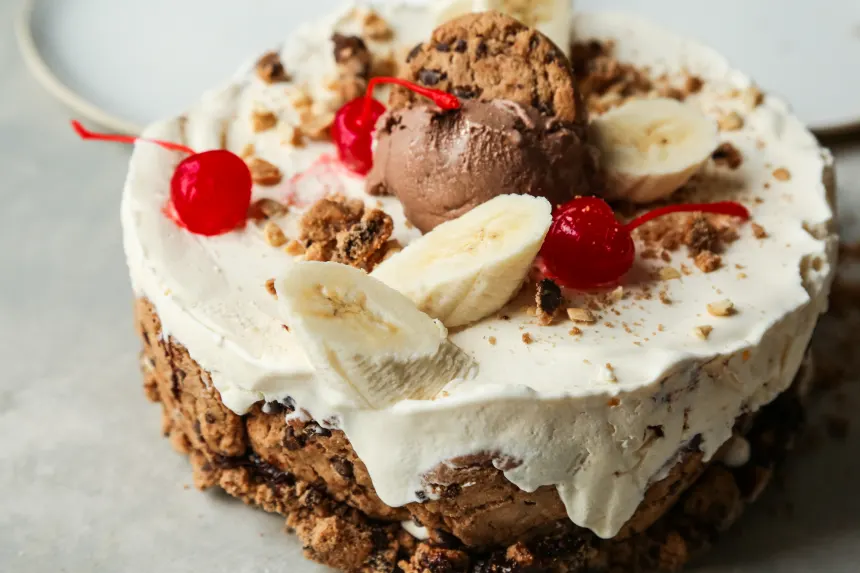 photo by Probably This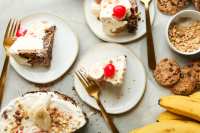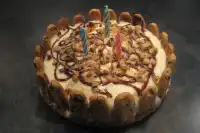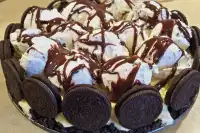 Ready In:

6hrs

Ingredients:

7
ingredients
1

(18 ounce) package small chocolate chip cookies, divided (must be store-bought not soft cookies)

2

tablespoons sugar
1 1⁄2

cups hershey's hot fudge topping, divided (or use favorite brand)

2

quarts ice cream, divided (slightly softened but not melted, use any flavor desired)

whipped cream (use any amount desired to garnish)

maraschino cherry (use any amount to garnish)
directions
Prepare a 9-inch springform pan.
Finely crush only HALF of the small cookies to make the crumbs.
Place in a bowl with melted butter or margarine and 2 tablespoons sugar; mix to combine.
Press into the bottom of the springform pan.
Stand the remaining cookies around the edge of the pan.
Spread 1 cup hot fudge sauce over the crust.
Freeze for about 30-40 minutes.
Spread 1-quart of the slightly softened ice cream over the chocolate sauce; freeze for about 20-30 minutes.
Using an ice cream scooper scoop the remaining quart of ice cream into balls and arrange over the spreaded ice cream.
Freeze for about 4 hours or until completely firm.
To serve, garnish with remainder of fudge topping, whipped cream and cherries.
Reviews
I made in a 9x13" pan. I used Pecan Sandies for the cookies and made with double the French Vanilla ice cream. I used Smucker's Hot Fudge instead of Hershey's, as I like it better. I doubled the sauce and put half on the bottom, heating in the microwave to spreadable consistency. I then put the other half on the top of the ice cream. I sprinkled crushed coarse chopped pecans over the top of that, then froze. At serving time I cut into squares and served with whipped cream, cherries and colored sprinkles for decoration. Everyone loved it!

 

I've made this twice..both times fabulous! First cake I used Oreos for the crust, hot fudge for the chocolate layer/garnish and store-bought Chocolate Mint ice cream. Second cake I used store-bought chocolate chip cookies for the crust, Hershey's syrup (3/4 c) for the chocolate layer/garnish and Cake Batter Ice Cream recipe By SStemp for the filling. Then crumbled more cookies and drizzled syrup on the top. Made for a great birthday cake that everyone loved!

 

I made this for my bunco group last night. I used Kroger reduced fat chocolate chip cookies, no sugar chocolate ice cream, and light caramel swirl ice cream. For the sauce I used a homemade hazelnut mocha sauce, but I didn't have enough. So I used hot fudge sauce as well. It was easy to assemble and everyone enjoyed it. The only negative, was it was somewhat messy to cut and serve. No big deal if it was at my own house, but I felt bad for our hostess.